Rock of Ages (United States, 2012)
June 14, 2012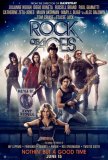 Rock of Ages, based on the musical play of the same name, is a celebration of '80s excess and, especially, music. Featuring roughly two-dozen covers of (mostly) Top 40 hits by Sytx, Def Leppard, REO Speedwagon, Whitesnake, Starship, Pat Benatar, Guns N' Roses, Twisted Sister, Foreigner, Bon Jovi, Journey, Poison, and others, Rock of Ages puts the music first and everything else a distant second. It's a little like watching '80s-era MTV for two hours. With actors doing their own singing (albeit electronically enhanced in some cases), there's a variable quality to the vocals, but the production design and choreography are solid, leading to a cheesy enjoyability. To complete the feel-good experience, the ending has been changed to something significantly more upbeat.
The movie is set in 1987 Los Angeles - a setting that allows the production to wallow in garish '80s décor, costumes, hairstyles, and general ambiance. It feels like what it is - the nostalgia-soaked remembrances of people gazing back in time 25 years (possibly through a drug-induce haze) and forgetting a lot of the ugliness that defined the "me decade." Having grown up in the '80s (I was 12 at the dawn of the decade and 22 when it ended), I was familiar with nearly all of the songs that form Rock of Ages' backbone, but a few of them don't sound nearly as good today as they did when they were first released.
Watching Rock of Ages, I was reminded to one degree or another of three previous features: Mamma Mia!, Xanadu, and Showgirls. The Mamma Mia! association is obvious, since Rock of Ages came into being as a result of the ABBA-influenced success on stage and on screen. It has the same forced structure resulting from a plot that was created to accommodate the songs, rather than the other way around. The cheesiness of Xanadu is much in evidence, although its more clearly intentional here than in the Olivia Newton-John misfire. Finally, the narrative trajectory, to the extent that there is a narrative trajectory, bears a passing resemblance to that of Paul Verhoeven's derided camp classic, although the PG-13 rating limits what can be shown in Rock of Ages. (This is yet another movie with a stripper character who shows nothing.)
Rock of Ages boasts limited star power. After Tom Cruise and Alec Baldwin, there's a considerable drop-off in name recognition. Sure, Paul Giamatti is a respected character actor and Catherine Zeta-Jones was once a hot commodity, but neither is likely to sell tickets. The young lovers, played by Julianne Hough and Diego Boneta, bring little in the way of chemistry or acting to their parts. Hough is beautiful, has a great body, and is a tremendous dancer, but her voice is nasal and whiny and its deficiencies are painfully obvious when dueting with Mary J. Blige. At least Boneta can sing; his covers vary from solid to good. But he's not going to nab a Best Actor nomination for his work here. Russell Brand manages to be minimally annoying, but his presence is a sore spot, and he always looks like he needs a shave and a bath (intentional, I suppose).
The majority of the movie transpires in Hollywood's The Bourbon Room, a club famous for igniting rock band careers. The place is managed by Dennis Dupree (Alec Baldwin), who is facing a mounting tax debt and increasing pressure from a right-wing anti-rock group to close down. Fronted by the new mayor (Bryan Cranston) and his militant wife (Catherine Zeta-Jones), they will do anything to shutter The Bourbon Room. Meanwhile, fresh-off-the-bus Sherrie Christian (Julianne Hough) meets cute with a busboy at the Bourbon Room, Drew Boley (Diego Boneta). He gets her a job as a waitress, which gives her an opportunity to fall in love with Drew and meet her idol, rock god Stacee Jaxx (Tom Cruise), who's coming to play a one-night farewell gig with his long-time band, Arsenal.
Director Adam Shankman comes to Rock of Ages from Hairspray and a couple episodes of the TV series Glee. For the most part, he has his tongue planted firmly in his cheek. For example, when REO Speedwagon's "Can't Fight This Feeling" is used as the gay romantic anthem, Shankman encourages Alec Baldwin and Rusell Brand to go as far over the top as possible. Later, there's a bizarre juxtaposition of Starship's "We Built This City" and Twisted Sister's "We're Not Gonna Take It", with the hard-core rockers singing the former and the conservative activists singing the latter. The biggest production numbers are Whitesnake's "Here I Go Again" (which ended Act I of the play) and Journey's "Don't Stop Believing," which may be best known today for closing out The Sopranos on a note of deliciously frustrating ambiguity.
Tom Cruise is Rock of Ages' most interesting commodity, stealing freely from any number of '80s heavy metal glam rockers to create a spaced-out, womanizing, drug using, alcohol swilling Stacee Jaxx. Cruise participates in about eight songs, showing a stronger voice than one might suppose. Still, the problem with Jaxx is that he's a character in search of a narrative. The plot hints at some genuinely interesting developments for Jaxx but the need to cram so many songs into a two-hour time limit means that there's no real time for more than a perfunctory character arc.
It's like that for everyone in Rock of Ages. This isn't a movie; it's a filmed collection of musical shorts assembled by cover bands. The only question is why this wasn't released in 3-D since it's the kind of material that would fit into a format that is inherently campy. How it does in its initial run may be irrelevant; this has "cult classic" written all over. Rock of Ages offers its share of ephemeral pleasures, especially for those who like (or at least remember) '80s music. As a means of non-participatory time travel and non-intellectual stimulation, it's successful. Toe-tapping and eye-rolling are equally forgivable. Rock on.
---
Rock of Ages (United States, 2012)
---
Three...better movies of this genre
worse movies of this genre
Three...better movies of Tom Cruise
worse movies of Tom Cruise
Three...better movies of Malin Akerman
(There are no more better movies of Malin Akerman)
worse movies of Malin Akerman
Three...better movies of Bryan Cranston
worse movies of Bryan Cranston