Godzilla (United States/Japan, 2014)
May 14, 2014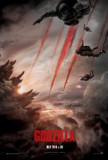 Where Roland Emmerich and Dean Devlin failed spectacularly, Gareth Edwards has succeeded. Although the 2014 edition of Godzilla isn't the be-all and end-all of monster movies, it's a respectable big-budget effort. Most importantly for legions of fans across the globe, it's a Godzilla movie, honoring not only the look and feel of the Big Green Lizard's most famous outings but paying homage to his entire history. Many of the wrongs committed by Emmerich and Devlin are corrected here. If only the 3-D had been abandoned...
This incarnation of Godzilla transpires in the same universe where at least some of the Toho Godzilla movies were set. It explicitly references the 1954 debut feature and refers to the title creature by the name of "Godzilla." At the very least, that should allay some of the die-hard fans' worst fears that this movie might continue from where the universally despised 1998 film left off. That GINO (Godzilla in name only) has not been exhumed from its shallow grave.
In many ways, Godzilla is a cousin to Edwards' earlier movie, Monsters, in that it focuses more on the ineffectual humans than the monsters. Godzilla is a force of nature like a hurricane or a tornado. Men can prepare for him and execute search and rescue missions, but there's not a lot they can do to stop him. And, while we're treated to several epic lizard-on-giant insect skirmishes, these are observed from the human vantage point. The movie is about Godzilla but it's not viewed from Godzilla's perspective.
The movie takes its time with the big reveal, keeping Godzilla mostly hidden until about midway through the movie. The early scenes transpire 15 years in the past in Japan, where unexplained tremors are threatening the integrity of a nuclear power plant. The husband and wife team of Joe and Sandra Brody (Bryan Cranston and Juliette Binoche) are tasked with investigating the situation and preventing a disaster. Later, in the present day, the Brodys' now-adult son, Ford (Aaron Taylor-Johnson), finds himself in the same part of the world facing a similar situation. But this time, things go beyond the ground shaking and collapsing. A huge insect-like creature, mutated by radiation, rises up and wreaks havoc before going in search of its mate. And an unknown creature out to sea, attracted by the activity, begins to make its way toward land. Las Vegas, Hawaii, and San Francisco end up in the pathway of one or more of the monsters.
Godzilla offers a slow build-up, punctuated by various teasing moments, many of which pay homage to classic monster movies. It provides us with the time and opportunity to get to know the humans before the monsters start rampaging. For Ford, we get a fairly compete backstory, seeing him as a boy facing the evacuation of his home and the destruction of his lifestyle, then as an adult with a family of his own. Aaron Taylor-Johnson isn't asked to do much more than be an all-around good guy willing to sacrifice himself - a role he capably fills. Juliette Binoche makes the most of very limited screen time. Bryan Cranston, despite looking odd with a full head of hair, offers a considerably toned down performance from what Breaking Bad viewers might expect. Elizabeth Olsen, soon to join The Avengers alongside Taylor-Johnson, is wasted as Ford's wife, who has pretty much nothing to do except look worried.
One of the greatest points of interest, especially among Godzilla fans, is whether Edwards' version of the creature honors its roots (which the Emmerich/Devlin incarnation didn't) - something it achieves. The Godzilla of this movie is strongly based on the 1954 version but without the "man in a suit" element. This looks how one might expect a giant radioactive dinosaur to appear in this age of top caliber CGI. The iconic roar has been changed to make it deeper and more "throaty." In general, the special effects are excellent, although it's baffling why this was post-converted to 3-D. I know I sound like a broken record but it adds nothing.
To the extent that summer movies are all about mayhem and destruction, Godzilla delivers everything expected of it, and perhaps a little more. At the very least, it argues that Hollywood can deliver a Godzilla movie without completely screwing up. Monsters postulated that Edwards might be the man for the job and Godzilla has vindicated his selection. The movie has its weaknesses (the build-up is too long and some of the subplots could have been truncated) but it works. This may not exactly be the Godzilla I grew up with but it's a more than acceptable upgrade.
---
Godzilla (United States/Japan, 2014)
---
Three...better movies of this genre
worse movies of this genre
Three...better movies of Aaron Taylor-Johnson
worse movies of Aaron Taylor-Johnson
(There are no more worst movies of Aaron Taylor-Johnson)
Three...better movies of Elizabeth Olsen
worse movies of Elizabeth Olsen
Three...better movies of Bryan Cranston
worse movies of Bryan Cranston