Rocketman (U.K./U.S.A., 2019)
May 30, 2019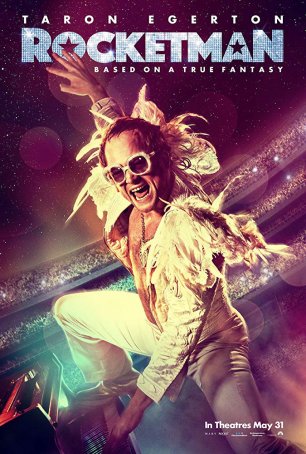 In 1988, Elton John released the album Reg Strikes Back. In addition to being his "comeback" following a period of stagnancy in the mid-1980s, it was a return to his roots and an acceptance of less flamboyancy on-stage and off. Clean and sober for the first time in 15 years, John was able to focus on the music rather than the distractions. None of the songs from Reg Strikes Back make into the quasi-fantasy musical biography that is Rocketman, but the film chronicles events that culminated in the late-1980s transformation that turned the outrageous, alcoholic hitmaker of the 1970s into the beloved elder statesman of British pop that he has become in the last 25 years.
Rocketman is presented primarily in flashback, with a mid-1980s Elton John (Taron Egerton) looking back at his life from within a rehab clinic. The movie spans a period of about 30 years, italicizing many of the high and low points of the singer's life while using about 20 of John's hits (mostly from the 1970s). Rocketman focuses on John's ongoing, fractious relationship with his parents, especially his self-absorbed mother, Sheila (Bryce Dallas Howard); his long-lasting friendship with lyricist Bernie Taupin (Jamie Bell); his disastrous relationship with lover/manager John Reid (Richard Madden); and his descent into a drugs-and-alcohol fueled hell. Although Rocketman never claims to be entirely factual, it's amazing that John could have been so successful and productive considering the adversity he endured.
Director Dexter Fletcher opted for a different direction from the one taken for Bohemian Rhapsody. (Fletcher never had full creative control of that film, having been brought on board to replace original director Bryan Singer following the latter's ouster.) Instead of going the traditional bio-pic route (with musical interludes), Rocketman uses the musical numbers as opportunities for flights of fancy and to emphasize emotional moments. For example, during "Crocodile Rock," performed live at the Troubadour in 1970, John and the entire audience float upward from the floor, swept along by the music. Transition scenes are also facilitated by songs, with John beginning them at one age and in one costume and finishing them during a different phase of his life.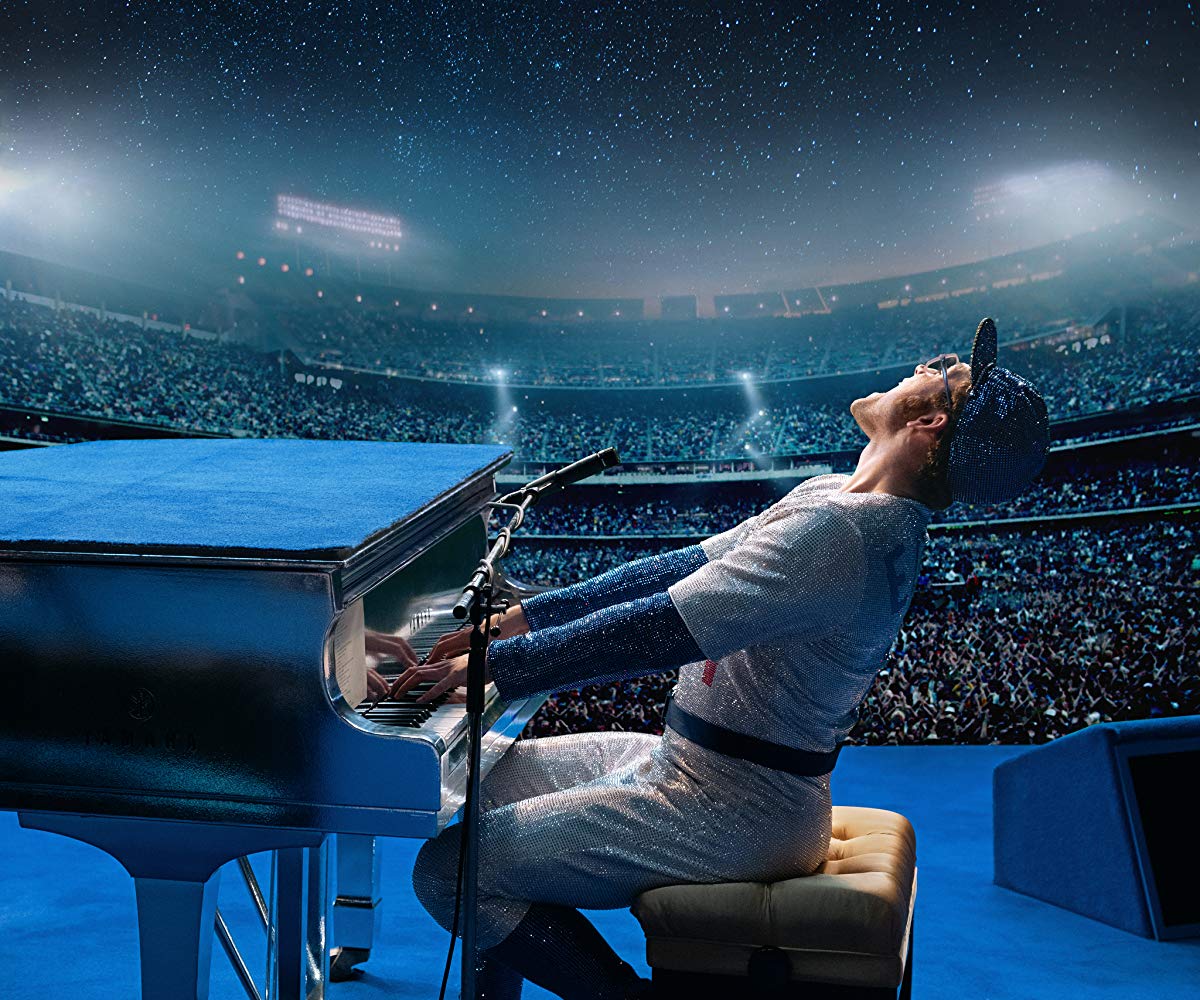 There's little doubt that Taron Egerton will be on the short list of Oscar nominees at the end of the year. Egerton doesn't merely portray John; he inhabits him. While one could question whether Remi Malik's performance as Freddie Mercury in Bohemian Rhapsody was more an example of great acting or excellent mimicry, no such ambiguity exists here. Egerton not only has captured John in all of his public flamboyance and excess but in quieter, more private aspects. Most importantly, his ability to replicate (although not necessarily duplicate) John's singing voice adds a layer that the lip-synching Malik never achieved in Rhapsody.
The other two major players in Rocketman are Jamie Bell and Richard Madden. Bell, who provides a deeply human although underwritten Bernie Taupin (whose importance to John's success can't be understated – every song in Rocketman with the exception of "Pinball Wizard" was co-written by Taupin and John), represents the steadying and stabilizing influence. Madden, on the other hand, uses his natural charisma (he previously played Prince Charming in Kenneth Branagh's Cinderella) to establish a congenial facade before turning vicious and predatory. (Trivia point: Madden played Rob Stark in HBO's Game of Thrones. The character of John Reid also appeared in Bohemian Rhapsody, where he was portrayed by Game of Thrones' Littlefinger, Aidan Gillen.) Bryce Dallas Howard, sporting a credible British accent, has a small-but-crucial role as John's mother.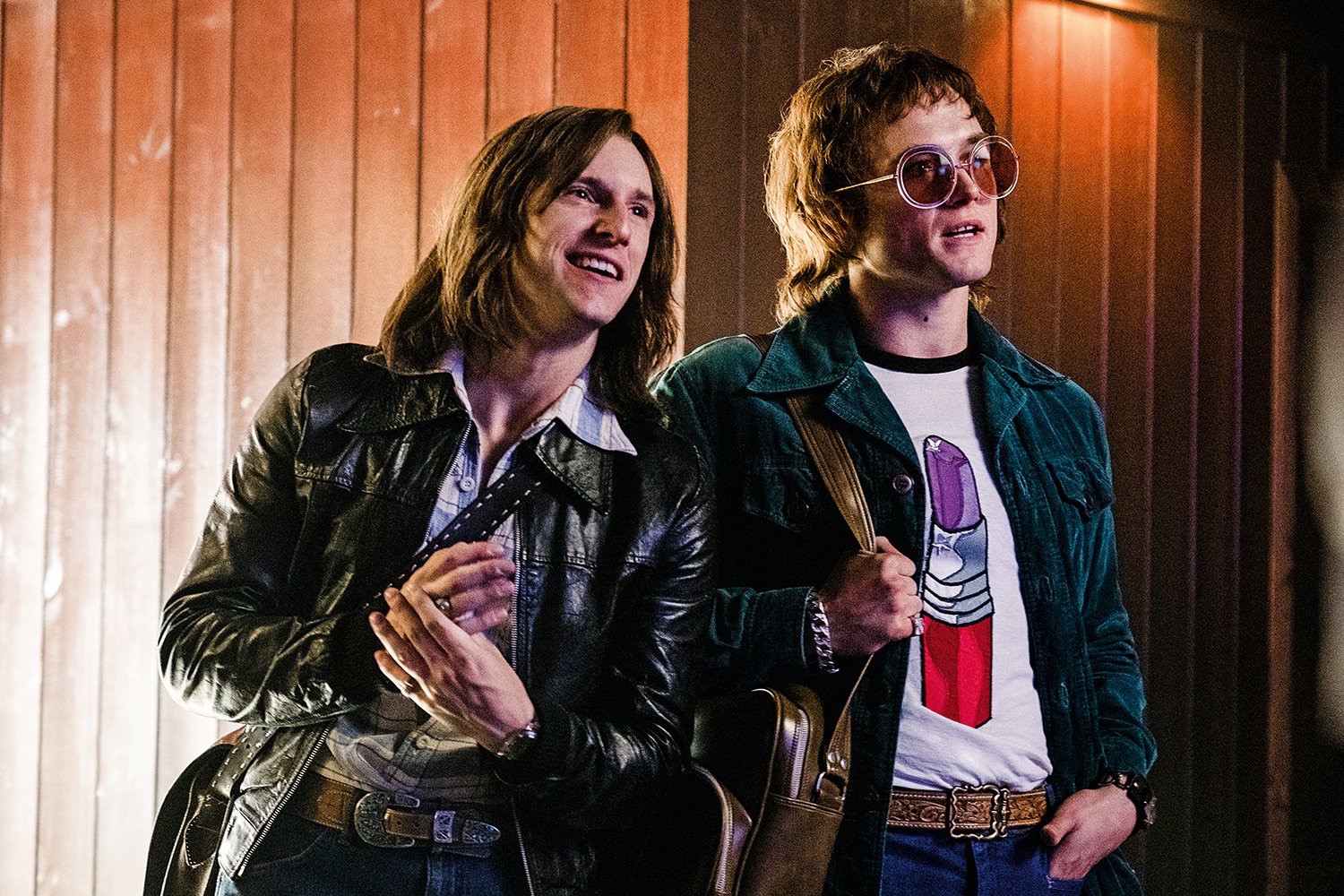 The movie will likely be most appreciated by those who grew up with John's hits during the 1970s. Excepting a new song played during the end credits, nothing in the movie was released later than 1983-84 ("I'm Still Standing"). The musical focus is firmly on 1970-76. Most of John's best-known songs are either played in full or in part, although there are notable exceptions (like "Philadelphia Freedom"). In order not to break the spell, John's actual voice isn't heard until the end credits are rolling. The film's star (with an able assist from Rachel Muldoon as Kiki Dee in "Don't Go Breaking My Heart") gets every note.
Rocketman can't be accused of sugar-coating John's life. If anything, it spends a little too much time wallowing in the darkness of John's sex-and-drug/alcohol binges. Some of the songs presented during this period take on a grim, angry tone – "Rocketman" is presented as an accompaniment to an attempted suicide. Overall, however, Rocketman works because it isn't constrained by the beats of a traditional bio-pic. Although the movie will be rightfully and enthusiastically embraced by the singer's fans, it has something to offer those with no more than a casual recognition and appreciation of the man's music.
---
Rocketman (U.K./U.S.A., 2019)
---

Three...better movies of this genre
worse movies of this genre
Three...better movies of Taron Egerton
worse movies of Taron Egerton
(There are no more worst movies of Taron Egerton)
Three...better movies of Jamie Bell
worse movies of Jamie Bell
Three...better movies of Richard Madden
(There are no more better movies of Richard Madden)
worse movies of Richard Madden
(There are no more worst movies of Richard Madden)