Cinderella (United States, 2015)
March 13, 2015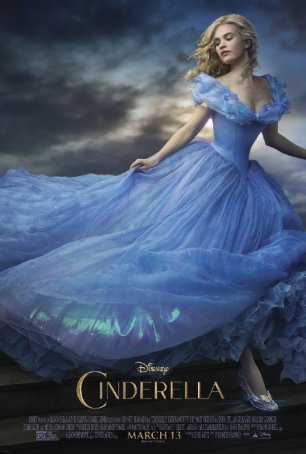 The re-interpretation of an animated film into a live-action version is a tricky and difficult process - one made more uncertain when the movie in question is one of the classics. Cinderella, released by Disney in 1951, has been beloved by three generations of movie-goers so the decision to remake it with real actors and a modern sensibility might be greeted with skepticism, especially when one considers that director Kenneth Branagh is more closely associated with Shakespeare than fairy tales. Such concerns can be dismissed: Cinderella is a wonderfully realized family feature that retains the strengths of its source material while at the same time updating it for today's audiences.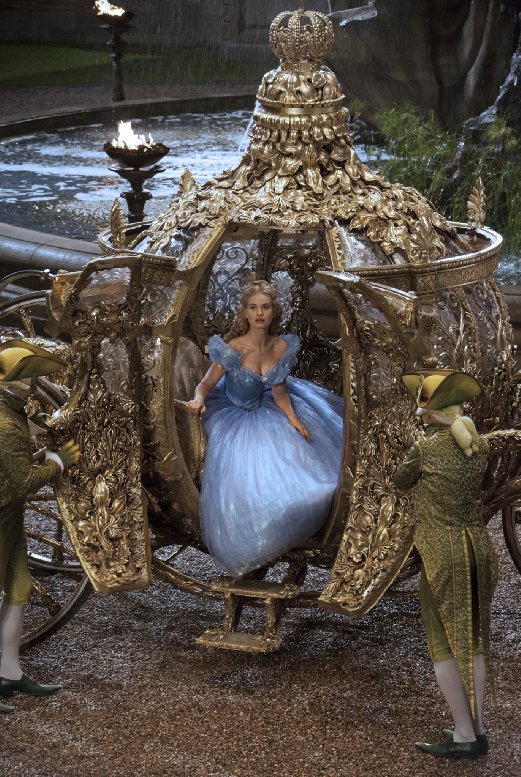 This isn't the first recent attempt to present the story of Cinderella using real actors. Andy Tennant's 1998 film (with Drew Barrymore in the lead role), Ever After, was justifiably well received, but Branagh does him one better. Ever After worked as an alternative to the classic Cinderella. The 2015 edition succeeds as a rejuvenation of it. Branagh and his screenwriter, Chris Weitz (About a Boy) understand the importance of fantasy in the 1951 film and embrace it. They also make several welcome changes, turning Cinderella (Downton Abbey's Lily James) into a strong, independent character (who still longs for love) and Prince Charming a.k.a. Kit (Game of Thrones' Richard Madden) into something more substantive than a two-dimensional representation of manly valor. Even the cruel wicked stepmother, Lady Termaine (Cate Blanchett), has a motivation for her evil ways - although that doesn't stop us from rooting for her comeuppance.
Cinderella opens with an extended prologue detailing the circumstances that bring the title character into the household of Lady Termaine and her two indolent, moronic daughters, Drizella (Sophie McShera) and Anastasia (Holliday Grainger). For the first decade of her life, Ella (played as a young girl by Eloise Webb) has led a charmed existence. When her mother (Hayley Atwell) is taken from her by disease, she and her father (Ben Chaplin) overcome their sorrow and delight in each other with Ella living by her mother's creed: "Have courage and be kind." But, shortly after re-marrying, Father dies, leaving his daughter at the mercy of her imperious stepmother, who treats her no better than a servant. It requires the intervention of an unpredictable fairy godmother (Helena Bonham Carter) to provide her with an opportunity to attend a grand ball being held for all the eligible maidens of the kingdom.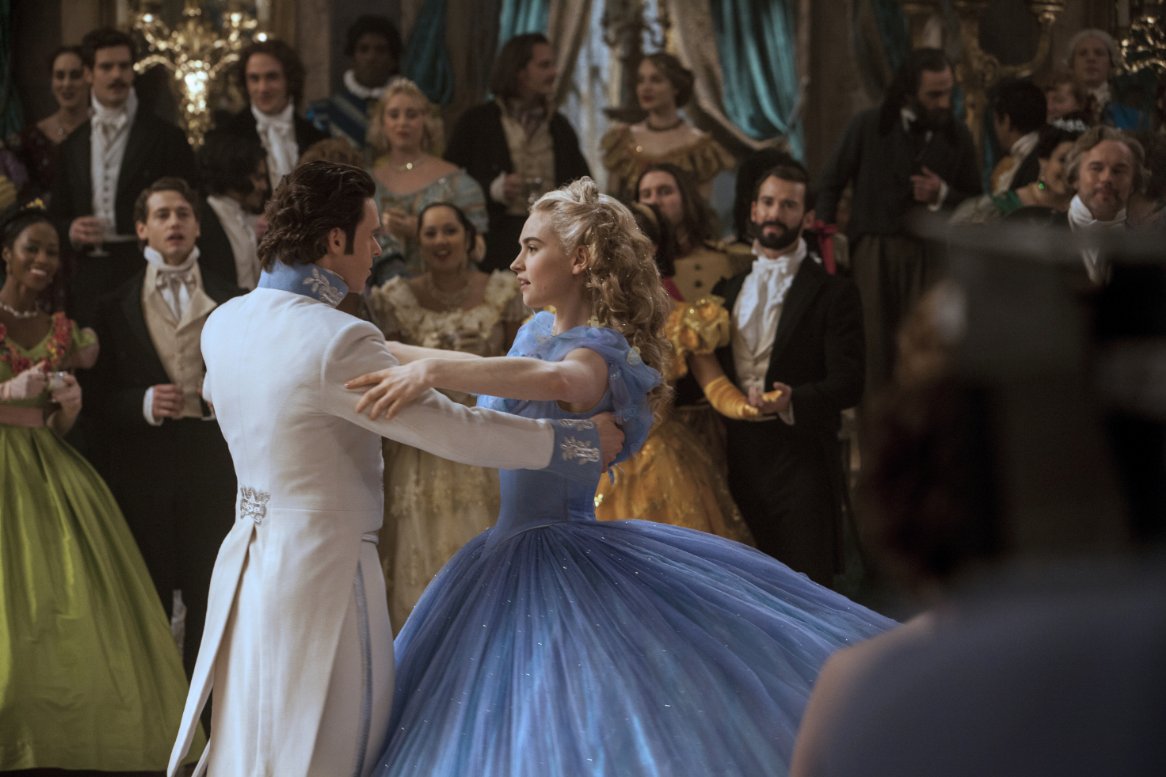 Ella, whose name has been changed to Cinderella after her stepsisters notice ashes on her face, doesn't meet the prince for the first time on the dance floor in the palace. Instead, she encounters him one day beforehand, while out for a ride. They meet anonymously - he pretending to be an "apprentice" living in the palace and she not providing any details about her circumstances. Cinderella convinces Kit not to kill a stag he is hunting and he is so taken by her that, when it comes time to choose a bride, he can think of no other even though his father, the terminally ill King (Derek Jacobi), and the Grand Duke (Stellan Skarsgard) council against marrying for love, favoring instead a political alliance.
The story has been noticeably beefed up from the rather straightforward narrative of the animated version. Here, there's political intrigue (although nothing that would confuse younger viewers) and the characters are better developed than their earlier counterparts. The most noteworthy aspects remain intact, however: the bond between viewer and heroine is strong and lasting and nothing is done to damage Cinderella's standing near the top of Disney's Princess Pantheon. Girls in particular will adore this version of Cinderella for that reason alone.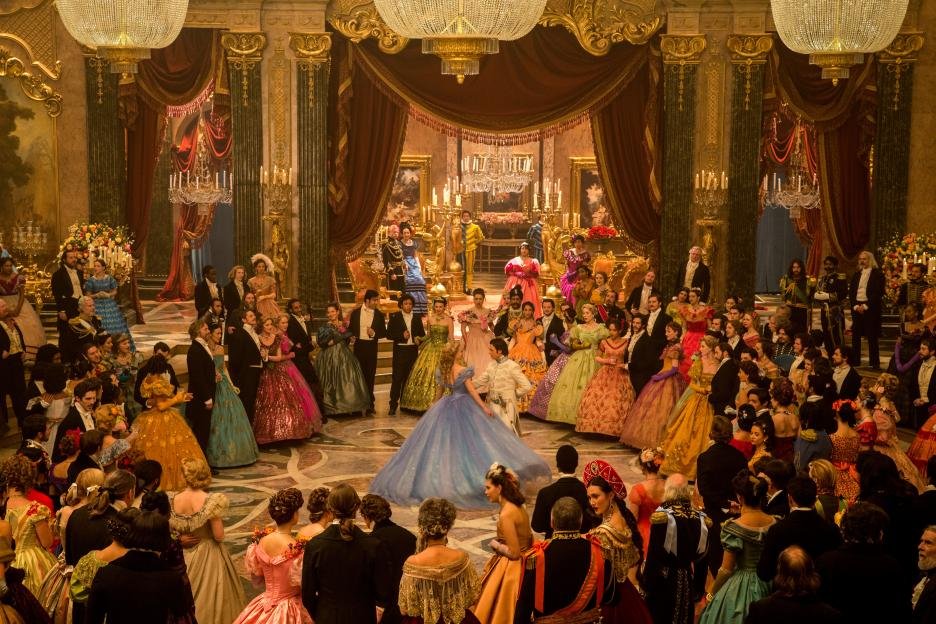 As a director, Branagh has always shown a flair for sumptuous visuals - witness Hamlet - and he brings that quality to Cinderella. The early scenes are bathed in a soft, gold light. The transformed pumpkin-carriage is a wonder to behold. And the ballroom scenes are riots of color and energy. Cinderella is a figure of loveliness in her blue dress and rainbow-catching glass slippers. There's little doubt of the animated film's influence on the look of this Cinderella; Branagh has poured all his talents into making it memorable. And, in keeping with a long-standing Disney tradition, a family of mice is anthropomorphized.
Cinderella is preceded by ten-minute Frozen short (called "Frozen Fever") offering a return engagement for all the major players from the 2013 movie. Many children will attend Cinderella primarily because of the fleeting sequel but may find themselves enjoying the entrée as much or more than the ballyhooed appetizer. At a time when Disney seems intent upon re-inventing many of their animated masterpieces as live-action would-be blockbusters, Cinderella proves that stories need not be musicals or feature dramatic changes to provide engaging movies.
---
Cinderella (United States, 2015)
Director:
Kenneth Branagh
Cast:
Cate Blanchett
,
Richard Madden
,
Lily James
,
Nonso Anozie
,
Holliday Grainger
,
Hayley Atwell
,
Ben Chaplin
,
Derek Jacobi
,
Stellan Skarsgard
,
Helena Bonham Carter
,
Sophie McShera
Home Release Date: 2015-09-15
Screenplay:
Chris Weitz
Cinematography:
Haris Zambarloukos
Music:
Patrick Doyle
U.S. Distributor: Walt Disney Pictures
Run Time: 1:42
U.S. Release Date: 2015-03-13
MPAA Rating:
"PG"
Genre:
FANTASY/ROMANCE
Subtitles: none
Theatrical Aspect Ratio: 2.35:1
---
Three...better movies of this genre
worse movies of this genre
Three...better movies of Cate Blanchett
worse movies of Cate Blanchett
Three...better movies of Richard Madden
(There are no more better movies of Richard Madden)
worse movies of Richard Madden
(There are no more worst movies of Richard Madden)
Three...better movies of Lily James
worse movies of Lily James