Pride and Prejudice and Zombies (United States, 2016)
February 06, 2016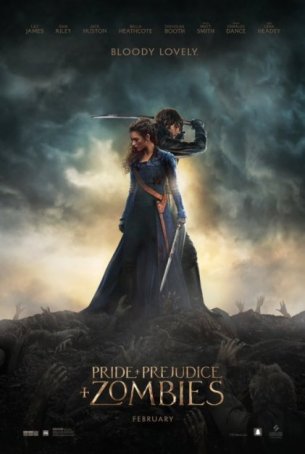 Watching Pride & Prejudice and Zombies, I was overwhelmed with a desire to re-watch the definitive 1995 Pride and Prejudice mini-series starring Colin Firth and Jennifer Ehle. That's because this new horror/romance mashup provides just enough flavor of Jane Austen's classic to tease without satisfying. Perhaps there are zombie movie aficionados who might similarly be motivated to seek out the oeuvre of walking dead maestro George Romero. The bottom line is that Burr Steers' adaptation is unlikely to please any audience regardless of what they're looking for.
When Pride & Prejudice and Zombies was published, it was rightfully considered a novelty book. The concept could be viewed as subversive and original but it's not the kind of thing that stands up to cover-to-cover reading. One doubts, however, that Seth Grahame-Smith wrote the manuscript to be read. Rather, it's a "skim through" - a one-joke idea that quickly loses steam. Whether or not it could be successfully adapted into movie form is questionable but this movie doesn't work. The Burr Steers interpretation suffers from multiple problems: it's tone deaf, features at least one key miscasting, and is far too serious for its own good.
Consider the title: Pride & Prejudice and Zombies. Sounds like a satire, right? Like something the Monty Python troupe might produce. It's a reasonable assumption considering that the premise inspires thoughts of lowbrow humor and high camp. Steers, however, doesn't get the joke or, if he does, he fails to convey it. His actors play this straight with nary a nudge-nudge-wink-wink to be found. A few of the scenes - those taken (nearly) verbatim from the original novel - work surprisingly well. But "new" material fails and the climax, which focuses on the Zombie Apocalypse, is so badly realized that even the character assassination of Wickham seems minor by comparison.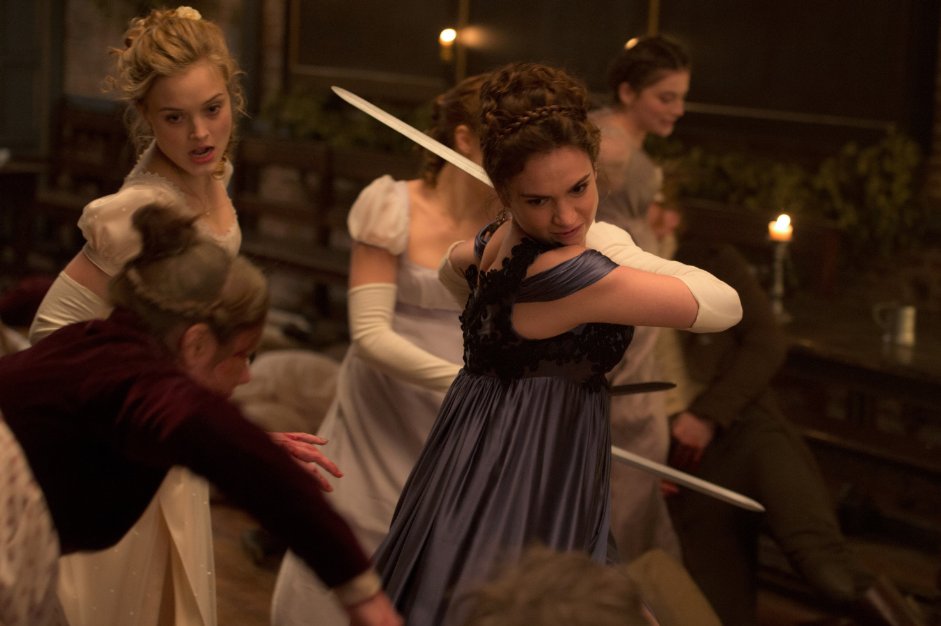 The movie postulates what might have happened if spunky Elizabeth Bennet (Lily James) and taciturn Fitzwilliam Darcy (Sam Riley) had met and fallen in love-hate in an England overrun by zombies. For the first two-thirds of the movie, things play out much as they do in Austen's novel (with occasional gory interludes). We meet familiar faces: Lizzy's sister, Jane (Bella Heathcoate), who falls for rich Mr. Bingley (Douglas Booth); charming George Wickham (Jack Huston), who woos Lizzy with lies about Darcy; smarmy and socially awkward parson Mr. Collins (Matt Smith); imperious Lady Catherine de Bourgh (Lena Headey); and Lizzy's seemingly mismatched parents (Sally Phillips and Charles Dance). The characters go through all the Austen-inspired moves until the zombies become rambunctious and the Battle of London rages. It's around this time that the film, which was never all that good to begin with, takes a precipitous downturn.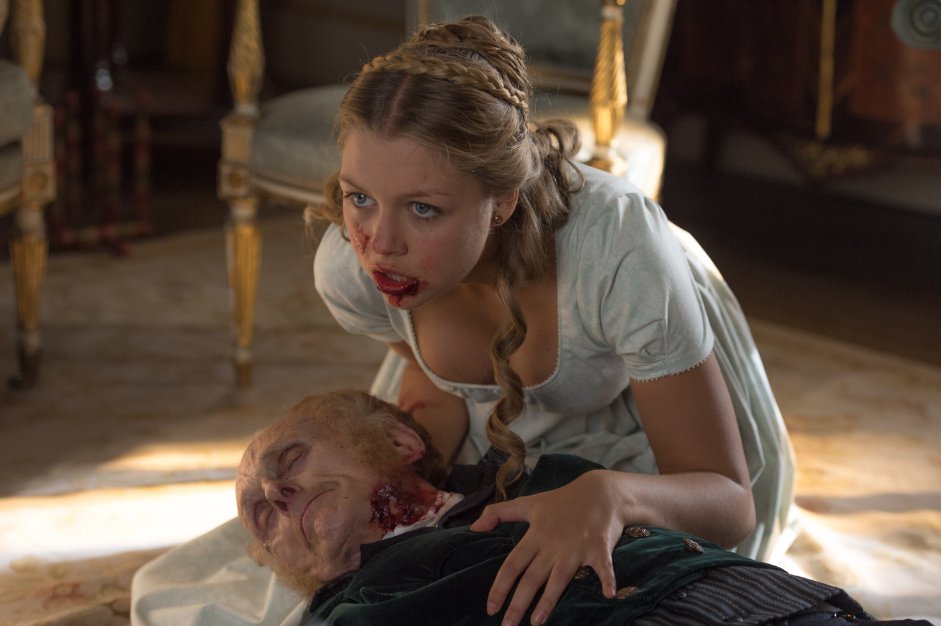 Most of the cast is solid. In fact, some of the actors are quite good in their roles. Lily James makes a kick-ass Lizzy and is able to convey the complex emotions of Austen's heroine. Matt Smith is delightfully awkward as Mr. Collins, providing the film's comic relief (also his function in the novel). Lena Headey is an offbeat choice for Lady Catherine but she quickly owns the role - at least until her last few scenes. Sadly, Sam Riley fails as Darcy, and that's a major blow. His version of prideful and brooding comes across as unlikable and his grating, growling voice is nails-on-a-blackboard irritating. It's hard to be enraptured by a romance when one of the great leading men in literature is so badly handled. Riley is a good actor (he was one of the bright spots in the self-indulgent On the Road) but he's miscast here.
The task of merging Austen's love story with zombie massacres may be too great for any filmmaker to accomplish. And the PG-13 rating doesn't help. But Steers doesn't so much massage the romantic and horror elements as smash them together without trying to camouflage the mismatched seams. His approach doesn't work and the viewer is likely to get whiplash navigating the abrupt tonal shifts. Also, the battle sequences are ineptly choreographed, although all the cutting could be the result of the PG-13.
If you want Pride & Prejudice, there are several better adaptations out there - try either the 1995 one or Joe Wright's shorter 2005 edition. If you want zombies, I can provide a shopping cart full of titles. But wedding the two together - that's an unholy marriage recommended only for those with money to burn and time to waste. It's a truth universally acknowledged that a viewer in search of two hour's quality entertainment won't find it here.
---
Pride and Prejudice and Zombies (United States, 2016)
---

Three...better movies of this genre
worse movies of this genre
Three...better movies of Lily James
worse movies of Lily James
Three...better movies of Sam Riley
worse movies of Sam Riley
Three...better movies of Bella Heathcoate
(There are no more better movies of Bella Heathcoate)
worse movies of Bella Heathcoate
(There are no more worst movies of Bella Heathcoate)