Free Fire (United Kingdom/France, 2016)
April 23, 2017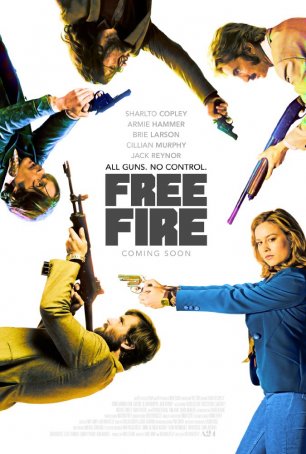 From time-to-time, it can be refreshing to sit back and watch a tautly-made thriller where the characters (and their actions) are constrained by the laws of physics and tension is allowed to ebb and flow as circumstances warrant. If Quentin Tarantino re-invented this sort of production 25 years ago with Reservoir Dogs, other directors have since copied and refined it. Free Fire isn't a "Reservoir Dogs for the 2010s" but there are enough similarities in approach, tone, and style to warrant a comparison. The violence, the cavalcade or profanity, the testosterone & adrenaline – they're all present and accounted for.
Throw this into a bucket with the early movies of Guy Ritchie, Tarantino's limited budget efforts, and the more recent The Raid: Redemption. All of these offer visceral experiences without insulting the intellect. The screenplay, credited to director Ben Wheatley and his wife/writing partner Amy Jump, is all about being in the moment. (Their previous collaborations include Kill List and High Rise). Setup is minimal and backstories are perfunctory. Three-quarters of Free Fire is about what happens after the first shot is fired.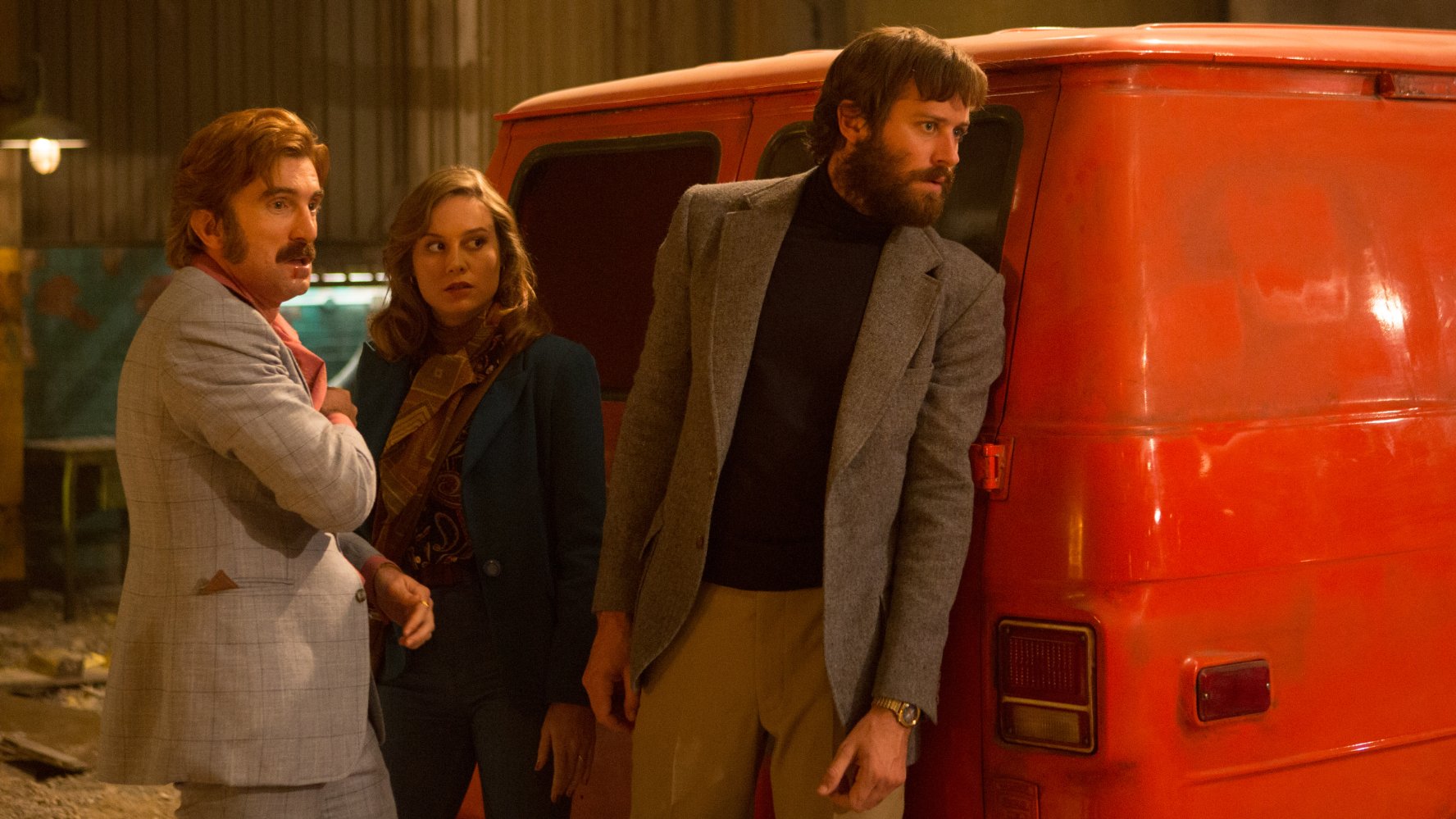 The movie transpires in Boston during the 1970s, although the time period is useful primarily in removing modern technology like cell phones from the equation. Vehicle makes, costumes, and a few dialogue snippets offer clues about the setting. The narrative brings together two mutually suspicious groups for an arms' deal in a cavernous warehouse. The buyers are IRA members Chris (Cillian Murphy) and Frank (Michael Smiley), along with their flunkies Stevo (Sam Riley) and Bernie (Enzo Cilenti). The sellers are the erratic, short-tempered Vernon (Sharlto Copley) and his accomplices, Harry (Jack Raynor), Gordon (Noah Taylor), and Martin (Babou Ceesay). Also present are middlemen Ord (Armie Hammer) and Justine (Brie Larson). The deal doesn't go smoothly and, when personal insults are traded, a gun comes out. Soon Bernie is dead and everyone else is hiding behind crates, shooting at each other. What starts out as a fight between the buyers and the sellers (with Ord and Justine loosely aligned with the latter group) turns into a free-for-all where more than one wound is dealt by "friendly" fire. No one escapes the initial fusillade unscathed – it's just a matter of who's dead, who's critically injured, and who's still mobile enough to keep on plugging.
The gunfight lasts for more than an hour. The screenplay finds ways to keep things varied and moving when it seems the story is destined to stagnate. The offbeat dialogue (occasionally too-clever-for-its-own-good) enlivens the proceedings as members of the two sides fire insults and quips at each other more frequently than bullets. A couple of mavericks enter the picture mid-way through and at least one character changes sides (while another goes ballistic and doesn't care about who gets shot).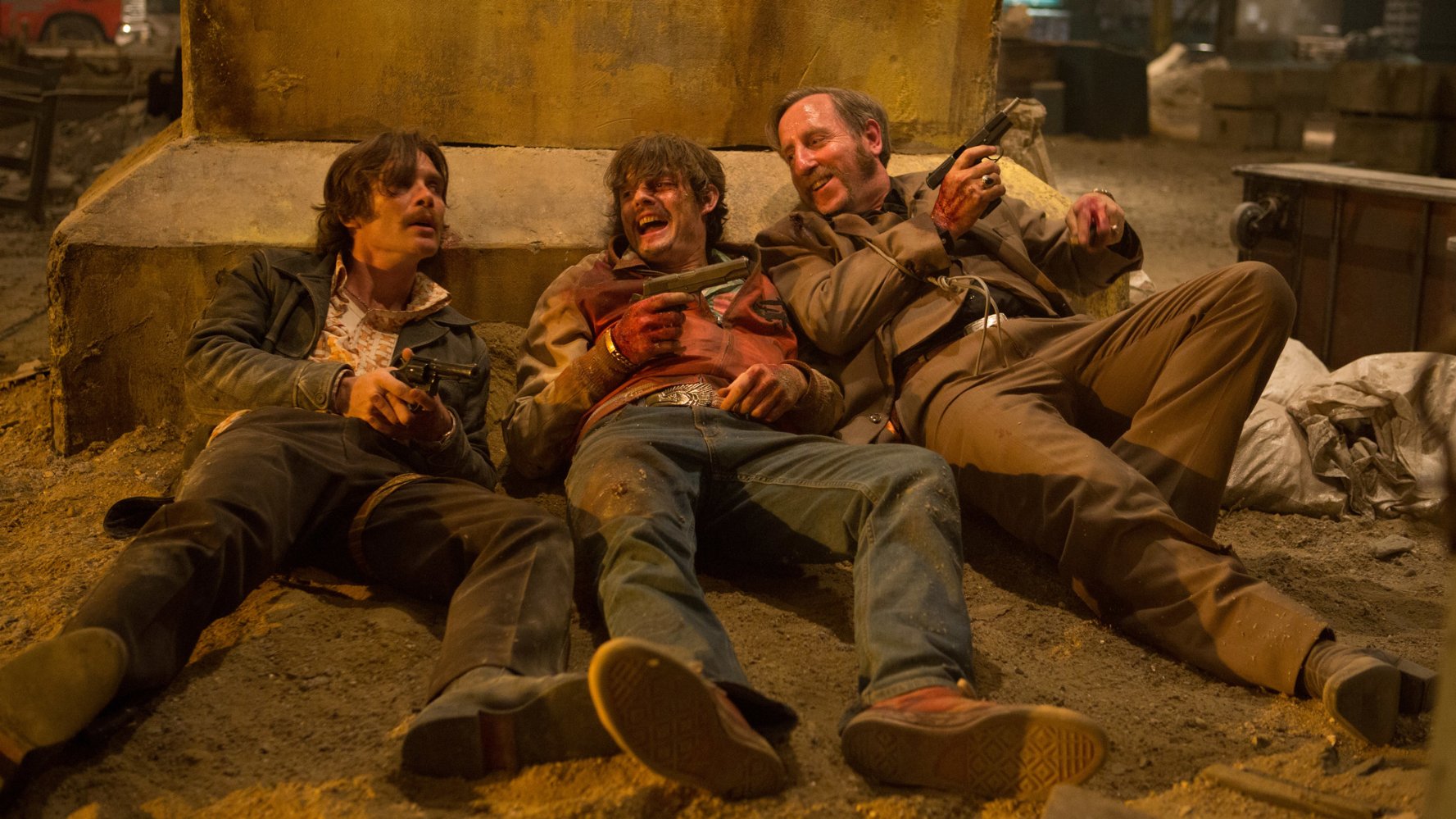 The cast is surprisingly high-profile for a low-budget indie. Most of the performers are character actors; exceptions include Armie Hammer, whose cynical turn as Ord represents Free Fire's highlight; Sharlto Copley, who delivers a psycho turn a notch below Elysium; and Cillian Murphy. The filmmakers were fortunate to nab Brie Larson before she added "Oscar winner" to her resume (she was actually a replacement for Olivia Wilde).
Saying more than I already have about the story would risk giving away plot details better discovered by watching, although Free Fire is less about narrative twists than delivering 90 minutes of high-energy entertainment. The production is tense but the quirky tone and gallows humor keep it from becoming uncomfortably intense. The pacing provides an example of cinematic economy. For those who don't mind a little blood & gore and a lot of profanity, Free Fire is a superior alternative to the big-name, bloated action films hogging the largest screens in most multiplexes. Small was better when Reservoir Dogs was released and, a quarter century later, that's one thing that hasn't changed.
---
Free Fire (United Kingdom/France, 2016)
---

Three...better movies of this genre
worse movies of this genre
Three...better movies of Armie Hammer
worse movies of Armie Hammer
Three...better movies of Sharlto Copley
worse movies of Sharlto Copley
Three...better movies of Cillian Murphy
worse movies of Cillian Murphy