Fame (United States, 2009)
September 24, 2009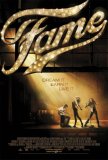 The 2009 version of Fame, which represents the feature debut of director Kevin Tancharoen (who has a few TV credits to his name, including the series "Dancelife," and was involved in a Britney Spears tour), uses the 1980 movie of the same name as its template. It's not a remake in the strictest sense of the word; although the story's progression follows the same format, the characters are all different - only echoes of their predecessors remain. In keeping with modern culture's inexplicable affinity for musical variety shows, this movie de-emphasizes the characters in order to devote more time to singing and dancing. As a result, there are instances when it strays dangerously close to programs like American Idol and its dance compatriots. This is not necessarily a good thing; it results in a cheesy production with underdeveloped characters that feels more like a TV pilot than a self-contained motion picture.
The 1980 Fame ended up spawning a successful TV show, and the small-screen version is probably better remembered than the movie. Although Debbie Allen's association with Fame began with the film, in which she had a minor role, she became synonymous with it during its years on television. Her involvement continues with the 2009 edition, although her character has changed. Here, she plays the school's principal. Irene Cara, who is also heavily identified with Fame, primarily because of her musical contributions, was not involved in the remake. Two of the songs she sang are used - "Out Here on My Own" (with Naturi Naughton providing vocals) and the title track, which is not employed until the closing credits.
One of the key problems with the 1980 Fame, which is exacerbated here, is that there are too many characters and too long a time span for any story to achieve critical mass. Worsening the situation is that most of the individuals the screenplay focuses on are walking clichés, and there's little opportunity for any of them to break free from their carefully plotted orbits. The setting is the same: a competitive New York City arts high school. The framework is identical, with the movie broken into five chapters: "Audition Day", "Freshman Year", "Sophomore Year", "Junior Year", and "Senior Year." The individual stories are culled from the stereotyped teenager bargain bin of the script-writer's convenience store. There's the shy, insecure girl who's trying to find herself; the angry rebel who's getting in touch with his inner artist; the classical pianist who defies her parents expectations when she starts singing hip-hop; the dancer who finds her dreams fulfilled; and the one who has his hopes dashed. In the skinny span of 100 minutes, Fame covers four years in the lives of these people (and others) as they move from admission to graduation. Time is so compressed that most of the characters hardly seem to change (emotionally or physically) from year-to-year. And not since Grease have so many actors in their mid-20s been asked to play high school freshman. (At the tender age of 19, Kay Penabaker comes the closest to being credible.)
Of the "teenagers," the only one who could be considered a standout is Naturi Naughton, who has skill both as an actor and a singer. (She was recently featured as Lil Kim in Notorious.) Most of the other young performers appear to have been chosen more for their physicality than for their acting ability. They're good singers and dancers, but even the best are merely adequate as thespians. Some of them are embarrassing. Not surprisingly (Naughton aside), the most credible performances come from the adults playing the teachers: Kelsey Grammer (as the musical coach), Bebe Neuwirth (dancing), Megan Mullaly (singing), and Charles S. Dutton (acting). Of these four, only Mullaly's alter-ego has anything resembling a backstory, and that's revealed in a clumsy five-minute scene that features her singing on karaoke night.
Fame is a mash-up of disparate elements that don't blend well. Since it is dramatically inert due to its inability to develop even one character into a living, breathing individual, it relies almost solely on the musical elements to keep the audience involved. It's more successful in that regard than in its attempt to flesh-out a story, but some of the production numbers are too ostentatious and are awkwardly shoehorned into the cinematic tapestry. (This was also true of the 1980 movie, where the performance of "Fame" was included in a laughably absurd manner.) Some of the numbers, like the lunchroom jam, radiate an offbeat kinetic energy. Others, like Naughton's powerful rendering of "Out There on My Own," evoke an emotional response. Most, however, are disposable and forgettable - candy for the eyes and ears that attempt to distract from the movie's distressing inability to tell a coherent or compelling story.
The original Fame had its share of problems, but authenticity was not one of them. It felt real. The characters, while mostly underdeveloped, were believable. The 2009 re-interpretation is more like an afterschool special, and the associated PG rating indicating it was made primarily for the High School Musical crowd. This time, forget its name.
---
Fame (United States, 2009)
Run Time: 1:45
U.S. Release Date: 2009-09-25
MPAA Rating:
"PG"
Genre:
DRAMA/MUSICAL
Subtitles: none
Theatrical Aspect Ratio: 2:35:1
---
Three...better movies of this genre
worse movies of this genre
Three...better movies of Naturi Naughton
(There are no more better movies of Naturi Naughton)
worse movies of Naturi Naughton
(There are no more worst movies of Naturi Naughton)
Three...better movies of Kay Penabaker
(There are no more better movies of Kay Penabaker)
worse movies of Kay Penabaker
(There are no more worst movies of Kay Penabaker)
Three...better movies of Kelsey Grammer
worse movies of Kelsey Grammer