Cyrano (United Kingdom/United States/Italy, 2021)
December 15, 2021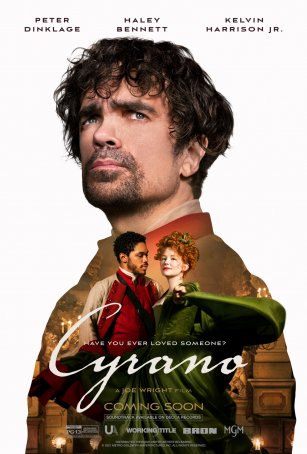 Generally speaking, the movie industry loves the concept of unrequited love…to a point. That point is, of course, that there's a happy ending – a quality notably absent from Edmond Rostand's play, Cyrano de Bergerac, upon which Joe Wright's latest film is based. To say that the source material is bleak is to understate the matter. Even when a faithful adaptation is mounted, such as with the 1990 version starring Gerard Depardieu, it can be difficult to endure. The most popular Cyrano de Bergerac to-date is Steve Martin's Roxanne, which changed the ending. 2021's Cyrano retains that glum aspect but adds a bunch of forgettable songs that do not improve the overall production.
Wright's movie is based on a stage musical written by Erica Schmidt. The stars of the live show, Peter Dinklage and Haley Bennett, reprise their roles as Cyrano and Roxane, so it's unsurprising how comfortable they are with the characters and each other. The same cannot be said of Kelvin Harrison Jr., whose Christian is stiff and forgettable, and Ben Mendelsohn's De Guiche, whose approach is as over-the-top as his work in Rogue One. There's a genuine spark between Dinklage and Bennett, but their interactions are too limited for it to be more than a secondary pleasure.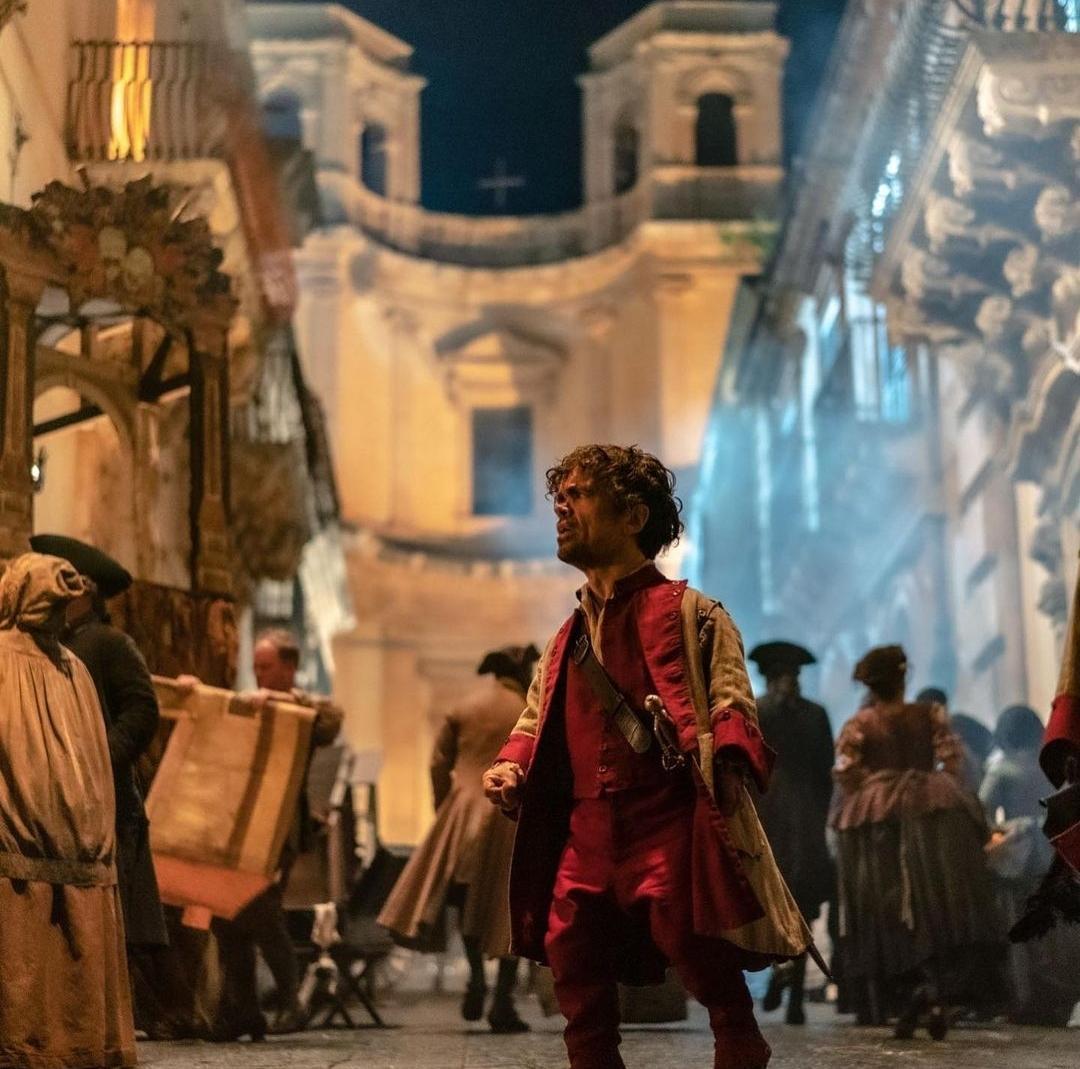 The story of Cyrano is probably as well-known as any of Shakespeare's plays. The title character is a cadet in the French army (circa 1640) whose talents as a duelist and poet would seem to make him a perfect match for any woman in want of a husband. However, his appearance (in particular, a large nose, although this characteristic is replaced by his short stature in the movie) causes him to doubt his appeal. He falls in love with the beautiful Roxane but hides his true feelings under the guise of friendship. When she confesses that she desires Christian de Neuvillette, a newcomer under Cyrano's command, he hides his disappointment and promises Roxane to do what he can to mentor Christian.
By writing letters to Roxane under Christian's name and coaching the younger man about how to woo Roxane with flowery language, Cyrano is able to court her by proxy. Christian is thankful (rather than resentful) but on those occasions when he is alone with Roxane, she wonders why his conversation is so banal. There is a third player in the mix for Roxane's affections – the snobbish Duke De Guiche, who seeks to blackmail Roxane into marriage. When he is foiled in this goal, De Guiche (acting on behalf of the king) sends Cyrano and Christian to the Siege of Arras (part of the Franco-Spanish war) where it is supposed that one or both of them will die.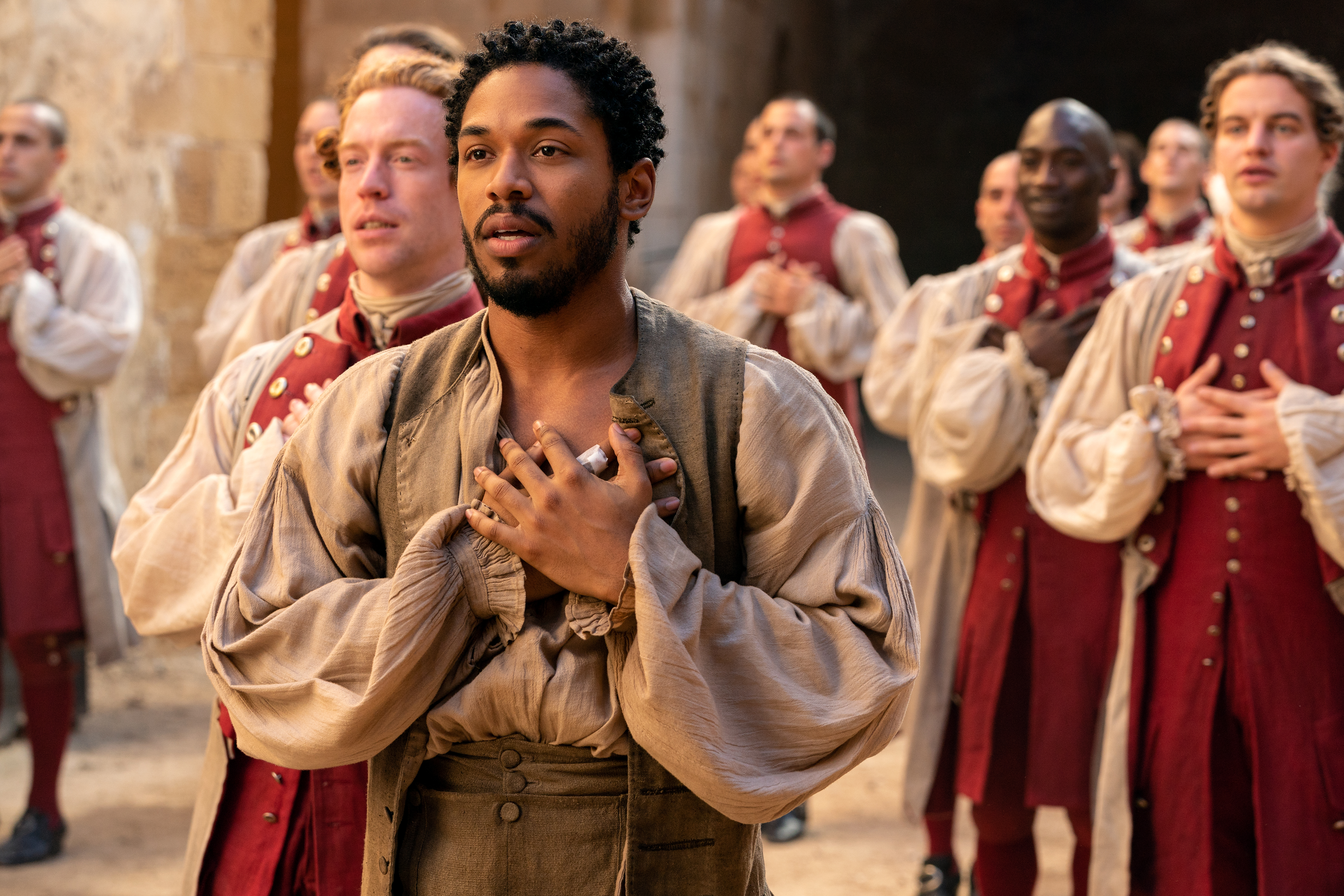 Only vague details are known about the historical Cyrano de Bergerac. Roston's play, written some 250 years after his death, is heavily fictionalized. Over the years, Cyrano has become a popular character, with adaptations (either direct or indirect) of Cyrano de Bergerac being the most common. Although this isn't the first time the play has been used as the formative tissue for a musical, it represents the highest-profile such attempt. Unfortunately, the worst part about the movie is the music. There's not a single memorable song in the whole bunch and, as soon as the characters start to sing (all the actors use their own voices and it's quite clear that, excepting Bennett, voice doubles should have been considered), the narrative stops dead in its tracks. With Cyrano opening into a market that includes Steven Spielberg's exemplary version of West Side Story, comparisons are inevitable and there's not a single area where Cyrano comes out on top (or even close to it).
Perhaps the biggest disappointment about the whole project is Joe Wright's continued inability to get back on track. It has been over a decade ago since his early projects marked him as a director to watch (both Pride & Prejudice and Atonement received multiple Oscar nominations). Lately, however, with the exception of Darkest Hour, his resume has held little promise. Unfortunately, despite returning to a classical source, Wright's fortunes have not been reversed. Cyrano is a disappointment. The set design and camera work are first rate, as are the performances of Dinklage and Bennett. It causes one to wonder whether, had the songs been excised in favor a straightforward telling, Cyrano might have played better. As it is, however, it's merely a handsome looking period piece with too many mediocre songs and a major downer of an ending. Not exactly a great way to ring in a new year.
---
Cyrano (United Kingdom/United States/Italy, 2021)
---

Three...better movies of this genre
worse movies of this genre
Three...better movies of Peter Dinklage
worse movies of Peter Dinklage
Three...better movies of Haley Bennett
worse movies of Haley Bennett
(There are no more worst movies of Haley Bennett)
Three...better movies of Kelvin Harrison Jr.
worse movies of Kelvin Harrison Jr.
(There are no more worst movies of Kelvin Harrison Jr.)