Elvis (Australia/USA, 2022)
June 25, 2022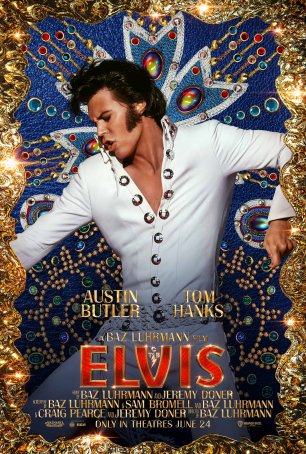 For all that the description implies, Elvis is well and truly a Baz Luhrmann film. At times frustrating and at times exuberant, the movie is ultimately effective in capturing both the triumph and tragedy of the title character's life. It's uneven in the way that many of Luhrmann's productions have been, prioritizing visual razzle-dazzle and spectacle over character development. But Elvis has a strong, instantly-recognizable catalog of songs to fall back on and a committed cast; these things get the movie through the rough spots when the narrative sputters. At 159 minutes in length, it's too long by at least a half-hour but the ending (which features archival footage of the real-life Elvis singing "Unchained Melody" shortly before his death) is enough to bring a tear to the eye.
Luhrmann's Elvis commits the cardinal sin of bio-pics: trying to encapsulate a too-large period of time into a couple of hours. That hardly ever works and, despite the director's non-standard stylistic approach, it creates problems. The first half, which covers the rise to fame of Elvis Aaron Presley (Austin Butler) from humble roots, his early controversies with moral crusaders, his time in the army, and his cheesy movie career, is rushed through with undue haste and plastered on screen with all the urgency of a music video. This part of the film is exhausting because of its pacing and a little disappointing because of connections and relationships hinted at but never examined. There's a reason for that: the movie is filtered through the self-serving viewpoint of Elvis' corrupt manager, Colonel Tom Parker (Tom Hanks), whose deathbed remembrances form the framework.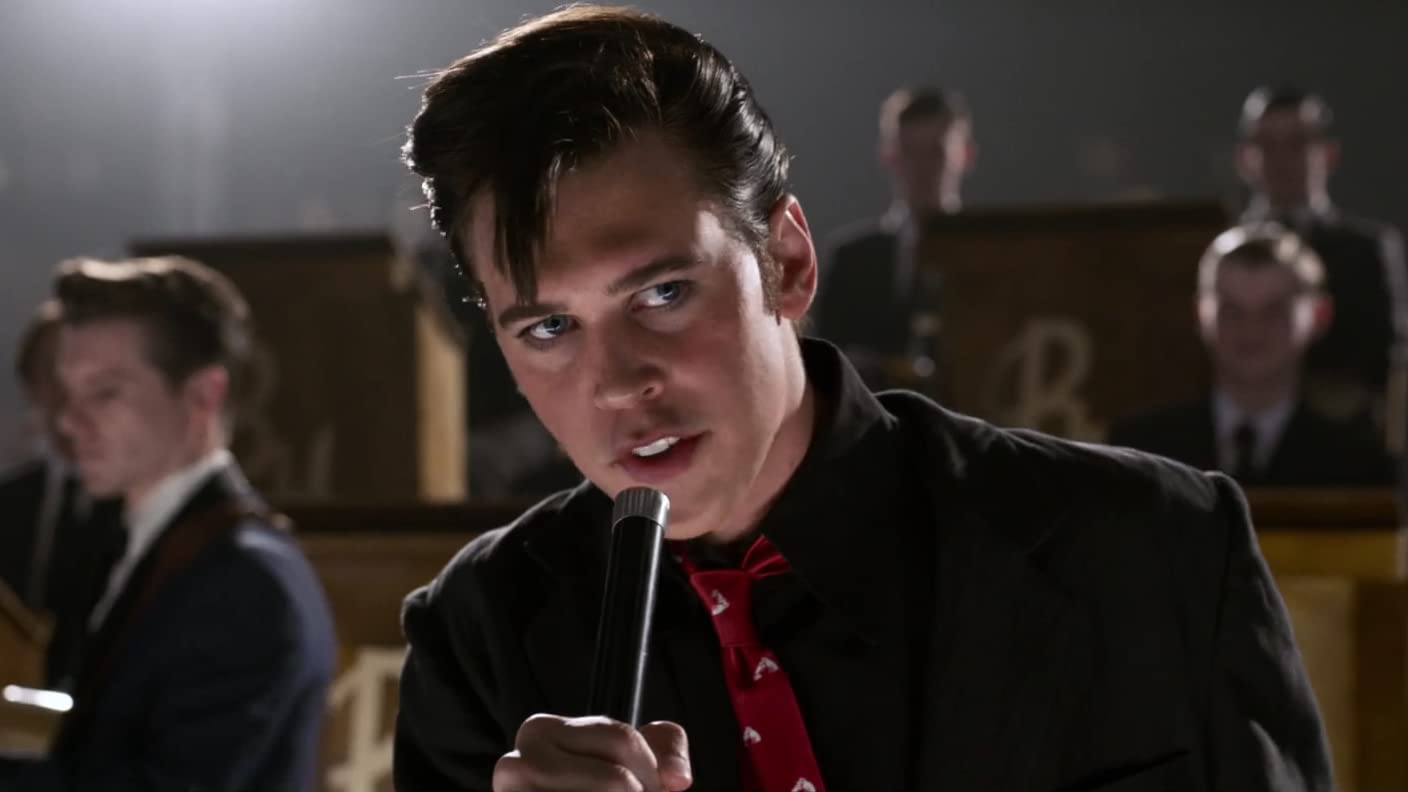 Elvis reaches its high point in a recreation of the 1968 "comeback" TV special that aired on NBC during the holiday season and garnered massive ratings. Following this, Luhrmann applies the brakes and allows the movie to drift into more conventionally dramatic territory. During the final half-hour, the characters begin to grow and the tragedy of Elvis' situation (arguably overemphasized by the repeated playing of the line "We're caught in a trap…" from "Suspicious Minds") snowballs. The screenplay doesn't sugarcoat Elvis' decline, which was in part fueled by prescription drug abuse, but it also doesn't linger on the final years. In fact, the main narrative cuts off sometime in the 1973-74 period.
Austin Butler gets high points for his vocal work (although most of the iconic numbers mix in Elvis' voice, making them more of a lip-synching exercise) but his physical resemblance is inconsistent. Butler makes a passable imitation except when shown in close-up. Facially, he doesn't look much like the singer. Tom Hanks, who typically plays a hero (or at least a likeable type), is convincing as the conniving Colonel Tom Parker, although he's almost unrecognizable under layers of prosthetics and makeup. Supporting performers include Olivia DeJonge as Priscilla, Richard Roxburgh as Elvis' father, Vernon, Helen Thomson as Elvis' mother, Gladys, and Kelvin Harrison Jr. as B.B. King.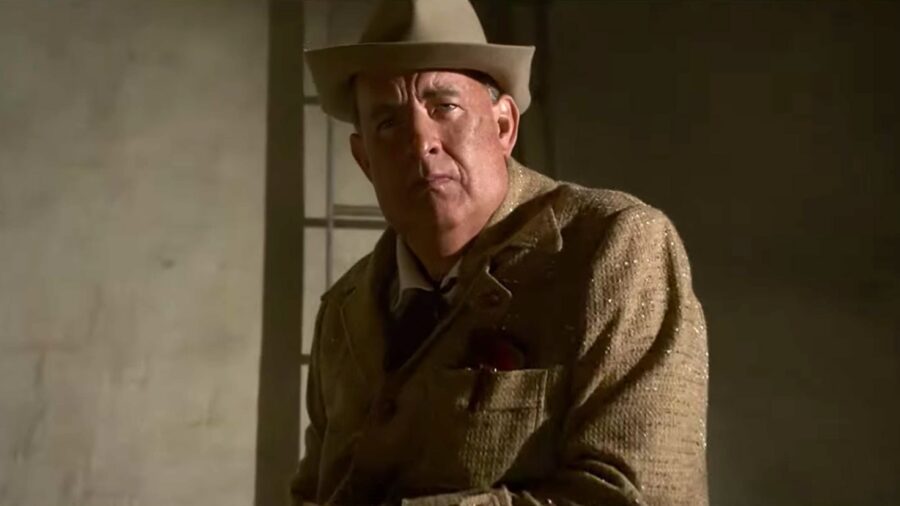 Like other recent musical biopics, including Bohemian Rhapsody and Rocketman, the experience is as much about watching the recreations of beloved and recognizable songs as it is about telling a story. In the case of Elvis, there are more than a dozen standards, all brought to life using Lurhmann's inimitable style, a bombastic spectacle that frequently relies on soaring camera movements, quick cuts, and inventive transitions. There are times when the director's excesses threaten to overwhelm the narrative, but it never quite happens. The end result is upbeat, poppy, and easily digestible.
Elvis probably won't satisfy those who are looking for a more political film, one that explores the various controversies that embroiled the singer and have been thrown into bas relief by the recent explosion of cultural wokeness. (For example, Elvis' attraction to underage girls is barely mentioned.) But that's not the film Luhrmann intended to make nor is it reasonable to expect something of that sort from a director with his resume. A wise critic once told me that my job is to review the film at hand, not the one I wish had been made. Luhrmann's movie achieves its goals of highlighting Elvis' music while providing a capable, if imperfect, abstract of his life. For fans of the icon and his music, it hits enough sweet spots to be worthy of a theatrical viewing.
---
Elvis (Australia/USA, 2022)
---

Three...better movies of this genre
worse movies of this genre
Three...better movies of Austin Butler
(There are no more better movies of Austin Butler)
worse movies of Austin Butler
(There are no more worst movies of Austin Butler)
Three...better movies of Tom Hanks
worse movies of Tom Hanks
Three...better movies of Olivia DeJonge
(There are no more better movies of Olivia DeJonge)
worse movies of Olivia DeJonge
(There are no more worst movies of Olivia DeJonge)