Dear Evan Hansen (United States/Canada, 2021)
September 24, 2021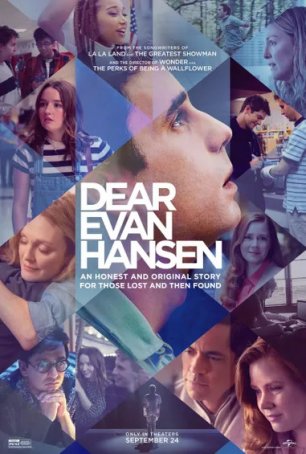 While watching Dear Evan Hansen, I was reminded of the 1994 film I'll Do Anything. Originally designed as a musical (with eight songs by Prince), the decision was made in the editing room to release the Nick Nolte vehicle as a straight drama. The songs, regardless of their inherent quality, were deemed to be too much of distraction. I feel the same way about Dear Evan Hansen. The story, about a high school senior struggling with social anxiety and depression, doesn't need the songs. In fact, they detract from the narrative. They are encumbrances. And they're not very good.
This isn't the sort of film where it works to have characters suddenly start singing. The opening number, which introduces us to the title character, is a sour dirge with him wandering the halls of his school, wondering whether anyone will notice him. The song doesn't give us anything – it doesn't advance the story, it doesn't provide character information that we can't deduce from the performance and dialogue, and it doesn't lodge in our memory. And, although one song only bumps up the running time by a couple of minutes, those minutes add up and, at well over two hours,
Dear Evan Hansen
is overlong.
Based on the acclaimed stage play, Dear Evan Hansen retains many of the plot points of its inspiration while making certain changes to amp up the cinematic elements. At least two problems remain. The first is the artificiality of the narrative's house of cards. The second is that the movie does everything in its power to keep the audience from recognizing how misanthropic Evan is. In almost any other movie, he would be a villain but Steven Levenson's screenplay goes through contortions to get the audience to sympathize with him. The film's sunny closing scene might be its most egregious misstep, although nearly everything the entire final 15 minutes feels false.
Dear Evan Hansen wades into some deep waters, addressing issues of teen mental health and suicide and the power of social media. When the characters stop singing long enough to dig into the drama, there are some strong moments. Evan's social isolation is believable. There are effective reaction shots focused on the awkwardness of how people interact with the family members of suicide victims. And, once the movie gets to the point where everyone has to deal with the raw emotions inevitable in the wake of a suicide – the guilt, finger-pointing, and hypocrisy – it finds surer terrain. But, seemingly every time the movie is on the verge of doing something powerful and profound, someone starts singing and breaks the spell.
Dear Evan Hansen starts out by introducing us to the title character (played by Ben Platt, who originated the role on stage) – a loner with only one "family friend," Jared (Nik Dodani); a mother (Julianne Moore) who's rarely around; and a crush on his classmate, Zoe Murphy (Kaitlyn Dever). Evan suffers from extreme social anxiety (and, as we later learn, depression). An assignment from his therapist has him write letters to himself. One day, one of those missives is intercepted at a school printer by a resident bully, Connor Murphy (Colton Ryan), who belittles Evan. Later, when Connor is found dead by his own hand, Evan's letter, which is in his pocket, is mistaken as a suicide note…addressed to Evan.
Connor's mother, Cynthia (Amy Adams), and step-father, Larry (Danny Pino), mistakenly deduce that Connor and Evan were friends. After feebly trying to deny this, Evan falls into the role and starts spinning lies about the time he spent with Connor, including a day when they visited an orchard together. Evan is co-opted to join an anti-suicide activist group run by Alanna (Amandla Stenberg), who encourages him to speak at a memorial service she is organizing for Connor. Evan's seemingly heartfelt speech goes viral and he becomes a social media sensation. He begins to fabricate past exchanges with Connor, acting almost like Cyrano by putting words into the dead Connor's e-mails. All this brings him closer to Zoe and, in a moment from his fantasies, they share a kiss.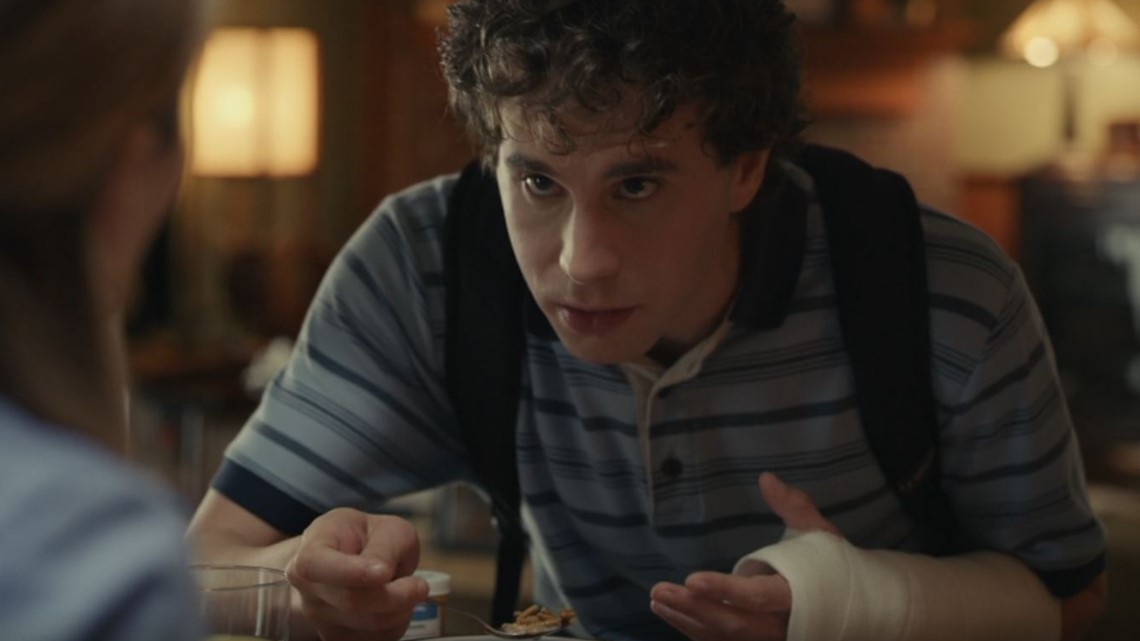 While many of the seasoned movie actors like Julianne Moore, Amy Adams, and Kaitlyn Dever (who has ventured into the halls of high school previously, as one of the co-leads in the raunchy comedy, Booksmart) do credible jobs, the film's biggest "miss" is Ben Platt. Like many of the other "teenagers" in the movie, Evan is played by an actor a decade too old. However, while Deever (who's 25), Colton Ryan (26), and Nik Dodani (27) are able to pass for younger characters, Platt looks older than his 28 years – something abundantly clear in close-ups. And his style is overly theatrical. One can see how this performance could be perceived as wrenching on a stage but it's out-of-tune for a movie.
Songwriters Justin Paul and Benj Pasek have done some notable work in the past. Their screen credits include The Greatest Showman and La La Land. Based on those films, it's possible to conclude that their strength lies in big show-stoppers featuring complex choreography. There's not much of that sort to be found in Dear Evan Hansen; the numbers are mostly dreary ballads and every time someone starts singing, the movie is the poorer for it.
Ethan's crime is opportunism, but he uses it not as a means to achieve wealth, power, or fame. Instead, his goal is to achieve belonging. He's a sad, tragic figure but the filmmakers, Levenson and Stephen Chbosky, work overtime to paint him as a victim worthy of our sympathy. When Evan eventually acknowledges the damage he has done, it feels like too little, too late. There's a dissonance between the film's darker subjects and its seeming desire to offer something uplifting at the end. The coda feels dishonest and makes it as difficult to root for the film's success as it does for the main character.
---
Dear Evan Hansen (United States/Canada, 2021)
---

Three...better movies of this genre
worse movies of this genre
Three...better movies of Ben Platt
(There are no more better movies of Ben Platt)
worse movies of Ben Platt
(There are no more worst movies of Ben Platt)
Three...better movies of Julianne Moore
worse movies of Julianne Moore
Three...better movies of Kaitlyn Dever
worse movies of Kaitlyn Dever