Hamilton (United States, 2020)
July 07, 2020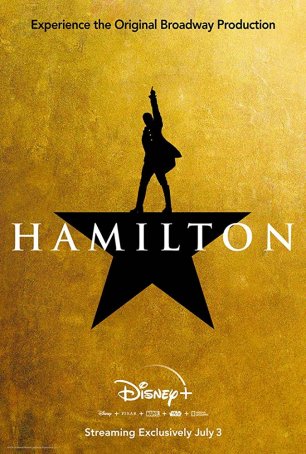 From its early days at the Off-Broadway Public Theater in February 2015 through its highly-anticipated opening on August 6 at the Richard Rogers Theater, it was apparent that Lin-Manuel Miranda's Hamilton was going to be the big live theater event of not only the year but the decade. In re-telling the tale of one of America's founding fathers via a musical fusion of hip-hop, showtunes, and pop songs, Miranda transformed a history lesson into an engaging extravaganza. His use of actors of color to play the roles of (dead) white men made a bold statement about racial equality and the importance of the United States as a melting pot. A movie version was inevitable from the beginning but perhaps this wasn't the motion picture that some envisioned.

Miranda has indicated that, at some future point, he hopes to make a more traditional movie musical out of Hamilton, but it's not on the front burner. First, he wants the stage show to complete its run and, with the touring companies and ongoing Broadway productions selling out (at least until the coronavirus shut them all down), that's not a near-term thing. But the thirst was strong to bring Hamilton to a wider audience via a filmed version of the stage musical and, with Disney outbidding all candidates and electing to debut the movie/play on Disney+ (a change from the original plan prompted by the long-term closure of multiplexes), that has happened sooner rather than later.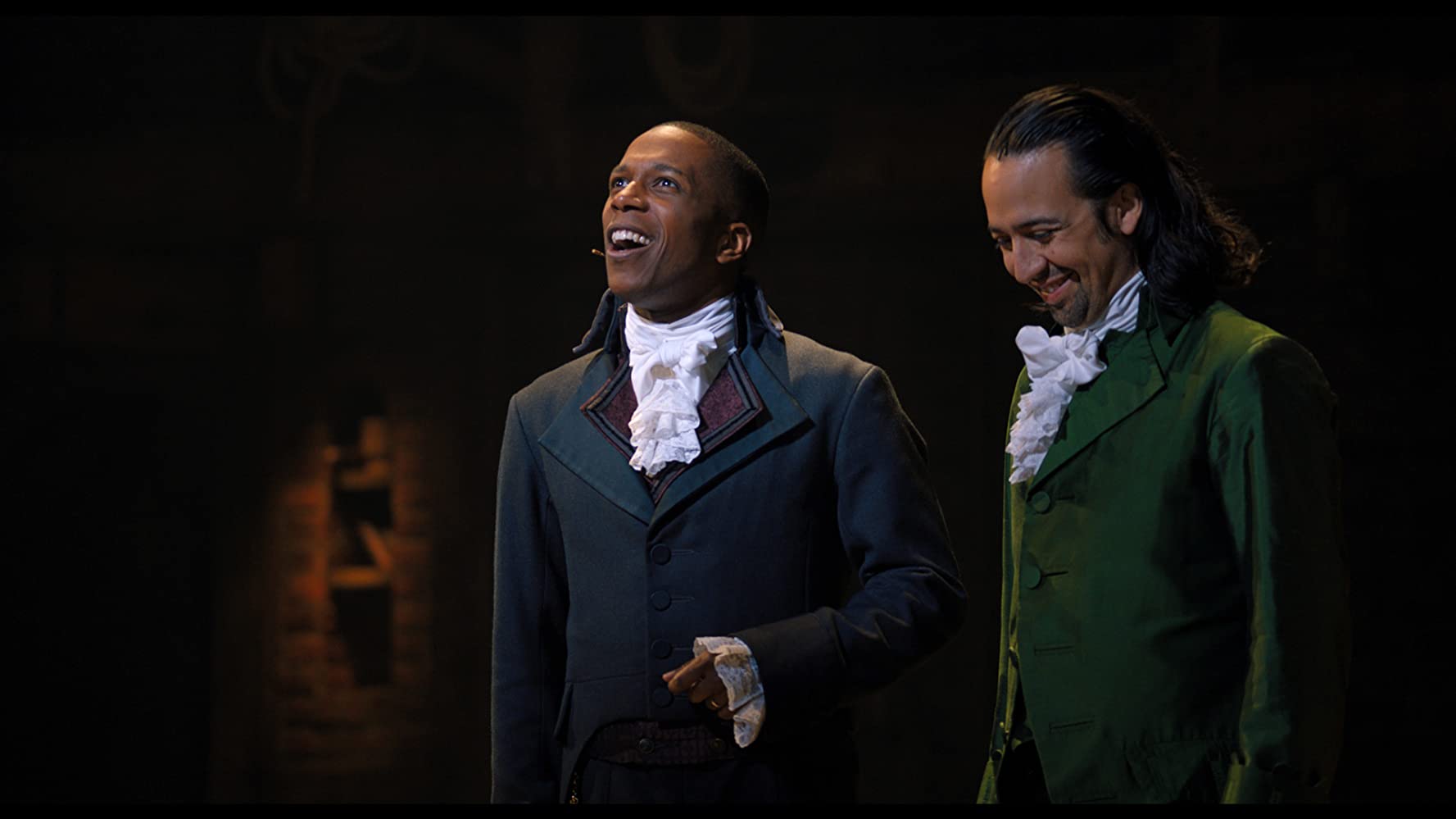 Anyone claiming familiarity with Hamilton can relish the movie for a number of reasons: the rare opportunity to see it performed by the original Broadway cast (including Miranda, who bowed out after about 11 months during the Richard Rogers run), a chance to get a view that's better than a front-row seat, and the ability to relive and enhance memories of the original experience. For Hamilton neophytes, this is a grand introduction to the spectacle. Although robbed of the energy and electricity of a live performance, the impeccable camerawork and editing allow a nearly-perfect record of what the play was like during its first year of life. (One suggestion: if this is your first viewing of Hamilton and you have limited familiarity with the lyrics, watch it with close-captioning enabled. There's a lot of exposition in some of the songs.)

Like any good stage-to-screen copy, Hamilton makes concessions to its new medium. This isn't a case of someone setting up a camera at the back of the theater and letting it roll. Multiple cameras were used and the final production is a combination of footage culled from two live performances coupled with close-ups specially filmed for the movie. (The actors performed excerpts from the play in front of an empty theater with the cameras on-stage.) The result is remarkably effective and, although it doesn't fully replicate the in-the-theater experience, it allows Hamilton to proceed more as a musical story than a documentary.

Although Hamilton is mostly based on the real-life exploits of the title character (played by Miranda), it does what many historical dramas do: condense, invent, and extrapolate to create a more dramatically effective saga. There's enough truth here that it wouldn't be surprising to see school teachers using this as an educational tool going forward.

The play is divided into two acts. The first introduces Hamilton as an orphan who lives on the island of Nevis and comes to New York in 1776 as the revolution is getting underway. There, he meets Aaron Burr (Leslie Odom Jr.) and several others. He is quickly seen as a rising star and is offered a position by George Washington (Christopher Jackson) as his right-hand man. After an interlude that details the romance between Hamilton and his soon-to-be-wife, Eliza (Phillipa Soo), Hamilton returns to war and, after being suspended by Washington for his involvement in a duel, he is brought back for the final battle, the Siege of Yorktown. In the wake of victory, Hamilton's son, Philip, is born and King George of England (Jonathan Groff) wonders how the rebels will succeed after winning their freedom.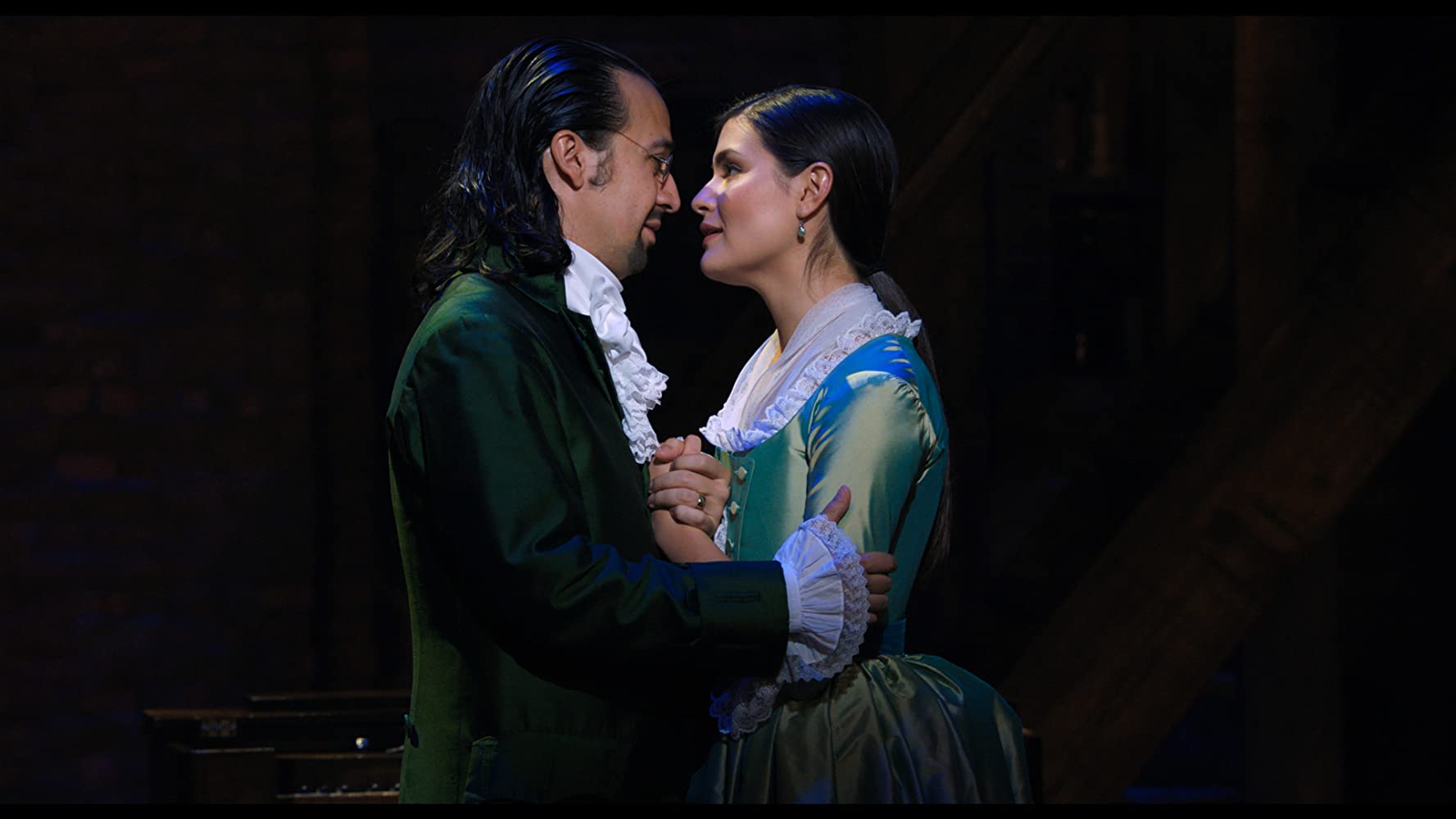 Act II concentrates on Hamilton's time in the early government, including his roles relating to the first three presidents: Washington, John Adams, and Thomas Jefferson (Daveed Diggs). In this telling, Jefferson isn't represented sympathetically – he comes across as a preening, self-involved narcissist. Hamilton's infidelity with a woman of dubious character not only ruins his political career but creates a rift in his marriage that is only healed when his eldest son dies in a duel. Meanwhile, a growing rift between Hamilton and his one-time friend Aaron Burr results in a dawn confrontation at ten paces in New Jersey.

The performances, which need to be considered more for their theatrical qualities than their motion picture impact (the two styles of acting, although similar in many ways, exist separately), are exemplary. And, as is always true of musicals, it's as much about singing and choreography as emoting and reciting dialogue (indeed, there aren't many spoken lines in Hamilton). When portrayals are comedic or overly broad (Jefferson and King George, for example), that's intentional. Miranda in particular deserves the Tony nomination. (Some who have seen both the Miranda and post-Miranda versions of the play have indicated that there is a notable drop-off.)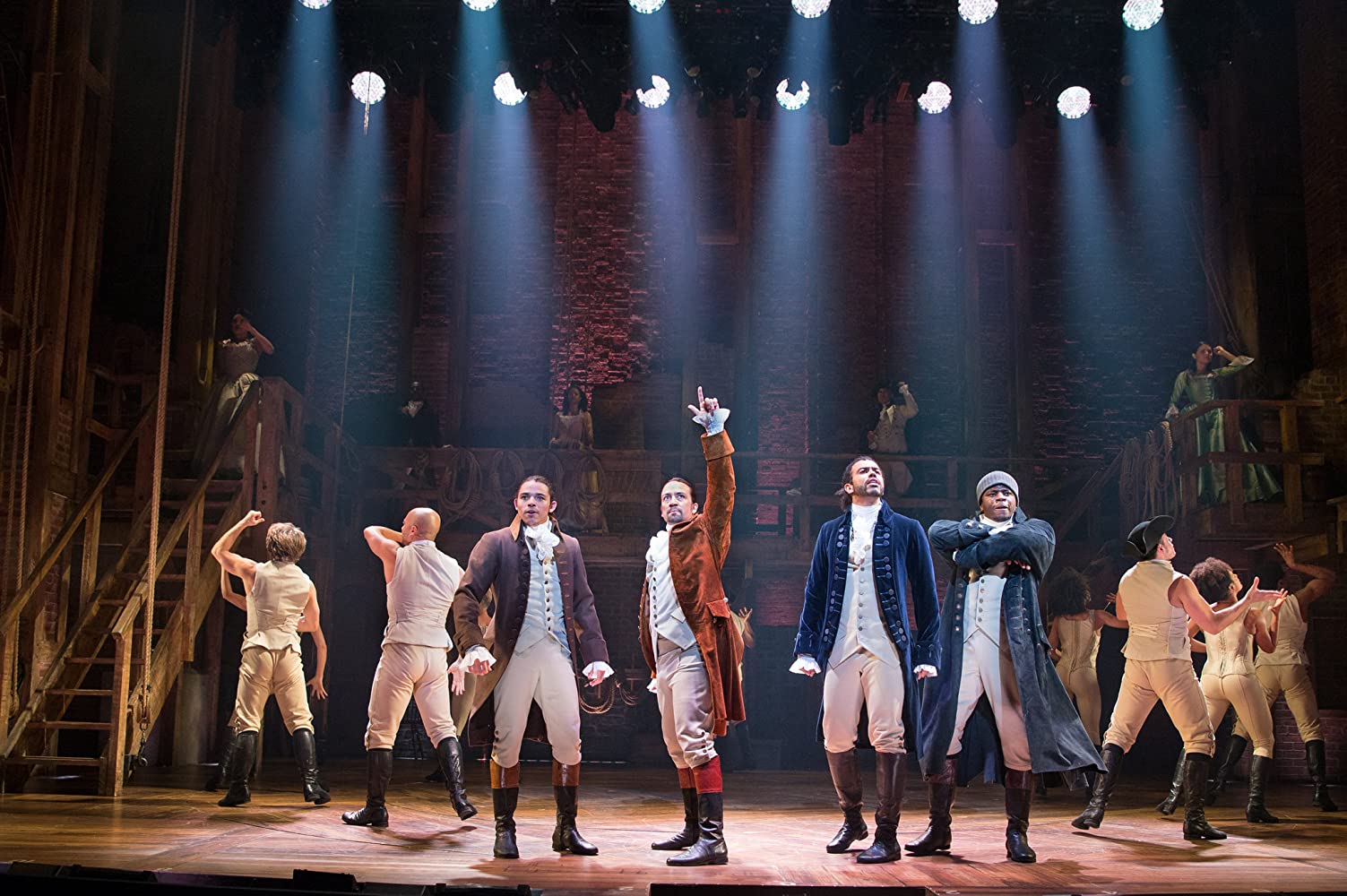 Hamilton's popularity is richly deserved. The songs are catchy and the variety of musical forms not only shows Miranda's versatility but gives everyone in the audience something to latch onto. Plus, although the book/screenplay occasionally fudges history, it provides a mostly accurate overview of many of the events of the late 18th century as the new country struggled to find its footing, proving that King George was right in pondering how the former colonies would do now that they were required to govern themselves. The movie's length (160 minutes with only a 60-second intermission) proves not to be a factor; at no point does Hamilton start to drag or wear out its welcome.

Much has been written about Miranda's decision to cast black and brown actors in roles that would ordinarily be reserved for white men. He explained it this way: "Our cast looks like America looks now, and that's certainly intentional…It's a way of pulling you into the story and allowing you to leave whatever cultural baggage you have about the founding fathers at the door." The color-blind casting (which has found critics on both the far right and far left) is more evident in the movie than on the stage but any surprise at seeing a non-Caucasian George Washington is quickly dispelled by the quality of the performance.

While Disney's decision to change gears and release the film a year earlier than planned and on Disney+ (instead of theatrically) will not only provide a boon to the subscription channel's base but makes this version of the play available to a wide audience, including potentially millions who wouldn't see the live show. Director Thomas Kail, who supervised both the stage production and the filmed composite, has aptly selected which shots and angles to include. The end result provides nearly three hours of superior entertainment both for those who consider themselves Hamilton devotees and those without previous viewing experience. It's no surprise that this is one of the best films of the year (and would have retained that distinction in any year it was released, not just this one).
---
Hamilton (United States, 2020)
---
Three...better movies of this genre
worse movies of this genre
Three...better movies of Lin-Manuel Miranda
(There are no more better movies of Lin-Manuel Miranda)
worse movies of Lin-Manuel Miranda
(There are no more worst movies of Lin-Manuel Miranda)
Three...better movies of Leslie Odom Jr.
worse movies of Leslie Odom Jr.
(There are no more worst movies of Leslie Odom Jr.)
Three...better movies of Christopher Jackson
(There are no more better movies of Christopher Jackson)
worse movies of Christopher Jackson
(There are no more worst movies of Christopher Jackson)