Oliver! (United Kingdom, 1968)
April 30, 2019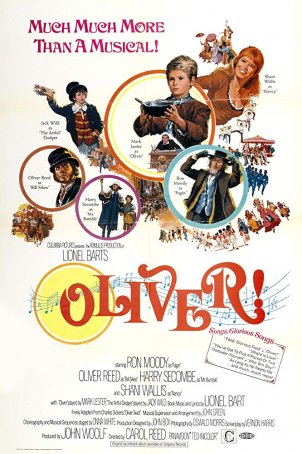 Oliver Twist has never been one of my favorite Dickens novels, so perhaps that's part of the reason why I'm lukewarm about Oliver!, the stage musical-turned-Oscar-winning motion picture adaptation of the book. It's an uneven film with a tone that veers from playful to menacing. Despite numerous simplifications of the source material, it's long and, with only a few exceptions, the songs are unremarkable and feel more like filler than organic elements of storytelling. Oliver! hasn't aged well, in part because the kind of movie it represents has withered away and doesn't appear poised for a comeback (Les Miserables notwithstanding). Those in search of a better cinematic rendition of the tale can look to either the classic 1948 David Lean/Alec Guinness film or Roman Polanski's 2005 version. Two BBC mini-series (one made 1985 and the other in 2007) offer longer, more complete explorations of the text with the former being arguably definitive.
Oliver! represented the end of an era. It closed out a period (from 1962-1969) of eight years when musicals won the Best Picture Oscar four times. In the decade following Oliver!, only four musicals were nominated and none claimed victory (the next – and thus far only – post-Oliver! musical to win Best Picture was Chicago, in 2003). Oliver! was nominated for twelve Academy Awards and took home six, including a Best Director citation for Carol Reed (finally winning, after missing out for The Fallen Idol and The Third Man) to go along with the Best Picture.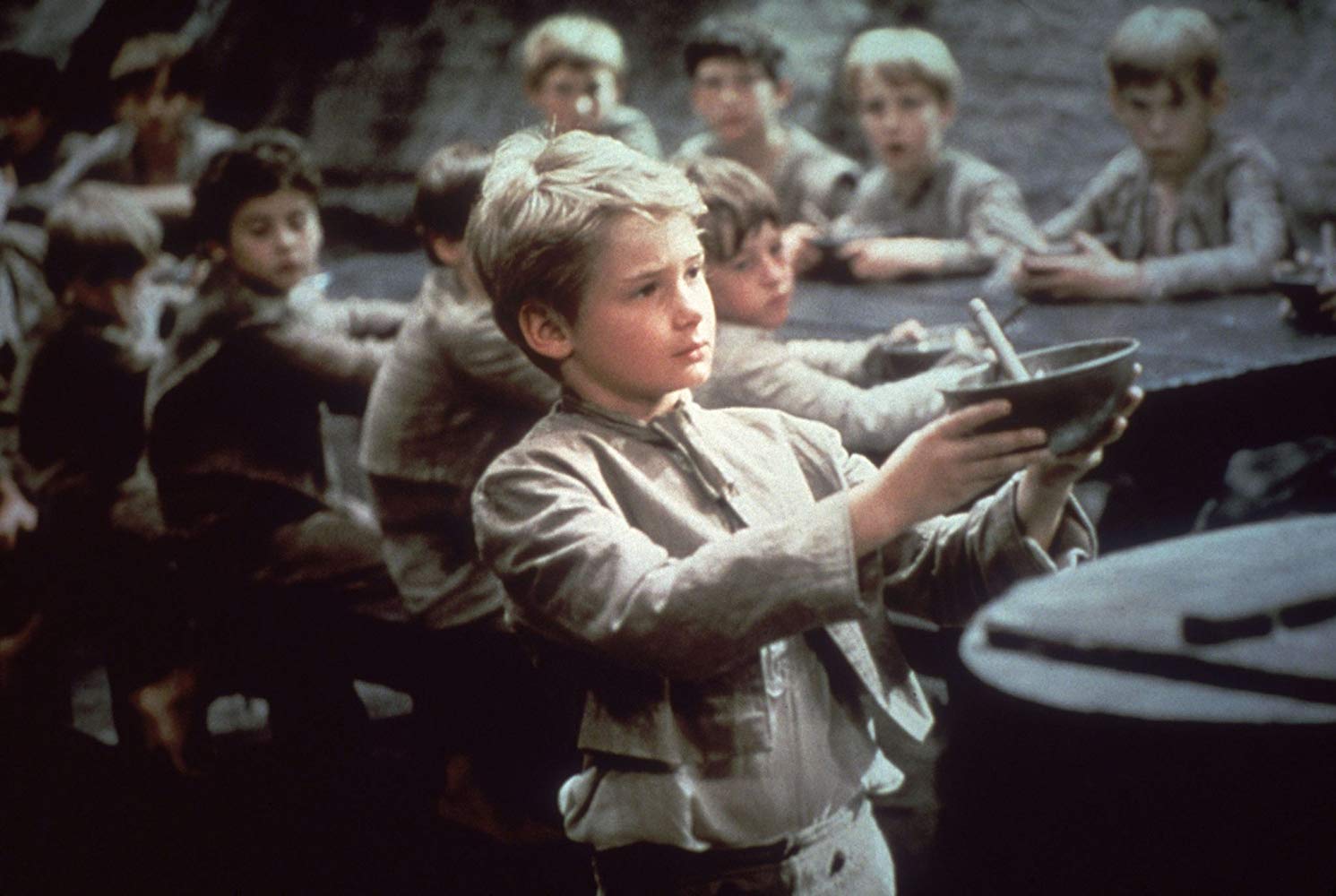 Oliver! is presented in two acts with an intermission in between. The first part opens in a workhouse located in Dunstable, England. There, the young orphan Oliver (Mark Lester), is egged on by the other boys to ask for a second portion of gruel. This enrages the caretaker, Mr. Bumble (Harry Secombe), who is charged by the governors to sell the boy to the highest bidder. He is eventually bought by an undertaker but Oliver doesn't stay there for long, running away and traveling the long, muddy road to London. Once in the big city, he meets the aptly-named Artful Dodger (Jack Wild), a pickpocket who brings him to a hideout for young thieves presided over by the conniving Fagin (Ron Moody). Also involved with the gang are a violent burglar, Bill Sikes (Oliver Reed), and his girlfriend, Nancy (Shani Wallis). Oliver is quickly indoctrinated into the activities of the group but, on his first "mission," he takes the fall when Artful Dodger's theft is noticed by his victim, the urbane Mr. Brownlow (Joseph O'Conor). At the trial, a witness testifies to Oliver's innocence and Brownlow, taking pity on the young boy, agrees to foster him.
Act II begins with Oliver happily ensconced in his new home but unable to shake off the past. Concerned that Oliver will reveal their names and locations, Fagin and Bill concoct a scheme to kidnap him. With Nancy's help, they succeed but she immediately regrets the part she played in the plan. Bill, who is becoming increasingly hostile toward Nancy, forces Oliver to help him with a robbery. When that goes wrong, he blames Oliver but, before he can enact retribution, Nancy arranges a meeting with Mr. Brownlow. Bill follows her and, believing she has betrayed him, beats her to death. He then uses Oliver as a hostage but is shot by a police officer before he can get away. Oliver goes to live with the Brownlows, who have discovered that Oliver's (deceased) mother was Mr. Brownlow's long-lost niece. Fagin and Artful Dodger slip off to start a new partnership in crime.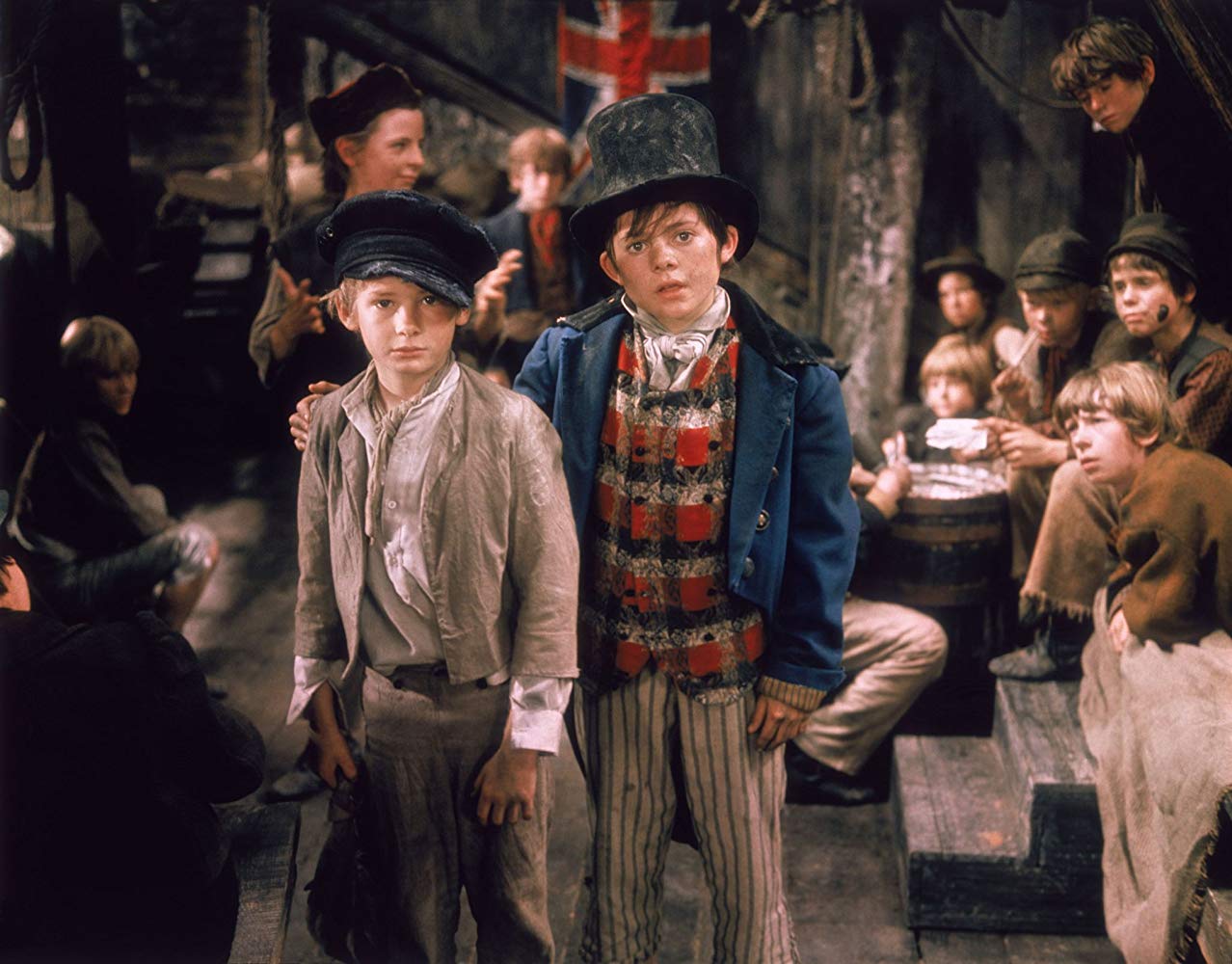 Dickens' main themes – criticizing workhouses and illustrating the sad state of the poor – become background elements in Oliver!, which is more interested in the narrative's straightforward melodrama and uses songs to emphasize the plot. Two of those, "Food, Glorious Food" and "Consider Yourself," may be recognizable to modern viewers. The rest sound like generic '60s musical numbers. The first act features a lot of singing and dancing. The second act is more grounded with only a couple of notable numbers – "Reviewing the Situation" and "Oom-Pah-Pah" – generating a pulse.
In order to tone down the inherent darkness in Dickens' book, Lionel Bart (who created the stage musical) transformed Fagin from a true villain into a more sympathetic character. Early on, he is presented as bombastic and over-the-top while, in later scenes, he shows twinges of conscience about some of his life's choices and advocates for Oliver and Nancy. As portrayed by Ron Moody, who accepted the role after playing it on stage (and after it was turned down by Peter Sellers and Peter O'Toole), Fagin is easily the film's most compelling character.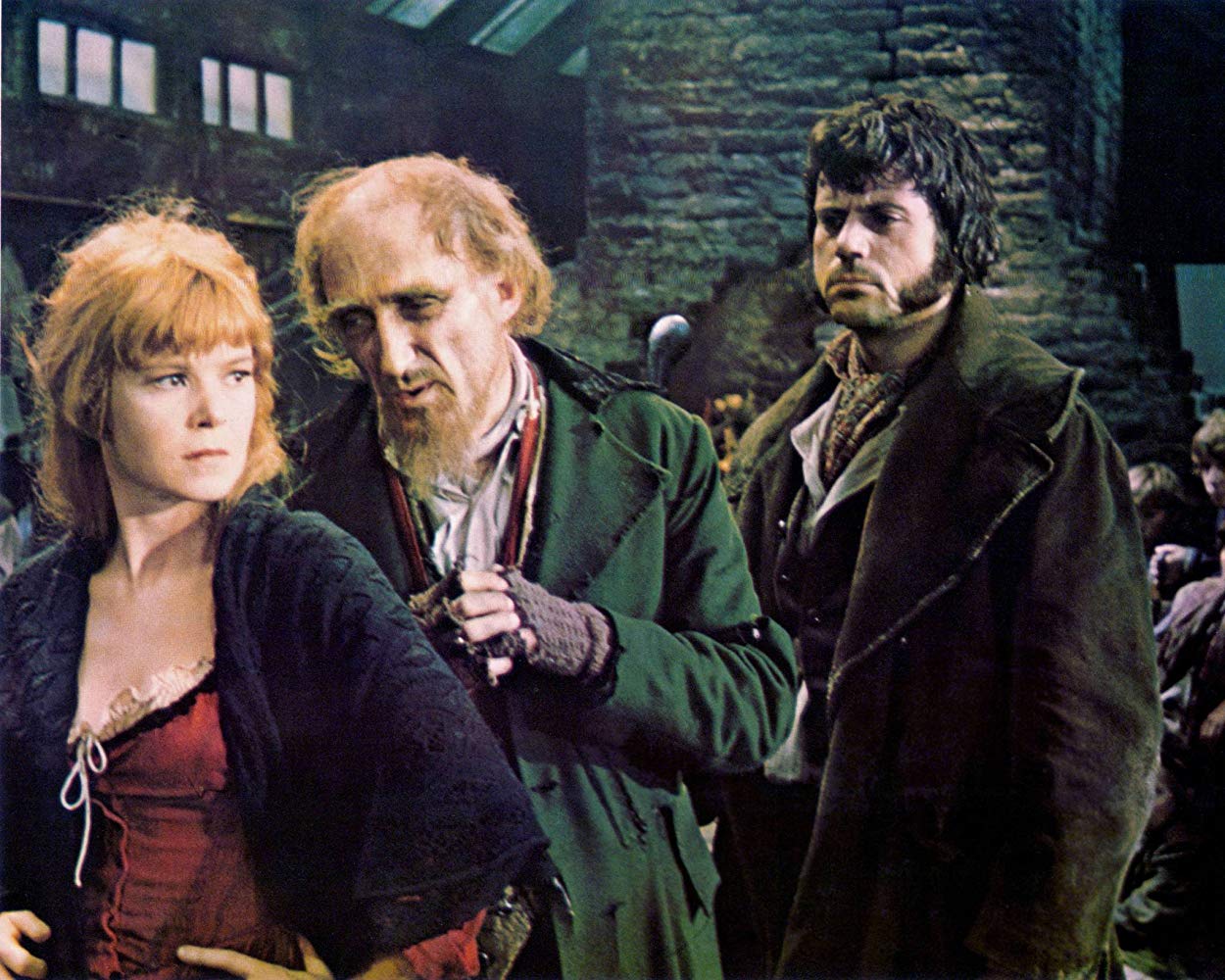 Oliver Reed, the director's nephew, was catapulted to stardom as a result of playing Sikes. The character is presented as utterly evil, a villain in the truest sense without an ounce of compassion or nuance. Reed is excellent at being bad – the scene where he strikes Shani Wallis (Nancy) is shocking it its unvarnished brutality. The negative energy generated by Reed's portrayal is so strong that it allows Moody's Fagin to seem tame by comparison. As his career took off, however, so did Reed's drinking. He died while filming Gladiator after being involved in a drinking competition with a group of sailors.
The two young actors, Mark Lester (Oliver) and Jack Wild (Dodger), present a study in contrasts. Wild is a natural thespian, with style and charisma. He had a modestly successful television career both before and after Oliver! Lester, on the other hand, is often awkward and frequently unable to effectively match the lip synching of his songs (which he didn't actually sing, being described as "tone deaf and arrhythmic"). His acting career ended in the mid-1970s – once he entered adulthood, the offers dried up.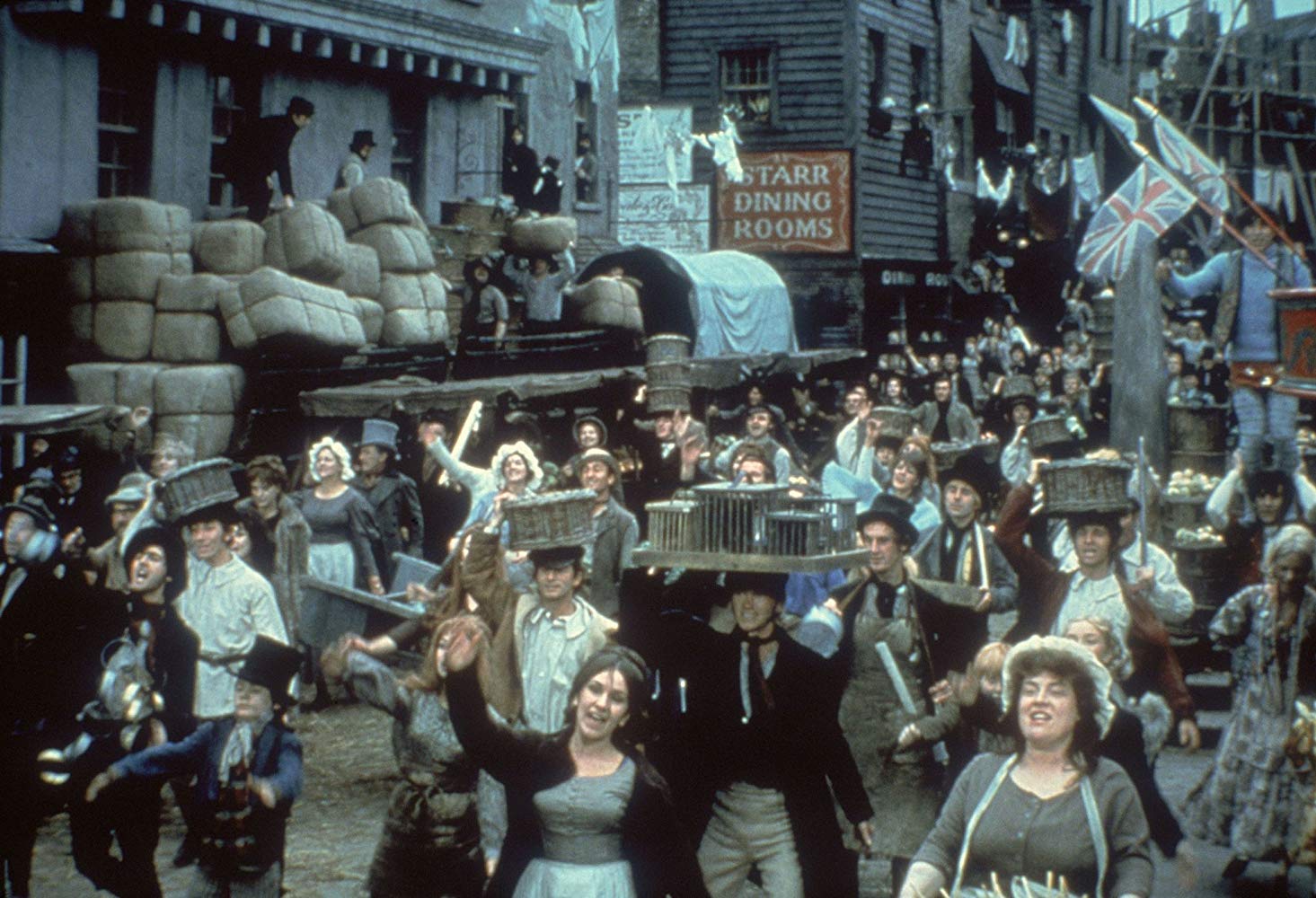 Whatever Oliver!'s faults, they can't be laid at the feet of the set and costume designers, who recreate a 19th century world that Dickens would have found familiar (although one can only guess how he would have felt about all the singing and dancing going on). The entirety of Shepperton studios was needed for the production of Oliver!, an undertaking that included a complete recreation of 1800s Bloomsbury Square.
Oliver! wasn't the only musical interpretation of a Dickens story. "A Christmas Carol" received a similar treatment two years later in Scrooge (which re-used some of the sets from Oliver!). However, while singing and dancing proved effective for the festive story of redemption, the same wasn't true of one of the writer's darker tales. Oliver! can be seen today as an oddity – a tepid version of one of Dickens' better-known stories with musical numbers that often don't quite fit the material. It was highly regarded at the time of its release but, seen 50+ years later, it struggles to be better than mediocre. This is yet another example of a film whose Oscar win was era-specific and hasn't translated across the years.
---
Oliver! (United Kingdom, 1968)
---

Three...better movies of this genre
worse movies of this genre