Les Miserables (2012) (United Kingdom, 2012)
December 21, 2012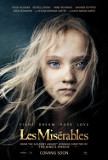 Les Miserables, believed by some to be the best novel ever penned in French, has been adapted in nearly every form imaginable, including dozens of movies, television mini-series in French and English, loose "thematic reworkings," and comic books. But Victor Hugo's epic historical drama is perhaps best known for its musical version, which opened in the West End in 1985 and bowed on Broadway two years later. A motion picture interpretation of this lavish production has been in the works since the early 1990s but, as it churned in development hell, no less than three major non-musical adaptations of Les Miserables were made - Claude Lelouch's remarkable 1995 re-imagination, a major 1998 English-language version directed by Bille August and starring Liam Neeson and Geoffrey Rush, and a celebrated 2000 French mini-series featuring Gerard Depardieu and John Malkovich. The musical motion picture finally gained traction in 2011 when The King's Speech's director, Tom Hooper, came on board. Now, twenty years after the earliest attempts to make the movie, it has reached the screen.
Fans of the stage version will not be disappointed. While successfully "opening up" the musical far beyond the limitations of a theater-bound production, Hooper retains its heart and soul. In many ways, the movie is more opera than musical. There's very little dancing and even less spoken dialogue. Most of the lines are sung recitative-style and the arias often focus in close-up on the singer's face. Les Miserables understandably cuts some of the stage production's numbers, but all of the major anthems are intact and wonderfully presented. There is one new song, included in large part for Oscar eligibility.
Visually, Les Miserables is a splendid spectacle, with set and costume design unparalleled in any 2012 period piece, including its chief rival in those categories, Lincoln. Hooper does an excellent job recreating 19th century France and it's in this area that the motion picture separates itself from the live version. What it lacks in the intimacy of singers performing directly to an audience, it gains in cinematic achievement.
When Les Miserables debuted in the West End in 1985, many Hugo purists were horrified. Of necessity, the narrative was stripped down and condensed. To the extent that this can be considered a flaw, it is maintained in the movie. Pacing is also uneven, with the first two-thirds (up to what would have been the intermission if there was one) more emotionally involving than the final third. The battle at the barricade is not Les Miserables' most compelling sequence.
The story begins in 1815 France, where Jean Valjean (Hugh Jackman) is being freed from prison after serving a 19-year sentence for the theft of a loaf of bread. After breaking his parole and deciding to live a good life, he changes his name to avoid the dogged pursuit of Inspector Javert (Russell Crowe), who is obsessed with bringing Valjean to justice. Eight years later, he has become a wealthy factory owner and mayor in the town of Montfermeil. While there, he risks exposure to Javert by saving a prostitute, Fantine (Anne Hathaway), from arrest. Fantine is mortally ill, however, but before she dies, Valjean agrees to care for her young daughter, Cosette (Isabelle Allen). When Javert gets close, Valjean must again disappear, this time with Cosette posing as his adopted daughter. Nearly a decade later, back in Paris, a now-adult Cosette (Amanda Seyfried) falls in love with a revolutionary, Marius (Eddie Redmayne). Their chance at happiness, however, is complicated by three factors: the interference of Eponine (Samantha Barks), a young woman who suffers unrequited love for Marius; a city-wide uprising that is ruthlessly crushed by the military; and Valjean's own misgivings about losing Cosette to marriage.
The performances are as good as advertised, and even the weakest singers, Sacha Baron Cohen and Helena Bonham Carter, are better than one might expect. Everyone sings their own lines and Hooper employs the unconventional approach of having the songs recorded live (rather than pre-recording them and having the actors lip synch during filming). Considering how little spoken dialogue there is, this makes abundant sense. None of the actors suffers the indignity of being overdubbed by a more accomplished performer. Marni Nixon's participation was not required.
Two performances are locks to receive Oscar consideration. Hugh Jackman's work as Jean Valjean, a good man who has done bad things and is seeking redemption, is multifaceted and arresting. He plays Valjean successfully as the scraggly, thin prisoner we see in the opening scene and as a much older man. He has the pipes for the songs. Anne Hathaway has a strong chance in the weak Best Supporting Actress category for her work as Fantine. Not only is her singing better than expected, but this is the most accomplished acting she has ever done. This is an instance in which an actor has raised her game to meet the demands of the role.
As Javert, Russell Crowe is surprisingly understated. His singing is workmanlike but not likely to be overpraised. Amanda Seyfried and Eddie Redmayne (the male lead in My Week with Marilyn) are also good, although both are better singers than actors, at least insofar as this production is concerned. The two weak spots are Cohen and Carter, who play Monsieur and Madame Thenardier. Their voices are not up to the high standards set by the rest of the cast. And, although both are excellent at oozing odiousness, their overly broad interpretations of the characters seem a little out-of-place. (This is the kind of thing that works better on stage than on screen.)
The filmmakers have made every attempt to pay homage to Les Miserables' long screen history. The "original" Jean Valjean, Colm Wilkinson, has a not insignificant part as The Bishop of Digne. Another initial cast member, Frances Ruffelle, has a cameo as a prostitute. Samantha Barks, who was Eponine for a year in the London stage production (as well as in the 25th Anniversary concert), reprises the role here. Additionally, many of the tertiary characters are played by those who appeared at one time or another on stage.
In keeping with the story's serious tone, Hooper does not attempt to "out-spectacle" other recent high profile musicals like Chicago, Dreamgirls, and Nine. Instead, he draws inspiration as much from the source material as from the musical. The result is an engaging production that is guaranteed to enthrall audiences and become a holiday season commercial success. 20 years may have been a long time to wait for this motion picture but, with this result, who can dispute that it was worth it?
---
Les Miserables (2012) (United Kingdom, 2012)
Director:
Tom Hooper
Cast:
Hugh Jackman
,
Russell Crowe
,
Anne Hathaway
,
Amanda Seyfried
,
Eddie Redmayne
,
Samantha Barks
,
Helena Bonham Carter
,
Sacha Baron Cohen
,
Isabelle Allen
Screenplay:
William Nicholson, based on the musical by Claude-Michel Schonberg & Alain Boublil, based on the novel by Victor Hugo
Cinematography:
Danny Cohen
Music:
Claude-Michel Schonberg
U.S. Distributor: Universal Pictures
---
Three...better movies of this genre
worse movies of this genre
Three...better movies of Hugh Jackman
worse movies of Hugh Jackman
Three...better movies of Russell Crowe
worse movies of Russell Crowe
Three...better movies of Anne Hathaway
worse movies of Anne Hathaway