Valentine's Day (United States, 2010)
February 12, 2010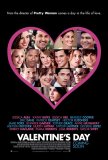 It is possible to gather a star-studded ensemble cast and make a frothy, delightful movie about love in its many guises. Richard Curtis did it with Love, Actually and a parcel of international directors accomplished something similar with the duet of Paris, Je t'aime and New York, I Love You. The strengths of those films, however - the ability to tell interesting stories and generate substantive characters despite limited screen time - are absent here. Valentine's Day's greatest strength - its cast - becomes its most obvious weakness. With so many actors fighting for a few extra minutes in front of the camera, this feels like a parade of famous faces, not a motion picture. And, while a few of the skits show glimmers of promise, many are time wasters.
Valentine's Day is essentially a collection of vignettes connected by a common place (Los Angeles) and day (February 14). Some of the characters know each other or are connected in one way or another. Paths occasionally intersect and stories sometimes cross, but no one will mistake this for Robert Altman (or, for that matter, Paul Haggis). The director is Garry Marshall, whose sparkling resume is crowned by the chick flick extraordinary, Pretty Woman, but whose recent output includes Raising Helen and Georgia Rules. Marshall likes romantic fluff, which is okay as long as there's an emotional component. In this case, too many characters result in a complete inability to relate to anyone on screen. This, in turn, leads to a creeping sense of boredom.
Valentine's Day's "through story" (the one that gets the most time and which is visited the most frequently) stars Ashton Kutcher as Reed Bennett, a pink-garbed florist. Reed is caught between two women: his commitment-phobic girlfriend, Morley (Jessica Alba), and his best buddy, Julia (Jennifer Garner). Julia has buried her romantic feelings for Reed and is pursuing a relationship with a philandering doctor, Harrison Copeland (Patrick Dempsey). Meanwhile, TV sports reporter Kelvin Moore (Jamie Foxx), has been sent out to do a piece about modern love. He surprises himself by finding romance with Kara Monahan (Jessica Biel), the agent for a popular free agent quarterback (Eric Dane). There are other stories, too: a phone sex worker (Anne Hathaway) who finds her "night job" interfering with her less salacious career and her budding relationship with a boyfriend (Topher Grace); two strangers (Bradley Cooper and Julia Roberts) who connect on a 14-hour flight; an old couple (Shirley MacLaine, Hector Elizondo) who discover their fifty-plus year marriage wasn't as perfect as one of them thought; two teen couples (Taylor Lautner & Taylor Swift; Carter Jenkins & Emma Roberts) who contemplate the benefits and pitfalls of sex before high school graduation; and a kid (Bryce Robinson) coping with his first crush.
The film's main problems are script-related. Most of the stories aren't merely perfunctory; they're superficial. There are a few exceptions. The strangers-on-a-plane idea has promise, as does the relationship between the nice guy and the phone sex woman, although the latter is more formulaic than the former. As presented here, however, these are skeletons of the movies they might have developed into. We see a few key scenes, a Cliffs Notes version of stories with the potential to be more than what they are allowed to be. Valentine's Day's central romance - the quadrangle with Reed, Morley, Julia, and Harrison - is so uninspired that the movie falls into a black hole every time Marshall returns to these characters, which is too often.
It's tough to complain overmuch about acting, since no one has enough screen time to leave an impression, positive or negative. The possible exception is Ashton Kutcher, who rarely ceases smirking and fails to generate a credible character. His scenes with Jennifer Garner hold together with more stability than those he shares with Jessica Alba, probably because Garner is a better actor than Alba, whose chief asset has always been her looks. Jamie Foxx, Jessica Biel, Anne Hathaway, and Topher Grace show flashes. On the other hand, the two Taylors (Swift and Lautner) are unbelievably bad. Even playing an airheaded blonde bimbo, Swift is laughable. Lautner at least shows he's a good sport by poking fun at his image. (He has the following line: "I don't feel comfortable about taking off my shirt in public.") Notable actors George Lopez, Queen Latifa, and Kathy Bates make appearances, but they have almost nothing to do and it's easy to forget their participation. Joe Mantegna, in a cameo, makes a bigger impression.
Valentine's Day will undoubtedly draw a large crowd. It's the only romantic comedy opening over the long Valentine's Day weekend, the PG-13 rating makes it teen-friendly, and the vast sea of familiar names in the cast guarantees a favorite face or two for most movie-goers. The film is keenly aware of these things and feels more like a slickly packaged product than a fully realized motion picture. This is last year's offering, He's Just Not that into You, with the problems amplified and the positive qualities diminished. If you want to see a bunch of famous people falling in love, rent Love, Actually instead. Unlike Valentine's Day, that movie doesn't just talk about hearts; it has one.
---
Valentine's Day (United States, 2010)
---
Three...better movies of this genre
worse movies of this genre
Three...better movies of Ashton Kutcher
worse movies of Ashton Kutcher
Three...better movies of Jessica Biel
worse movies of Jessica Biel
Three...better movies of Anne Hathaway
worse movies of Anne Hathaway