Easy Virtue (United Kingdom, 2008)
May 12, 2009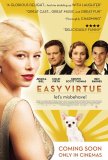 From Stephan Elliott, the man who brought us The Adventures of Priscilla, Queen of the Desert comes Easy Virtue, an adaptation of Noel Coward's play. Written in 1924, this was the playwright's 16th play, and was originally filmed in 1928 by Alfred Hitchcock. The thing about Coward's work, whether in its unexpurgated version or in this new, re-tooled approach, is it's all about the dialogue. (Ironically, the Hitchcock adaptation was silent, resulting in much of the dialogue being excised.) Sure, there's a plot, but it's a secondary element to the lines the actors deliver. Only Oscar Wilde has the same bite. Fortunately, Elliott understands this, which makes Easy Virtue go down smoothly.
The story unfolds in 1920s England, and has the top-notch set design one has come to expect from British period pieces. Post-World War I and before the Depression and Hitler, the world is on a high - the decade wasn't called the "roaring '20s" for nothing. The gay spirits, however, haven't quite reached into the English countryside, where the favored Whittaker son, John (Ben Barnes), has returned home to show off his older, American wife, Larita (Jessica Biel). John's mother, Veronica (Kristen Scott-Thomas), nearly has a heart attack when she meets her new liberated daughter-in-law. (Keeping in mind that the word "American" is generally viewed within this society as being synonymous with "vulgar.") John's two sisters have mixed reactions, with Marion (Katherine Parkinson) turning up her nose and Hilda (Kimberly Nixon) exhibiting fascination. Only John's father, the Colonel (Colin Firth), offers the genuine hand of welcome. That's because he, like Larita, is too much of a free-spirit to be comfortable within the gilded cage of a drafty mansion.
The film shoots off one-liners at a rapid pace, with nearly every line of dialogue crackling with wit. Firth and Scott-Thomas, screen stalwarts who are at home with this sort of material, are especially adept at biting off Coward's words and phrases, and Biel does as well in this period piece as she did in her previous such endeavor, The Illusionist. It's worth noting that Biel is taking the kinds of chances one would expect from someone desiring to be viewed as a serious actress and not merely as attractive ornamentation. Easy Virtue represents a successful flirtation outside of her "comfort zone." The same could be said of Powder Blue, in which she trained long and hard to play a stripper. The supporting actors are all fine, but this movie belongs to the veterans, both of whom exhibit perfect comedic timing. Firth and Scott-Thomas have been better known for their dramatic work over the years, but both have appeared in their share of comedies and this reminds us of their versatility.
Easy Virtue has been sliced and condensed as necessary to fit within a 90 minute window. The core of the play is easily found in the movie, but this is little more faithful than Hitchcock's dialogue-challenged version. Coward's central theme, about the hypocrisy of crusty British society, is presented as effectively here as in the stage version, but it has lost some of its relevance over the years. What was topical in the 1920s, before the second World War forever re-arranged the U.K. in more ways than one, feels a little quaint by today's standards. Elliott does nothing to re-invigorate the themes for today's audiences, so they, like the story-line, remain stuck in the 1920s.
Elliott adds a few "touches" that aren't entirely successful. The soundtrack is comprised primarily of jazz and big band sounds appropriate to the setting, but the filmmaker slips in some re-tooled mixes of recent pop songs. It's a little jarring to hear a Duke Ellington-inspired version of "Car Wash" or "Kiss." Such innovations are as likely as not to take the viewer out of the moment. The film as a whole feels a little on the light side, but there's as much a place in art house movies for none-too-serious fare as there is in multiplexes. The laughter found in Easy Virtue requires a sophisticated cinematic palate, but for those who appreciate this sort of motion picture, it's a top-notch creation.
---
Easy Virtue (United Kingdom, 2008)
---
Three...better movies of this genre
worse movies of this genre
Three...better movies of Jessica Biel
worse movies of Jessica Biel
Three...better movies of Ben Barnes
(There are no more better movies of Ben Barnes)
worse movies of Ben Barnes
Three...better movies of Kristin Scott Thomas
worse movies of Kristin Scott Thomas