Hitchcock (United States, 2012)
November 20, 2012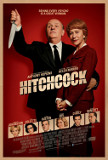 Hitchcock could be construed as a misleading title for this motion picture. A better name might have been The Making of Psycho, although that might have led to confusion with a DVD supplemental feature. Director Sacha Gervasi's film looks at the life of The Master of Suspense through the prism of his struggles to make, market, and sell what would become his most popular thriller, Psycho. The film takes some liberties with established Hitchcock lore but is faithful enough to the known facts to provide a reasonably accurate portrayal of a man who has become iconic not only for the movies he directed but for his dour, immediately recognizable persona.
Hitchcock begins with the successful opening of North by Northwest and concludes after Psycho has been hailed as the filmmaker's most popularly successful endeavor. In between, it follows Hitchcock as he struggles to raise the budget for Psycho; spars with studio executives, actors, and censors; suspects his long-suffering wife, Alma Reville (Helen Mirren), of an affair with two-bit writer Whitfield Cook (Danny Huston); and worries that he's going to lose everything after going so far out on a financial limb. Along the way, we get a fly-on-the-wall perspective of how Psycho was made, including a behind-the-scenes perspective of the shower scene.
Anthony Hopkins is probably a shoe-in for an Oscar nomination. If Meryl Streep could steal one for a passable imitation of Margaret Thatcher then Hopkins certainly deserves one for this on-target mimicry. The voice and mannerisms are excellent and, with the aid of expert makeup and what is surely a fat suit, he looks the part as well. The most important thing for a bio-pic is achieved here: we see not Anthony Hopkins pretending to be Alfred Hitchcock but Hitchcock himself. The verisimilitude borders on eerie in the opening scene, when Hopkins provides an introduction to the movie as if it was an episode of "Alfred Hitchcock Presents."
Four other actors are playing well-known personalities. Helen Mirren is Hitchcock's long-suffering wife, Alma (who was married to him from 1926 until his death in 1980). This is what one might call a typical Mirren performance - superb. It's not flashy but it brings an emotional depth to the story that would not have been present without her. Scarlett Johansson is an appealing Janet Leigh, although her mimicry isn't as good as that of Hopkins. Jessica Biel's Vera Miles is adequate but ultimately not memorable. James D'Arcy provides an eerily accurate interpretation of Anthony Perkins. Nevertheless, it's Hopkins' impersonation of the larger-than-life title figure that holds the movie together.
The essential appeal of Hitchcock is much the same as that of My Week with Marilyn: pulling aside the curtain and watching the details of how a film made in a bygone era came to pass. Admittedly, Psycho is a lot better known than The Prince and the Showgirl but there's synergy between Hitchcock and last year's awards contender (which garnered acting Oscar nominations for Michelle Williams and Kenneth Branagh). Both films are at their best when they depict elements directly related to the development of a movie and weaker when they stray from the sets and studios.
Once could interpret Hitchcock as an atypical love story. Indeed, a fair amount of the narrative is devoted to the relationship between Alfred and Alma. As is often the case with long-wed couples, he takes her for granted and becomes deeply worried when he realizes she is less happy with their comfortable marriage than he is. Hitchcock is about the making of Psycho but it's also about the director reconnecting with his wife on a personal and professional level, resulting in some parallelism with the Tommy Lee Jones/Meryl Streep couple in Hope Springs. In this case, however, the therapy is collaborating in the editing room not talking to Steve Carrell.
One misstep is the decision to include Ed Gein (Michael Wincott), the real-life inspiration for the killer in Psycho, as an instigator in several dream/fantasy sequences. He's represented as a dark aspect of the director's psyche - the element that impels him to make statements like "everyone is capable of committing murder." The scenes featuring Gein feel unnecessary in much the same way that the Jim Broadbent "ghost of Thatcher's husband" sequences felt wrong in The Iron Lady. As a means of providing greater insight into The Master of Suspense's mind, these moments fail.
That being said, the Gein scenes are exceptions to what is otherwise a generally enjoyable reconstruction of the process by which Psycho came into being. It provides a compelling Hitchcock: moody, stubborn, difficult to work with, obsessive, and fixated on Grace Kelly-type blondes. (His eventual Valentine to Alma relies on her recognition of this personality trait.) He is depicted as a voyeur with a peephole into a dressing room. These traits are parts of Hopkins' portrayal, not the entirely of it, which is the difference between fashioning a character and developing a caricature.
It's questionable how much appeal Hitchcock will have for a mainstream audience. Although Pyscho became a template for modern horror films, it's no longer as well-known as it was twenty or thirty years ago. As a result, Hitchcock is probably better suited to art houses than multiplexes. But for those with an interest in movie-making during the '50s and '60s or who identify themselves as fans of Hitchcock or Psycho, this is mandatory viewing and makes an intriguing companion piece to the inferior HBO production, The Girl (which dramatizes the making of The Birds, Hitchcock's follow-up to Psycho).
---
Hitchcock (United States, 2012)
Run Time: 1:38
U.S. Release Date: 2012-11-21
MPAA Rating:
"PG-13" (Violence)
Genre:
DRAMA
Subtitles: none
Theatrical Aspect Ratio: 1.85:1
---
Three...better movies of this genre
worse movies of this genre
Three...better movies of Anthony Hopkins
worse movies of Anthony Hopkins
Three...better movies of Helen Mirren
worse movies of Helen Mirren
Three...better movies of Scarlett Johansson
worse movies of Scarlett Johansson