Mary Poppins Returns (United States, 2018)
December 17, 2018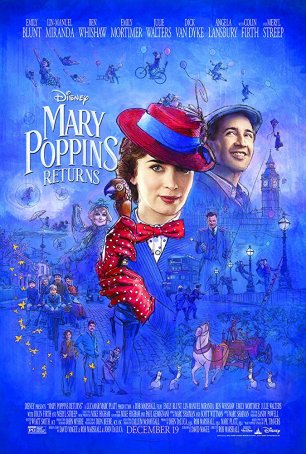 At the end of the 1964 film Mary Poppins, the character of Bert (played by Dick Van Dyke) offers this final wish: "Goodbye, Mary Poppins, don't stay away too long." Walt Disney Pictures hopes that 54 years – the longest span between a motion picture and its theatrical sequel – won't classify as "too long" but I'm not sure. Arguably, the best way to describe Mary Poppins Returns is "old-fashioned." For some, that will be a selling point. For others, it will be the opposite. The movie, directed by today's reliable purveyor of big-screen musicals, Rob Marshall, relies strongly on the original for everything from tone to song style to costumes and set design.
Although Mary Poppins Returns is appropriate for children, there's a question of appeal. Was it made for today's kids or for those who were kids in the '60s and '70s? Marshall's approach is to wallow excessively in nostalgia. There's nothing wrong with that and watching this movie is like entering a time capsule. To the extent that imitation is the sincerest form of flattery, those involved in this production heap adulation upon the only movie for which Walt Disney earned an Oscar nomination during his lifetime. Yet, for all that Mary Poppins Returns seeks to resurrect the spirit of its predecessor, it is unable to recreate a musical atmosphere on the same level. Most of the new film's songs are vanilla, as easily forgotten as "A Spoonful of Sugar", "Supercalifragilisticexpialidocious," and "Chim chiminey" are impossible to dislodge from the memory. To be fair, there is one possible exception – "Trip a Little Light Fantastic" – but I'd need to hear it a few more times before I'll know it well enough to determine whether or not it's compulsively hummable.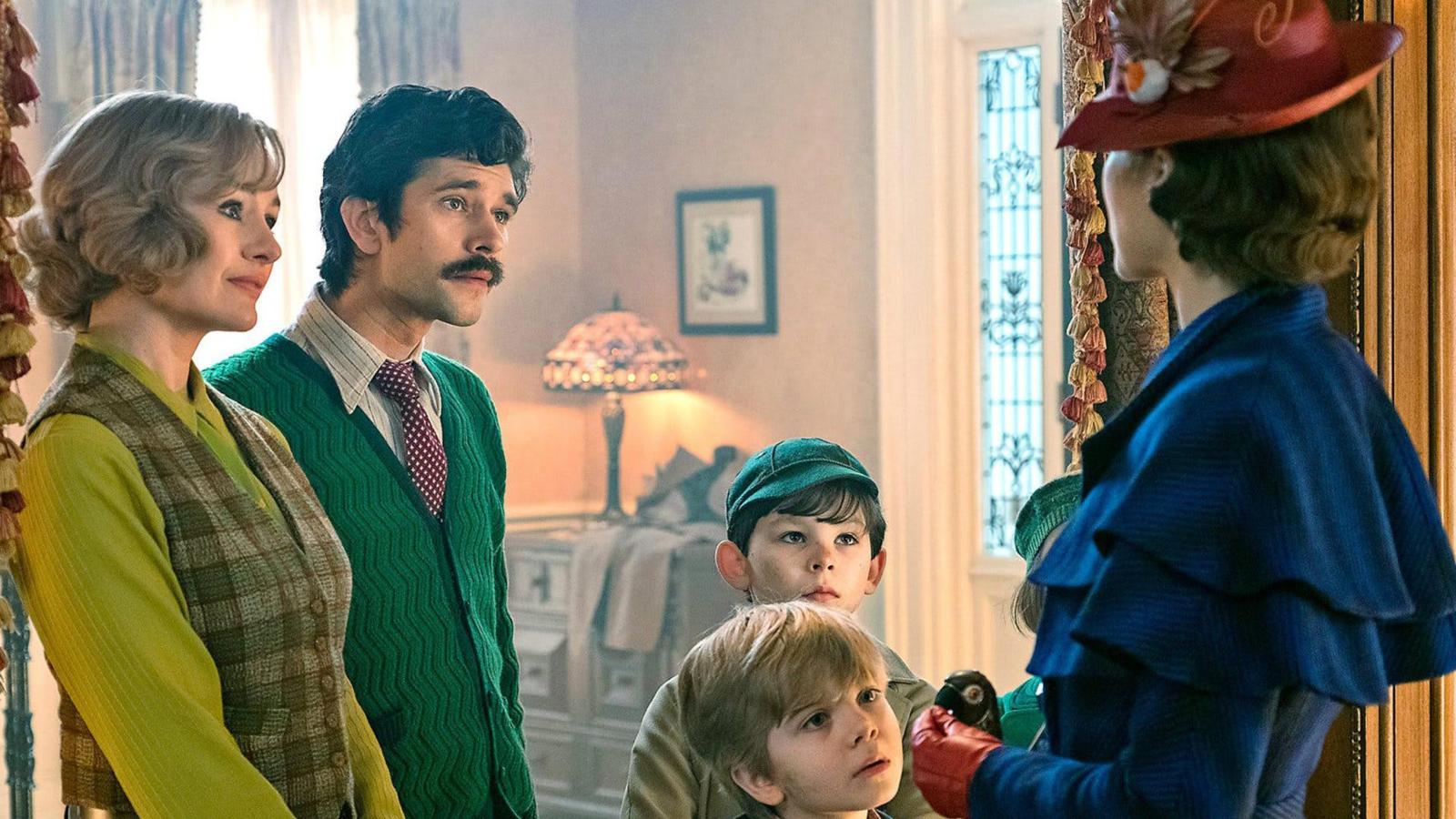 The narrative is flimsy – just a clothesline upon which the seven (or so) musical co-productions from composer Marc Shaiman and lyricist Scott Wittman can be hung. That's the way it often goes with musicals and the original Mary Poppins was no exception. One of the reasons for the deeply-rooted acrimony between Poppins' creator, P.L. Travers, and Disney is that she felt he did a disservice to her characters by introducing songs and animation. Disney died two years after the release of Mary Poppins but Travers resisted overtures by his successors to pursue a sequel until she passed away some three decades later. Mary Poppins Returns could never have been made during her lifetime and since it is so rigorously faithful to its predecessor in form (including a new hand-drawn animated sequence), one would assume she might have hated the sequel as much as the original. Presumptions of her opinion, however, are irrelevant.
Mary Poppins Returns unfolds in 1935 – a quarter century after the original. When the now-grown Banks children, Jane (Emily Mortimer) and Michael (Ben Whishaw), find themselves in danger of losing their family home, Mary (Emily Blunt) descends from the sky to lend her no-nonsense abilities as a nanny and problem-solver to the situation, taking Michael's three motherless children under her wing. This time around, with Bert no longer in the picture, her human best friend is Jack (Lin-Manuel Miranda), a London lamplighter (or Leerie, as he refers to himself) who is always available to lend a hand.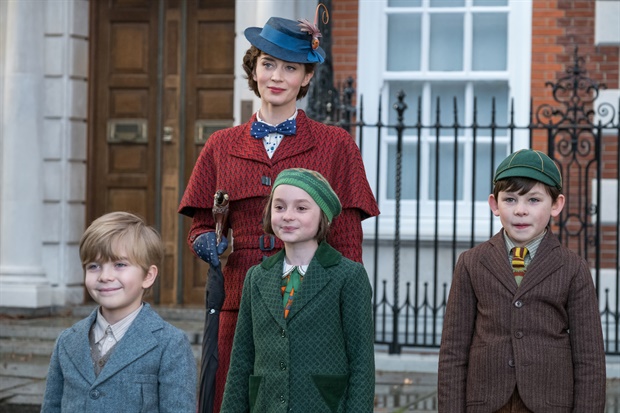 Michael, whose life was thrown into chaos with the death of his wife, finds himself deep in dept to a bank whose chairman, William Weatherall Wilkins (Colin Firth), pretends sympathy while hiding ulterior motives. When Michael asserts that this father owned shares in the bank, Wilkins offers to stop the foreclosure if proof can be provided by Friday at midnight. Otherwise, the Banks must vacate the premises. As Jane and Michael search high and low for the missing papers, Mary provides a refuge for the children, taking them on magical journeys, such as a visit to her upside-down sister, Topsy (Meryl Streep), while singing all the way.
The Elephant in the Room is the fact that Mary Poppins isn't being played by Julie Andrews. Undaunted, Emily Blunt finds a workable balance between imitation (listen to her voice carefully – there's a lot of Andrews in the way she speaks) and carving out her own interpretation. In order not to overshadow Blunt, Andrews purportedly turned down the opportunity for an "important cameo." (Angela Lansbury, who made a splash in Bedknobs and Broomsticks, fills the part nicely.) Since there's no depth or backstory to the character, Mary is developed almost exclusively from the performance.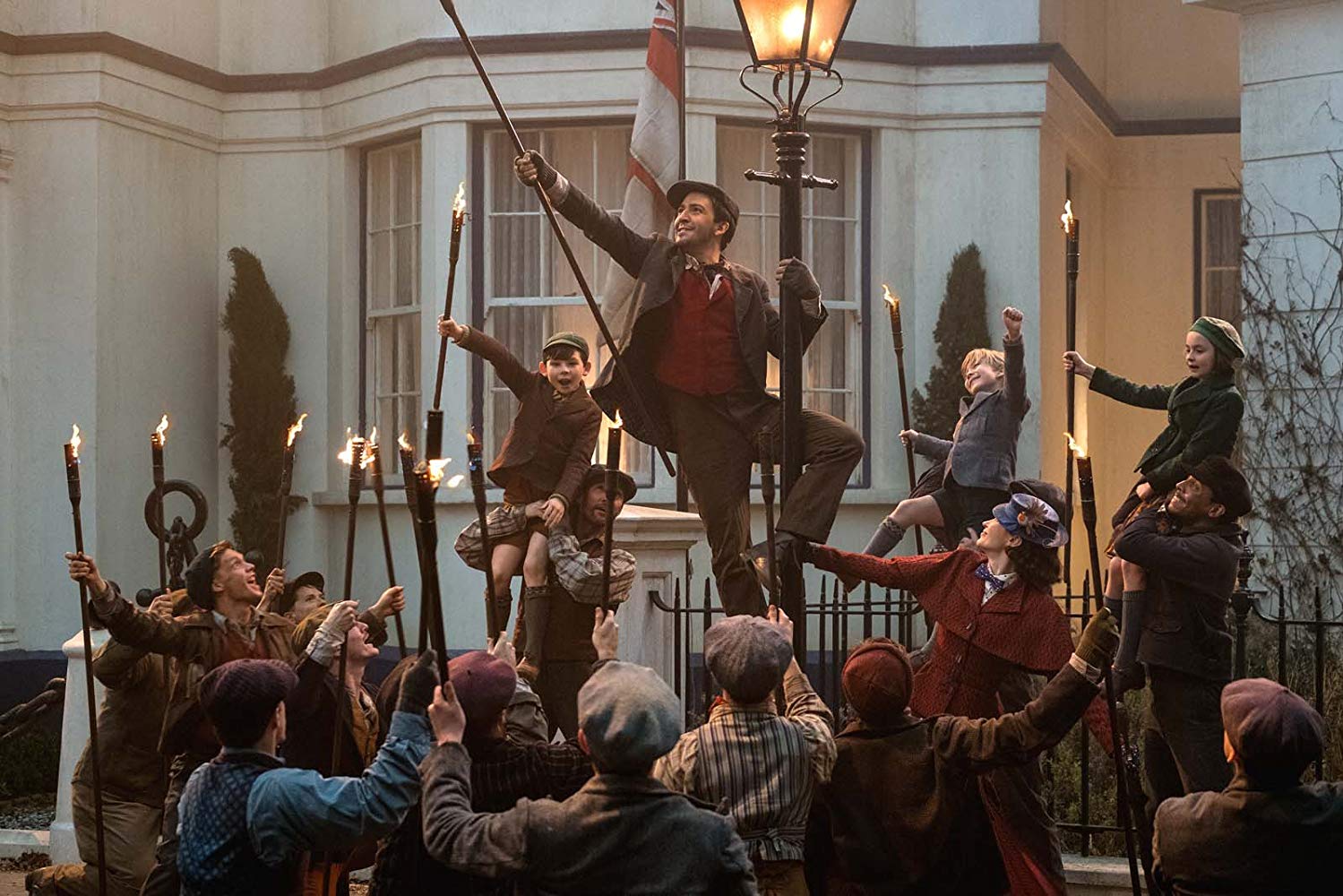 Lin-Manuel Miranda has a less imposing job since he's not directly replacing an icon. He's filling Dick Van Dyke's function without taking on the role. Jack, although very much like Bert, is an apprentice not a re-cast. Speaking of Van Dyke, he has a well-publicized cameo late in the film playing Mr. Dawes Jr., the son of Mr. Dawes Sr. (whom he played from underneath makeup in 1964). Emily Mortimer and Ben Whishaw are likeable as the adult humans beset by problems, Colin Firth doesn't need to go too far over the top to provoke jeers from the audience, and the participation of Julie Walters, Meryl Streep, and David Warner offers its share of pleasures (with Walters stealing every scene in which she appears).
It goes without saying that Mary Poppins Returns pales in comparison to the original. However, by remaining so faithful to the first movie's tone and style, Marshall risks having made a movie less for younger viewers than older ones seeking to recapture a lost youth. I could easily see Mary Poppins Returns being popular amongst Generation X-ers and Baby Boomers while their grandchildren are less enthused. Yet even the scintilla of the old Mary Poppins magic that occasionally infuses the production is enough to keep things lively. Mary Poppins Returns is an imperfect sequel but as a throw-away holiday film designed to provide a family viewing experience, it satisfies a need.
---
Mary Poppins Returns (United States, 2018)
Director:
Rob Marshall
Cast:
Emily Blunt
,
David Warner
,
Angela Lansbury
,
Meryl Streep
,
Colin Firth
,
Julie Walters
,
Ben Whishaw
,
Emily Mortimer
,
Lin-Manuel Miranda
,
Dick Van Dyke
Home Release Date: 2019-03-19
Screenplay:
David Magee, based on the "Mary Poppins" stories by P.L. Travers
Cinematography:
Dion Beebe
Music:
Marc Shaiman, Scott Wittman
U.S. Distributor: Walt Disney Pictures
---

Three...better movies of this genre
worse movies of this genre
Three...better movies of Emily Blunt
worse movies of Emily Blunt
Three...better movies of David Warner
worse movies of David Warner
Three...better movies of Angela Lansbury
worse movies of Angela Lansbury
(There are no more worst movies of Angela Lansbury)