Pitch Perfect (United States, 2012)
September 27, 2012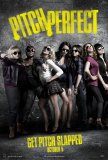 Pitch Perfect looks, sounds, and feels like pretty much every other movie that features a singing or dancing competition. With all the effort invested in the musical numbers, the dramatic elements feel like warmed-over John Hughes. And it's not even good John Hughes (like The Breakfast Club, which is explicitly acknowledged). We're talking Career Opportunities-type John Hughes. Pitch Perfect would be a perfectly watchable, pain-free source of entertainment if it was edited down to a highlight reel of various a capella groups covering pop songs, but the connective tissue makes this movie seem like an overlong version of the overexposed TV show Glee.
The tired plot revolves around the rivalry between two a cappella groups at Barden University: the all-male Treblemakers and the all-female Barden Bellas. The Bellas are the perennial also-rans and 2012 looks to be no different until the addition of several new members - loner Beca (Anna Kendrick), oversexed Stacie (Alexis Knapp), flamboyant Fat Amy (Rebel Wilson), and scary Lilly (Hana Mae Lee) - shakes things up. But the Treblemakers get better as well by adding incoming freshman Jesse (Skylar Astin). Meanwhile, the leader of the Bellas, Aubrey (Anna Camp), is unimpressed by Beca's ideas about how to modernize their routines, even though Beca has the support of Aubrey's best friend, Chloe (Brittany Snow). Meanwhile, Jesse romances Beca, and her initial opposition to a boyfriend/girlfriend relationship melts.
In true Rocky fashion, it all comes down to the expected Treblemakers vs. Bellas battle at the Collegiate A Cappella finals (a real event, apparently). A time-honored sports movie tradition is observed by having announcers provide "witty" play-by-play commentary for the cable network airing the event (they are played by Elizabeth Banks and John Michael Higgins, who's channeling Fred Willard from Christopher Guest's Best in Show). Truth be told, some of the most amusing lines come from these two. And, while the movie pays homage to John Hughes by showing clips from The Breakfast Club and incorporating "Don't You (Forget about Me)" into the proceedings, it also throws a bone to lovers of true gross-out comedy with not one but two instances of championship projectile vomiting. This is serious upchucking - the girl spills about half her body weight onto the floor. There's no reason for it except to give Pitch Perfect an "edge" (and make it impossible to look at poor Anna Camp without envisioning a stream of brown sludge erupting from her mouth Exorcist-style).
The cast is comprised primarily of fresh faces and TV actors. There are a few exceptions. Anna Kendrick is using Pitch Perfect to complement her role in End of Watch (where she plays Jake Gyllenhaal's girlfriend); she has been on the fast track since Up in the Air. Rebel Wilson has also been visible in the past couple of years with memorable parts in both Bridesmaids and Bachelorette. (She is allowed to use her native accent here.) Anna Camp has done quite a bit of TV (most notably True Blood), but her most interesting credit could be her in-the-buff role opposite the equally nude Daniel Radcliffe on stage in Equus.
Although the basis of Pitch Perfect is Mickey Rapkin's non-fiction book of the same name, little beyond the bare bone premise of the source material has been retained. Regardless of what the filmmakers claim, similarities to Glee are too pervasive to be coincidental. The film in general has a "TV feel" to it, which shouldn't be a surprise given director Jason Moore's pedigree. This is his feature debut; his previous credits include stints behind the camera on four TV series. He also has a background in stage directing, which may explain in part why Pitch Perfect comes alive whenever one of the a cappella groups performs.
It's hard to imagine Pitch Perfect being a big box office player. It's a genial enough musical comedy but lacks any truly compelling reason for an outing to a theater. Glee garners respectable TV ratings (although those have been slipping) but its attempt at multiplex domination with a concert movie was an abject failure. Recent musicals have not done well and there's no reason to suppose this will reverse the trend. Those with an interest in a cappella music would do better to download the soundtrack than subject themselves to the lame material that drags this out from 35 minutes to nearly two hours.
---
Pitch Perfect (United States, 2012)
Director:
Jason Moore
Cast:
Anna Kendrick
,
Elizabeth Banks
,
Hana Mae Lee
,
Ester Dean
,
Alexis Knapp
,
Rebel Wilson
,
Anna Camp
,
Brittany Snow
,
Ben Platt
,
Skylar Astin
,
John Michael Higgins
Screenplay:
Kay Cannon, based on the book by Mickey Rapkin
Cinematography:
Julio Macat
Music:
Christophe Beck, Mark Kilian
U.S. Distributor: Universal Pictures
---
Three...better movies of this genre
worse movies of this genre
Three...better movies of Anna Kendrick
worse movies of Anna Kendrick
Three...better movies of Elizabeth Banks
worse movies of Elizabeth Banks
Three...better movies of Hana Mae Lee
(There are no more better movies of Hana Mae Lee)
worse movies of Hana Mae Lee
(There are no more worst movies of Hana Mae Lee)