Booksmart (United States, 2019)
May 22, 2019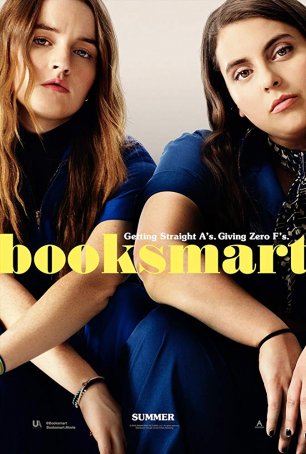 In a way, it's surprising that it has taken this long for someone to make a female-oriented version of Greg Mottola's 2007 high school comedy Superbad. Perhaps the best way to describe Booksmart, the assured directorial debut of actress Olivia Wilde, is John Hughes for the 21st century. Although Hughes never came close to the level of raunchiness on display here, when one peels back the layer of vulgarity and R-rated dialogue, the beating heart of an honest teen-oriented comedy can be found. At its core, Booksmart is about the pitfalls of sexual attraction, the challenges of being an outsider in the clique-oriented microcosm of high school, the difficulty of embarking on a new phase of life, and (most notably) the importance of friendship and sisterhood as a steadying force.
Booksmart applies the "day in a life" formula to the (roughly) 30-hour period encompassing the last day of classes and the final act of high school: graduation. The title characters are seniors Amy (Kaitlyn Dever) and Molly (Beanie Feldstein, the younger sister of Superbad star Jonah Hill). The two have been besties forever and tell each other their dirtiest, nastiest secrets (none of which shall be repeated here – not the one about the stuffed panda bear or the one about the electric toothbrush). They are academic warriors, meaning studying comes before all else. It seems to have worked; Amy is off to Columbia and Molly has achieved her dream of attending Yale. Since Amy is going on a humanitarian mission in Africa, graduation means goodbye but, before that, there's an opportunity for a night of debauchery in which out-of-the-closet lesbian Amy can approach her long-time crush and seemingly strait-laced Molly can let her hair down and show that she can party with the rowdiest of her classmates.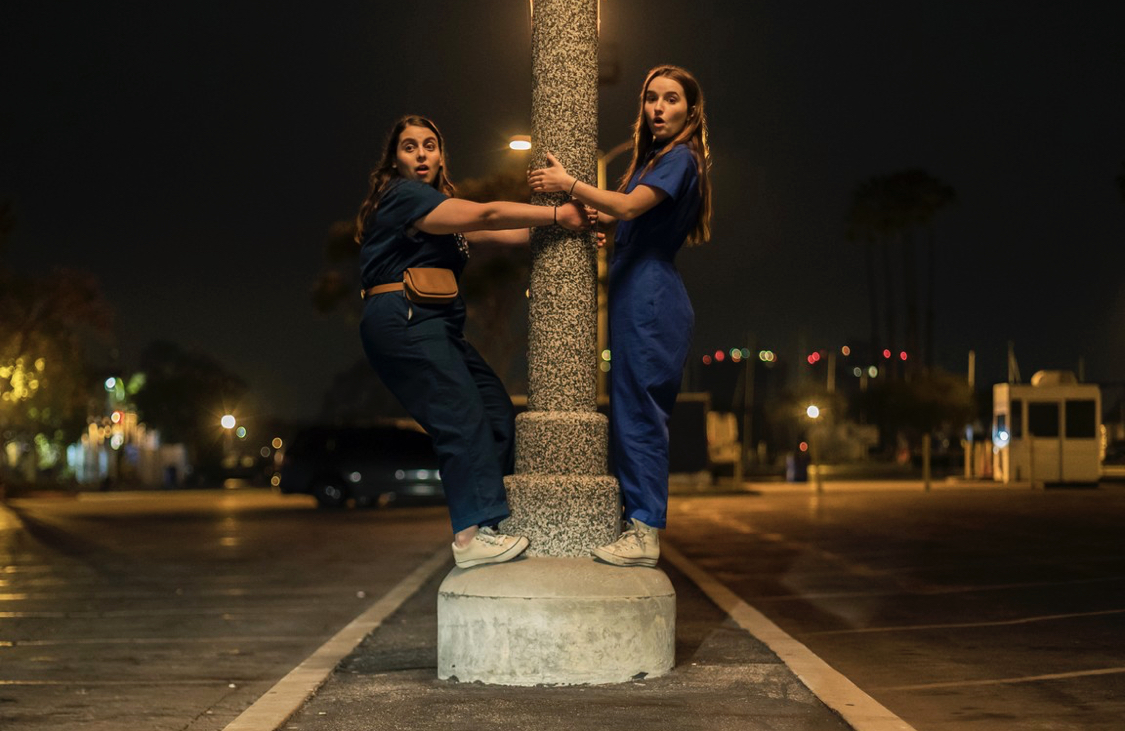 For the most part, Booksmart is straightforward in its approach, meaning that it eschews many of the over-the-top antics found in even some seemingly grounded films. (Ferris Buller's Day Off being a prime example.) Although the screenplay is replete with sex talk, there's not much in the way of sex action (and there's no nudity) and the gross-out quotient is kept low (only in one scene is a character vomited on). The film also boasts a wonderfully weird animated sequence in which the two leads are replaced by Barbie doll-type avatars (as a result of their having ingested drug-infused strawberries). Some viewers may be reminded of the Trey Parker/Matt Stone 2004 puppet movie, Team America: World Police.
For her cast, Wilde has opted to go with lesser-known actors for the two leads, both of whom are perfectly cast. Kaitlyn Dever, whose star is on the rise with a growing list of TV and movie credits, ably inhabits the body of a young woman who is using this opportunity to emerge from her friend's shadow. Beanie Feldstein crafts a character who is outwardly intimidating but inwardly vulnerable, and isn't afraid to show both aspects of Molly. Other young performers to appear in Booksmart include Billie Lourd (Carrie Fisher's daughter), Molly Gordon, Diana Silvers, and Skyler Gisondo (whose filmography is impressively full for one so young). Recognizable comedy veterans like Lisa Kudrow, Will Forte, and Jason Sudeikis fill the "adult" roles. Michael Patrick O'Brien has an unforgettable cameo as a pizza delivery driver.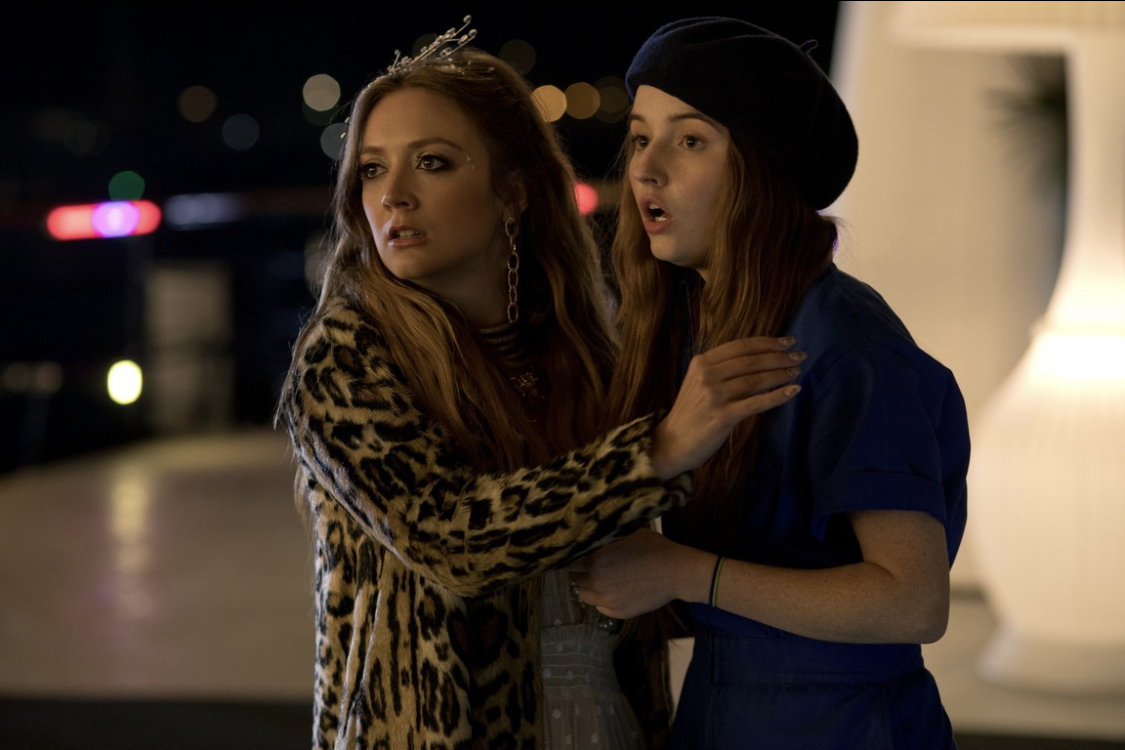 Wilde, working from a screenplay credited to four writers (all of whom are women), achieves the tricky balance of gaining audience empathy for the characters while allowing us to laugh at their foibles and missteps. The movie is at times very funny but it never loses sight of Amy and Molly as people. They don't exist merely to be the butt of jokes, although that occasionally happens. The movies also isn't message-oriented. Amy is gay but that's accepted by the narrative as easily as it is by everyone in the story. There's no preaching; this isn't about Amy navigating the roadmap of her gender identity. If anyone has issues about sexual attraction, it's Molly, a type-A personality who finds herself drawn to a jock.
One thing Booksmart makes evident is how few smart, funny high school comedies there are out there. The rate is alarmingly low for two principal reasons: most of the movies in this genre are neutered to be awarded the coveted PG-13 rating (when was the last time the life of any real teenager could be considered PG-13?) and the writing is rarely sharp, resorting to stereotypes and clichés. You have to pick through the debris to find movies like last year's Blockers or 2016's The Edge of Seventeen. Add Booksmart to that list. If you're in high school (or have ever gone through the experience), you'll laugh quite a bit, wince more than once, and relate from start to finish.
---
Booksmart (United States, 2019)
Director:
Olivia Wilde
Cast:
Kaitlyn Dever
,
Will Forte
,
Lisa Kudrow
,
Mason Gooding
,
Victoria Ruesga
,
Jessica Williams
,
Diana Silvers
,
Molly Gordon
,
Billie Lourd
,
Skyler Gisondo
,
Beanie Feldstein
,
Jason Sudeikis
Home Release Date: 2019-09-03
Screenplay:
Susanna Fogel, Emily Halpern, Sarah Haskins, Katie Silberman
Cinematography:
Jason McCormick
Music:
Dan the Automator
U.S. Distributor: Annapurna Pictures
---

Three...better movies of this genre
worse movies of this genre
Three...better movies of Kaitlyn Dever
worse movies of Kaitlyn Dever
Three...better movies of Will Forte
worse movies of Will Forte
Three...better movies of Lisa Kudrow
worse movies of Lisa Kudrow