Short Term 12 (United States, 2013)
August 29, 2013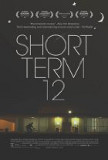 It's so easy to go wrong with a film like this. So easy to tart it up with sentiment, to turn up the mawkishness to an "11." For an example of how badly wrong this sort of thing can go, just think Patch Adams, where the manipulation never stopped coming. Thankfully, none of that is true of Short Term 12, an emotionally authentic examination of the lives of those who live in and work at a children's home where the lines between the inhabitants and the caretakers isn't as clear as one might suppose. The sophomore feature effort from director Destin Cretton (remaking and expanding upon his 2008 short), this movie avoids the numerous landmines awaiting someone venturing into this territory and, as a result, emerges triumphant.
Well-crafted independent films like Short Term 12 often prove to be showcases for amazing unsung actors and actresses whose talents have thus far not been exposed in Hollywood's spotlight. For Brie Larson, who has been around for more than ten years (mostly on television), this is a chance to shine. Combine it with her supporting roles in The Spectacular Now and Don Jon, and this has been a motion picture "coming out" year for Larson. Her work in Short Term 12 should get her noticed in much the same way that Amy Adams turned heads for Junebug, Jennifer Lawrence escaped relative obscurity with Winter's Bone, and Elizabeth Olsen showed her talent in Martha Marcy May Marlene. Her performance as Grace represents an honest, multifaceted and completely believable portrayal of a character on the edge - one who has it together at the outset then sees her psyche gradually unravel as a result of series of blows. Riveting stuff, and Larson receives adept support from actor John Gallagher Jr., who plays her co-worker and lover, Mason, and Kaitlyn Dever as Jayden, a young charge whose tortured present mirrors Grace's past.
Short Term 12 is really Grace's story. She's the leader of a quartet of workers who run the day-to-day care for the "short term" residents at a children's group home. There's an easygoing camaraderie among the four: Grace, Mason, Jessica (Stephanie Beatriz), and Nate (Rami Malek). Grace's past, carefully buried, begins to surface as a result of the confluence of three events: her imprisoned father is about to be released from jail, she discovers she's pregnant with Mason's child, and a newcomer to the house, Jayden, shows signs of the same trauma Grace once experienced.
This is a character-driven movie that focuses predominantly on Grace's inner life as well as the interactions she has with the other characters. There's no melodrama and nothing is overwrought. Cretton elects to use handheld cameras to film the action. In some circumstances, this works, but its overuse leads to instances when sensitive viewers may begin to feel bouts of motion sickness. This isn't the worst offender of the year when it comes to this dubious style of filmmaking but some viewers will almost certainly view it as a distraction, and that's unfortunate. The production would have lost none of its power had a tripod occasionally been employed.
Short Term 12 is quiet and understated - two characteristics sadly lacking in bigger budget endeavors. Perhaps it's the financial limitations that enable the cast to dig this deeply and really find their characters. There's not a false note in any of the performances and we come away convinced that spending 90-odd minutes with Grace is a rewarding, if sometimes painful, experience. The biggest movies of 2013 have almost all been universally disappointing; it has been left up to indies like Short Term 12 to remind movie-goers that the true power of cinema lies not in bangs and flashes but in storytelling and character building.
---
Short Term 12 (United States, 2013)
---
Three...better movies of this genre
worse movies of this genre
Three...better movies of Brie Larson
worse movies of Brie Larson
Three...better movies of John Gallagher Jr.
(There are no more better movies of John Gallagher Jr.)
worse movies of John Gallagher Jr.
Three...better movies of Kaitlyn Dever
worse movies of Kaitlyn Dever