Greatest Showman, The (United States, 2017)
December 21, 2017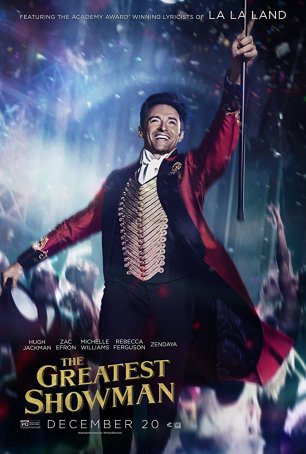 In style, if not substance, The Greatest Showman is reminiscent of the Disney film, Newsies. Like the 1992 live-action musical, The Greatest Showman comes to life when the characters are singing or dancing but struggles through the sequences in between. The show-stopping numbers are well-choreographed and feature catchy tunes (courtesy of La La Land's duo of Benj Pasek & Justin Paul) but the film's dramatic arc, despite purportedly being "based on a true story", is a string of clichés knitted together to tell an unremarkable story. Lead actor Hugh Jackman is charismatic and knows how to hold an audience's attention during a musical sequence but this is far from his best performance.
Although The Greatest Showman claims to tell the tale of showman P.T. Barnum (Jackman), who leant his name to a circus during the 19th century, the narrative is as untrue and exaggerated as Barnum's most outrageous falsifications. Also, in an attempt to be relevant, The Greatest Showman tries too hard to establish parallels between the misfits of Barnum's troop and those suffering from discrimination in 2017 society. As well-meaning as those thematic elements might be, they seem forced and largely ignore the underlying truth that Barnum was exploiting these people for personal gain. (The screenplay downplays this aspect, presenting the circus as a multi-cultural venue for self-empowerment.)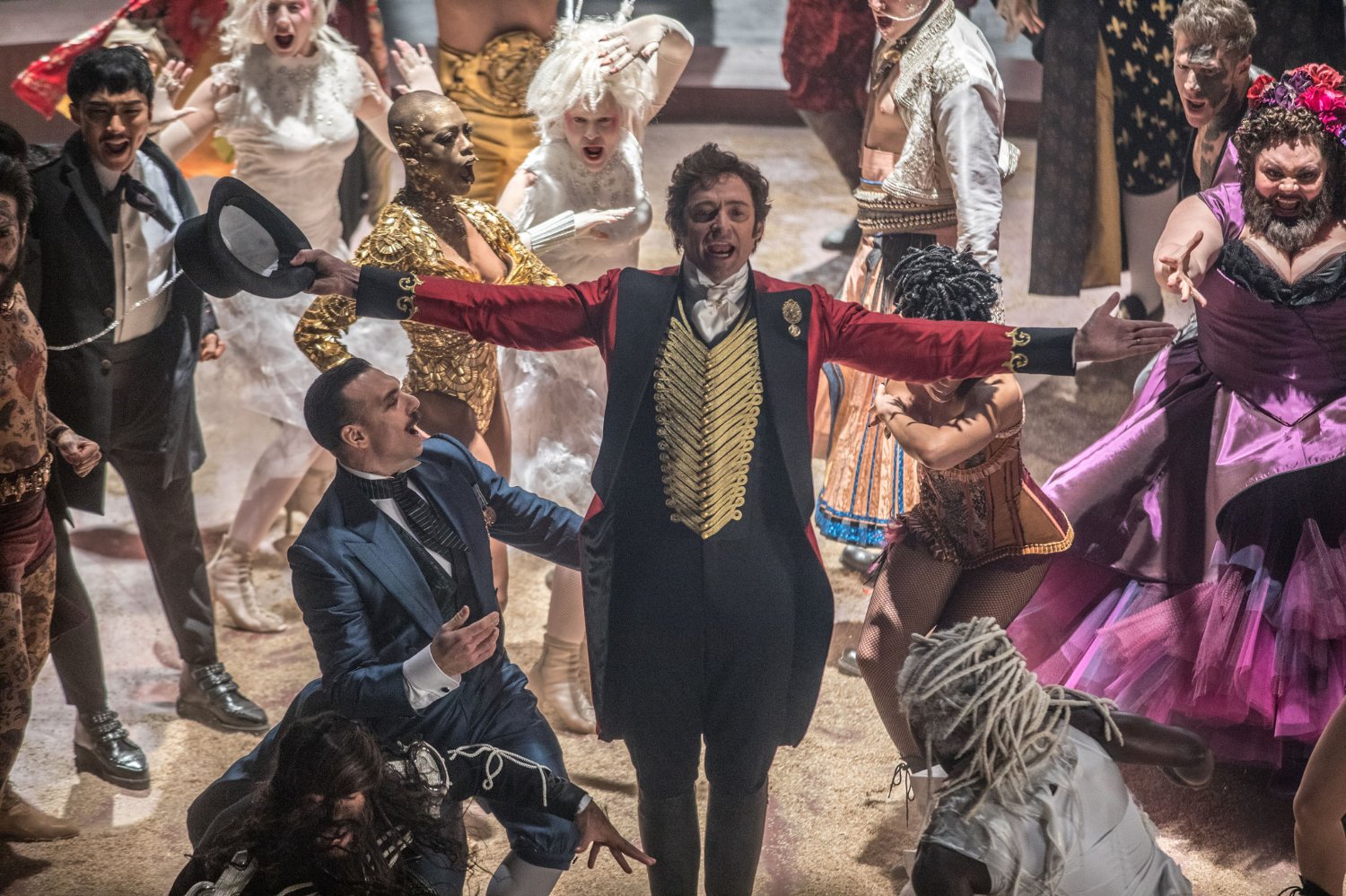 It's astonishing how much more energy the musical numbers have than the purely dramatic sequences. This discrepancy highlights the film's greatest strength but also represents its most apparent weakness. Every time Jackman or one of his co-stars starts to sing, you want to stay in your seat. Once the song is over, a bathroom break or visit to the snack bar seems appropriate. The plot moves along a familiar trajectory. Barnum, the low-born son of a tailor, falls for a girl far above his station and, once he has made a little money (emphasis on little), he marries her. After working a series of conventional jobs to support his wife (Michelle Williams) and two daughters, Barnum takes a walk on the wild side and buys a museum. When attendance is poor (there's not a lot of interest in wax figures and the work of taxidermists), he replaces inert attractions with a show featuring human oddities: a bearded woman (Keala Settle), a dwarf (Sam Humphrey), a trapeze artist (Sendaya), and others of their ilk. Barnum's low-brow production becomes an overnight sensation and he recruits a partner, the younger and well-connected Philip Carlyle (Zac Efron), who arranges an audience with Queen Victoria. While in England, Barnum meets singer Jenny Lind (Rebecca Ferguson), the "Swedish Nightingale", and convinces her to embark on a tour of the United States.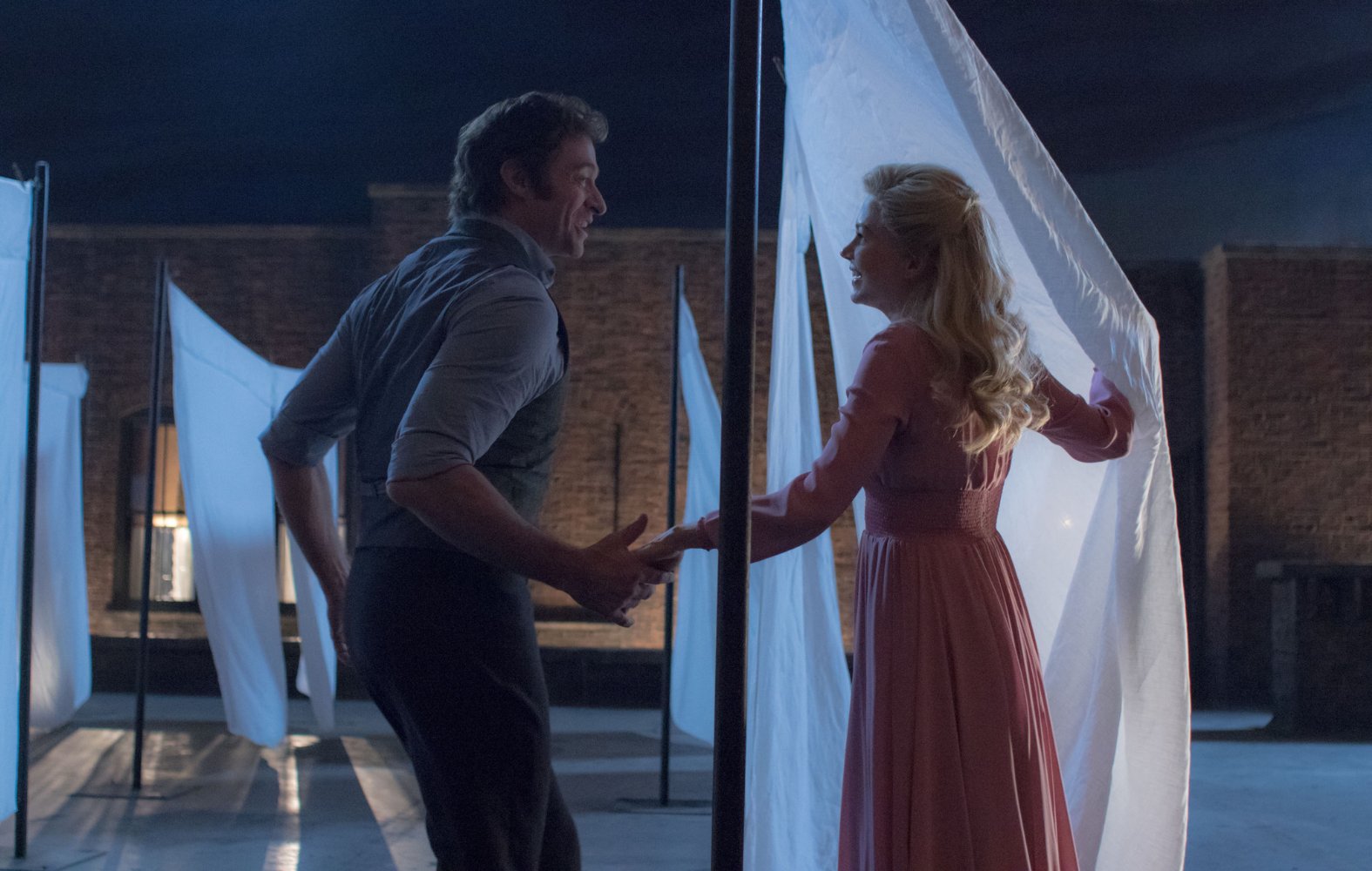 The predictable sweep of Barnum's rise, fall, and resurrection prevents the movie from exploring any interesting or unexpected territory, so The Greatest Showman relies on two elements for its success: the songs, which are sufficiently contemporary to avoid alienating younger viewers (Pasek & Paul's numbers are pop and hip-hop influenced), and Jackman's reliable presence. The filmmakers aren't discomfited by the anachronistic music and it proves to be The Greatest Showman's most effective selling point.
The direct-to-the-screen movie musical (as opposed to the adapted play or remake) has been an endangered species for decades and the box office failure of Newsies back in 1992 nearly killed it. Its revival during the last couple of years with the songwriting of Pasek & Paul reminds us of how uplifting a well-executed screen musical sequence can be. The Greatest Showman lacks the chops to compete against La La Land on a story level but it's every bit as engaging (and perhaps even moreso) than the live-action re-imagining of Beauty & the Beast. It's a family film whose infectious, crowd-pleasing song-and-dance numbers justify a 105-minute running length when the pedestrian story can't.
---
Greatest Showman, The (United States, 2017)
Run Time: 1:45
U.S. Release Date: 2017-12-20
MPAA Rating:
"PG"
Genre:
Musical/Drama
Subtitles: none
Theatrical Aspect Ratio: 2.35:1
---

Three...better movies of this genre
worse movies of this genre
Three...better movies of Hugh Jackman
worse movies of Hugh Jackman
Three...better movies of Michelle Williams
worse movies of Michelle Williams
Three...better movies of Zac Efron
worse movies of Zac Efron