Me and Orson Welles (United States, 2008)
November 24, 2009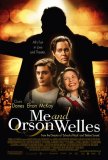 Me and Orson Welles is about the theater, or at least the theater as it was in the 1930s. Based on the semi-fictional novel by Robert Kaplow and set in New York City around the time of the opening of the Mercury Theater, the film is rich in period detail. It chronicles not only how Welles put together his now-famous stage production of Shakespeare's Julius Caesar but how it was to work around and with the temperamental genius. In a departure from his usual intimate, character-based fare, director Richard Linklater paints on a broad cinematic canvas that brings Depression-era Broadway vividly to life.
The lead character is aspiring actor Richard Samuels (Zac Efron), a teenager who is picked by Welles (Christian McKay) to appear in Julius Caesar even before he graduates from high school. Welles, however, is a notoriously difficult boss. One moment, he is cruel and dismissive. The next, he acts like a mentor, bringing Richard with him to a radio studio and allowing him to observe as Welles improvises lines in a live audio play. Since Richard's role as Lucillus is relatively minor, the young performer is given ample time to observe the behind-the-scenes goings-on at the Mercury. Two famous actors, Joseph Cotton (James Tupper) and George Coulouris (Ben Chaplin), are involved in the production, and John Houseman (Eddie Marsan) is Welles' partner in the business side of the venture. For Richard, however, the Mercury's real attraction, aside from the opportunity to work with Welles, is Sonja Jones (Claire Danes), Welles' secretary. He pursues her with the dogged single-mindedness of a young man in love.
In a courageous move, Linklater devotes the better part of the film's final half-hour to exacting re-creations of scenes from Julius Caesar, providing a view of how the play might have looked on Opening Night. There's not enough of the play for someone unaware of its general trajectory to understand what's happening, but those who have seen or read it will be able not only to follow the excerpts but be able to understand the uniqueness of Welles' vision. The unfortunately downside of this approach is that it narrows the target audience considerably.
The ostensible star is Zac Efron, who chose this role as an opportunity to step far away from the parts that have made him famous. (It's difficult to imagine many members of his core audience enjoying Me and Orson Welles.) His heartthrob status effectively submerged, Efron is solid although unspectacular. It's difficult to see it when Welles calls Richard a "natural born actor," but Efron's performance is workmanlike and certainly nothing to be ashamed of. Likewise, Claire Danes snaps off her dialogue like a whip and exhibits sufficient screen presence to avoid being a liability. The love affair between Richard and Sonja, despite being underplayed, is believable. Both Efron and Danes, however, exist in the shadow of Christian McKay, whose portrayal of Welles captures the essence of the great man: impatient, egotistic, arrogant, brilliant, and a perfectionist. It's all there - the good and the bad - presented with such astonishing force that it's impossible for McKay to not dominate every scene in which he appears. (McKay, before making this movie, had played Welles in a stage play.) Physically, McKay bears a passing resemblance to Welles, but his voice is uncannily exact - so much so that, if you watch with your eyes closed, the experience is almost eerie. Not since Anthony Hopkins took over a movie with his supporting role in The Silence of the Lambs has a secondary actor so dominated a movie.
Me and Orson Welles is designed primarily for those who are intrigued by theater, curious about Welles, or some combination of both. The film's storyline is strong enough to provide structure for the production, but it is dramatically limited. Despite Linklater's directorial credit and Efron's name at the top of the marquee, Me and Orson Welles has taken fourteen months since its September 2008 world premiere at the Toronto Film Festival to obtain a limited United States release. Many distributors passed on the movie not because they weren't impressed by its craft but because the potential audience is restricted. This is a specialty movie. Those in its demographic will fall under its impressive spell, but it will be difficult to find enough of those individuals to make the production profitable. McKay alone is well worth the price of admission and, if Me and Orson Welles proves to be too small for the Academy to notice, his performance could go down as one of the great overlooked ones of the decade.
Many tremendous movies could be made about Welles, whose larger-than-life personality would easily lend itself to an epic. From his critically adored stage productions to his War of the Worlds Halloween broadcast to his cinematic debut (and pinnacle), Citizen Kane, to the travesty of The Magnificent Ambersons, few 20th century personalities were more colorful. For Me and Orson Welles, we are presented not only with a minor slice from the man's life, but one that is shown through the eyes of another. It's an effective way to introduce the essence of Welles without overwhelming the viewer with his life story.
---
Me and Orson Welles (United States, 2008)
---
Three...better movies of this genre
worse movies of this genre
Three...better movies of Zac Efron
worse movies of Zac Efron
Three...better movies of Claire Danes
worse movies of Claire Danes
(There are no more worst movies of Claire Danes)
Three...better movies of Christian McKay
(There are no more better movies of Christian McKay)
worse movies of Christian McKay
(There are no more worst movies of Christian McKay)