High Note, The (United States, 2020)
May 27, 2020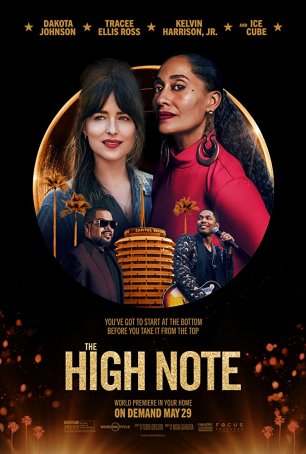 With movies like The High Note that tell familiar stories, it's all about how things are presented. Details matter. Performances are key and the "little things" that give the narrative a unique flavor are to be savored. In imparting the tale of a young woman who throws caution to the wind and chases her dream, The High Note provides most of the expected elements. Although the ending is a little too pat, nice moments are seeded along the way. And although being uplifting represents director Nisha Ganatra and screenwriter Flora Greeson's primary objective, they aren't afraid to toss out a few barbs criticizing the music industry's tendency to jettison artists who are old, black, and female.
Maggie (Dakota Johnson) is a hard-working personal assistant whose latest client is singing superstar Grace Davis (Tracee Ellis Ross). Grace is on the wrong side of 40 and, following the failure of her most recent album, the studio has decided that her future is best served with a path that includes live "best-of" compilations and a semi-permanent stint in Vegas. Grace, whose creativity has taken a back seat to her ego and whose diva-like behavior gets worse with each passing day, seems perfectly happy with it. Maggie, who's a true fan as well as a budding record producer, does uncredited work on Grace's new album but when she offers tentative career advice (making new music instead of doing the same thing over and over), she is told to mind her own business both by Grace and Grace's manager, Jack Robertson (Ice Cube).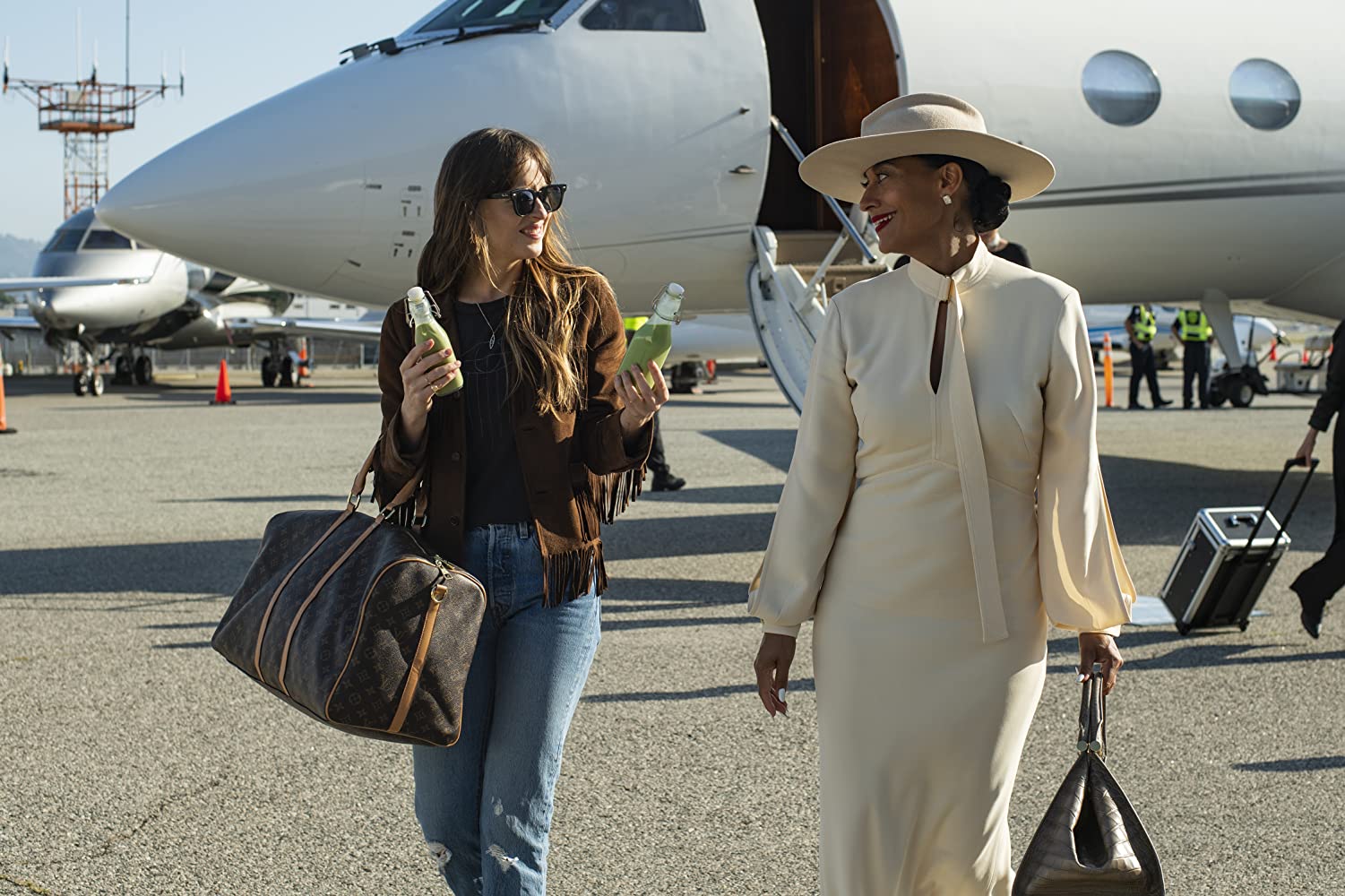 Although her "day job" is as a PA, Maggie's passion is to produce music and she finds a diamond in the rough in David Cliff (Kelvin Harrison Jr.), whose limited ambitions include playing sets in bars and clubs. Maggie woos him and eventually wins him over. He agrees to let her produce a record and the two end up writing songs together and taking the working relationship across the line. But Maggie pushes too hard and isn't entirely forthcoming and those problems fracture her relationships with David and Grace, leaving her with only two rocks in a turbulent sea: her loyal roommate (Zoe Chao) and her dad (Bill Pullman).
The High Note offers a late movie twist that may divide viewers. I'm sure some will see this as a clever way to tie things together. For me, however, it is easily the weakest aspect of the movie. Not only does it take coincidence too far but it upets the movie's carefully crafted aura of reality. I don't know much about the music business but I found The High Note's explorations of the collaboration of song-making and the pitfalls of the music business (with its prevalent ageism, sexism, and racism) to be compelling. The twist and the subsequent kumbaya elements in the ending transports the movie almost entirely into a fantasy alternate reality.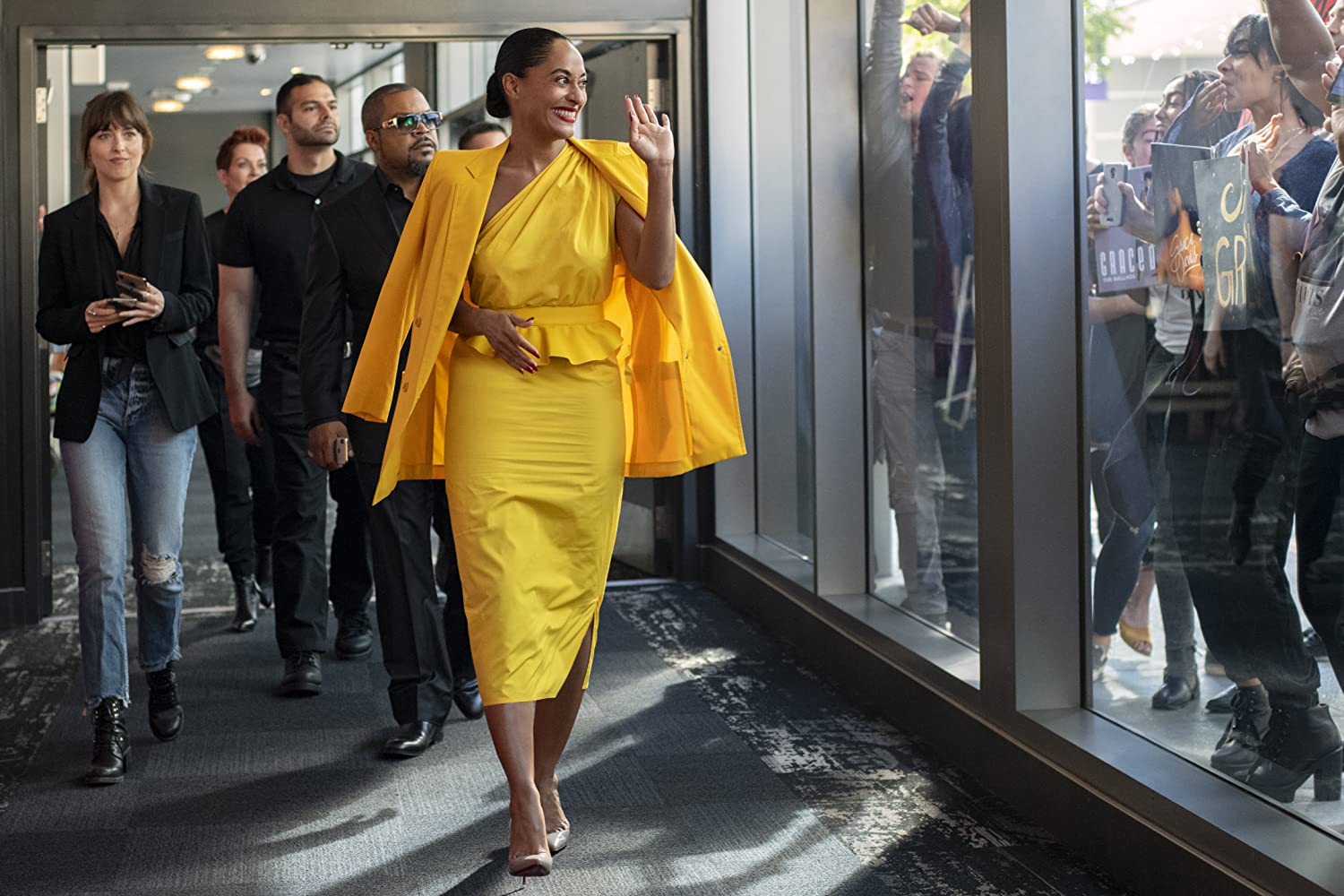 Dakota Johnson is, of course, best known for her participation in Fifty Shades of Grey and its sequels. It's unfortunate because that trilogy was as poor a showcase of her acting abilities as one can imagine. Since then, other roles have offered opportunities for her to display more than her body but her association with Fifty Shades remains as much an albatross for her as Twilight is for Kristen Stewart and Robert Pattinson. Here, Johnson displays a uniquely appealing mix of innocence and strength. She evinces solid chemistry with both Tracee Ellis Ross and Kelvin Harrison Jr. Ross, for her part, works hard to emphasize Grace's diva qualities without discarding her humanity. It peeks out in moments of introspection, self-doubt, and regret. Although Grace isn't balanced, we understand her sufficiently that she doesn't come across as a cliché. Playing the love interest, Kelvin Harrison Jr. does as much as he can with an underwritten character. Ice Cube, as is increasingly the case for the veteran musician-turned-actor, steals every scene in which he appears.
There's something old-fashioned about the story of a woman pursuing a dream. It doesn't come cleanly and there are numerous pitfalls along the way. And, because the movie is as more about wish fulfillment than a hard-hitting expose of how difficult it is to make it in a hostile industry, it can afford to offer an upbeat ending. Consider it the anti­­-A Star Is Born. Although it's true that The High Note has points to make about the schism between creativity and image, the filmmakers don't dwell on them, yet they are important enough to the story that they feel like more than mere window dressing.
The High Note was originally scheduled for a theatrical release as counter-programming to the early summer blockbusters. When theaters closed, Focus Features opted to open the film direct to "Premium VOD" rather than push it back. It plays well on the small screen because the essence of the film – an exploration of characters and their relationships – remains unchanged.
---
High Note, The (United States, 2020)
---

Three...better movies of this genre
worse movies of this genre
Three...better movies of Dakota Johnson
(There are no more better movies of Dakota Johnson)
worse movies of Dakota Johnson
Three...better movies of Tracee Ellis Ross
(There are no more better movies of Tracee Ellis Ross)
worse movies of Tracee Ellis Ross
(There are no more worst movies of Tracee Ellis Ross)
Three...better movies of Kelvin Harrison Jr.
(There are no more better movies of Kelvin Harrison Jr.)
worse movies of Kelvin Harrison Jr.
(There are no more worst movies of Kelvin Harrison Jr.)