Lost Daughter, The (United States/Greece, 2021)
December 31, 2021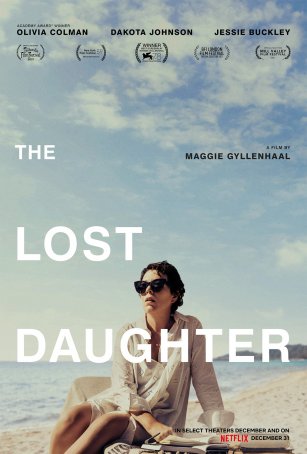 Although not much happens during the course of The Lost Daughter, the film's tone exerts a powerful spell. A character study of a woman who's neither as composed nor as affable as she initially seems, Maggie Gyllenhaal's directorial debut explores the psyche of Olivia Colman's Leda and dispels some of the mysteries of who she is while leaving others ambiguous. The Lost Daughter uses tone, location, and a string of expert performances to leave an impression, even if the story itself is unremarkable.
The Lost Daughter, which is based on a novel by Elena Ferrante (adapted for the screen by Gyllenhaal) follows the experiences of university professor Leda (Colman) who is enjoying a "working vacation" on a remote Greek island. A chance encounter with a young American tourist, Nina (Dakota Johnson), causes memories to percolate to the surface for Leda, plunging her on an unwelcome excursion into parts of her past she would be comfortable forgetting. Twenty years earlier, she (Jessie Buckley) was married to Joe (Jack Farthing) and trapped in a domestic role that didn't suit her. She was at best an inconsistent and sometimes indifferent caregiver to a pair of young girls (she describes herself as "an unnatural mother") and, when given the opportunity, she would leave them with Joe and her mother and embark on international travels and/or trysts with her older lover (Peter Sarsgaard).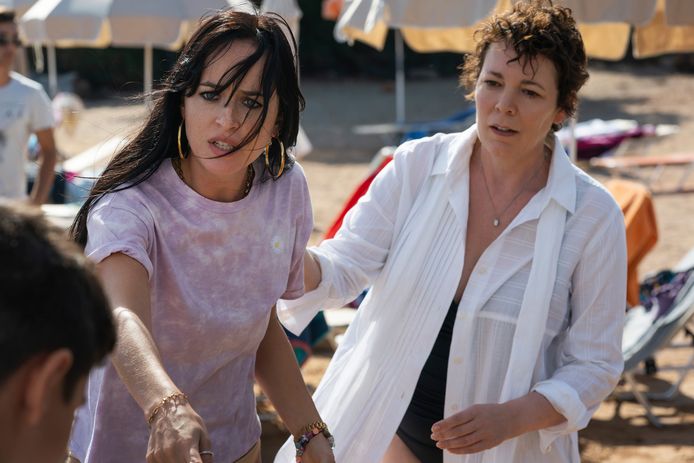 In Nina, Leda sees a modern-day reflection of herself. Nina has a young daughter, Elena, who is both the love and the bane of the young woman's life. But there's something deeper and darker than sympathy going on in Leda's mind. Gyllenhaal leaves the particulars of her condition ambiguous. The reason why Leda steals Elena's beloved doll is never explained (perhaps not even Leda understands her motivations) and this can be seen as either a strength or weakness of the script. In addition to illustrating that there is something twisted in Leda's psyche, it's a crutch and a contrivance as far as the ending is concerned. As powerful as the movie can be at times, there's an artificiality about the closing scenes that can't be ignored.
The Lost Daughter is blessed with a strong cast. First and foremost is Olivia Colman, who has never given a bad performance. Here, she's asked to play a woman who begins the proceedings seeming sympathetic, sincere, and a little lonely. Over the course of two hours, she doffs the skin of likability. Many of the things she does – both in the past and in the presents – are harmful, even if they are hidden by a seemingly innocent smile. Colman's performance is matched by that of Jessie Buckley, who portrays a younger version of the same character – she's more forceful, self-centered, and generally ferocious. The darker qualities that Colman's Leda has internalized are more evident in Buckley's version.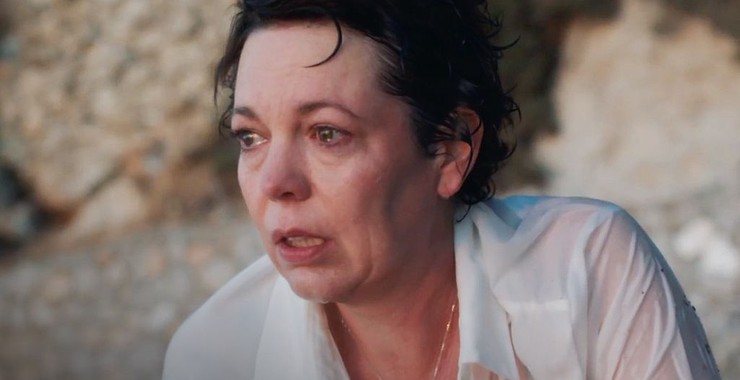 Ed Harris offers an atypically low-key performance. Playing the caretaker of the rental where Leda is staying, he's controlled and understated. He's attracted to Leda but unsure how to go about flirting with her. Dakota Johnson, who has never been able to fully escape the stench of her commercially-based decision to star in Fifty Shades of Grey and the sequels, does what may represent her career-best acting, expressing the inner turmoil that Nina experiences as she confronts the difference between what a mother is supposed to feel (as per the media) and what she feels. Like the younger Leda, she is caught between love of her offspring and resentment for the lost opportunities, the lost sleep, and the "crushing responsibility."
The film's drama is internal and the revelations are all character-based. There are no sudden twists and Gyllenhaal works hard to ensure that, regardless of many monstrous things she has done, Leda comes across as human – flawed, to be sure, but driven by impulses we're all familiar with. The film's structure (opening with a glimpse of the ending) seems unnecessarily devised to incorporate an element of mystery where none is needed and the ending as a whole includes at least one misstep. For those with the patience for a story that takes its time, this is something to watch for when it debuts on Netflix in time to ring in the New Year.
---
Lost Daughter, The (United States/Greece, 2021)
---
Three...better movies of this genre
worse movies of this genre
Three...better movies of Olivia Colman
worse movies of Olivia Colman
Three...better movies of Jessie Buckley
(There are no more better movies of Jessie Buckley)
worse movies of Jessie Buckley
Three...better movies of Dakota Johnson
(There are no more better movies of Dakota Johnson)
worse movies of Dakota Johnson