Iron Lady, The (United Kingdom, 2011)
January 04, 2012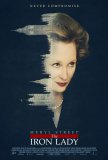 If one was to judge the career of Margaret Thatcher, the U.K.'s Prime Minister from 1979 through 1990, based solely on this bio-pic, one might conclude that her tenure was unworthy of a cinematic account. Phyllida Lloyd's The Iron Lady presents Thatcher (Meryl Streep) as a hard-working woman of conviction, but one who was neither especially charismatic nor interesting. By establishing Thatcher's "present" as the late '00s, close to two decades after her departure from office, the movie recounts her productive years in flashback. The resulting narrative plays out like a series of greatest hits interspersed with scenes of an old woman in the grips of dementia having conversations with a hallucination of her dead husband, Denis (Jim Broadbent).
The most disappointing aspect of The Iron Lady is that some of the most memorable hallmarks of Thatcher's time in power are glossed over. The Falklands War is covered at warp speed. An IRA attempt on her life gets a couple of minutes. Her relationship with U.S. President Ronald Reagan is confined to a brief scene of them dancing at an official function. By spending so much time with Thatcher in her dotage, the movie becomes limited in its ability to tell the story of her earlier years in a convincing, compelling fashion. One can get a better sense of her importance to recent history by reading her Wikipedia entry.
The pace is dreadfully slow; on those occasions when the flashback scenes generate some forward momentum, we are inevitably yanked back to the "present" so everything can slow down again. This approach can work when a movie features rich dialogue and impeccable performances, but The Iron Lady has neither. The screenplay is pedestrian and the acting, including that of star Meryl Streep, is unmemorable. It's unsurprising that U.S. distributor The Weinstein Company has consigned The Iron Lady to a late January art house run (with an obligatory end-of-December limited run to qualify Streep for her annual Oscar nomination); it has little box office potential even among self-professed Anglophiles.
Some of the film's best scenes feature a young Thatcher breaking into politics. In these scenes, she is played by Alexandra Roach, who brings a fire to the performance that is largely missing from Streep's interpretation. It's fascinating to understand how Thatcher shouldered her way into a male-dominated field and forged the power base that would eventually catapult her to 10 Downing Street. Her relationship with her husband is adequately explored; he comes across as a devoted but unremarkable man who sacrifices many of his personal goals on the altar of her ambition. That his "ghost" remains her constant companion long after his death speaks volumes about her attachment to and reliance upon him.
This may be the most disappointing performance Streep has given in recent memory. Hidden under layers of makeup that make the actress nearly unrecognizable at times, her normally expressive face loses some of its elasticity. Although technically adept in her interpretation of the iconic '80s figure (the accent in particular is flawless), Streep never locates Thatcher's soul (blame Abi Morgan's lackluster screenplay). She accomplishes the mandate of camouflaging herself so we're not constantly pointing at the screen saying "There's Meryl Streep!" - but we may find ourselves wondering why Margaret Thatcher looks and sounds so much like Julia Child. There is a temptation to praise Streep because she is Streep; however, while she can provide a spark to even the most lackluster material, this is as unremarkable a job as she has done since singing and dancing her way through Mamma Mia (also from director Lloyd). Jim Broadbent's supporting work is stronger, but he exists more as a narrative device than a legitimate character.
The Iron Lady's view of Thatcher is generally positive although well-balanced. It is not a left-leaning hatchet job or a conservative lionization, which may result in partisans from both sides throwing darts at it. With the painstaking care of a grade school primer, it illustrates the good and the bad associated with Thatcher's decade in power. Ultimately, it is neither penetrating nor insightful. It's straightforward and if Streep receives a nomination for her work here, it will be primarily as a result of her name rather than a reflection of another great milestone in a remarkable career. Those with a true desire to reflect upon and understand Thatcher's life and career will find far more to chew upon in one of any number of books. The Iron Lady offers a superficial, perfunctory outline of Thatcher's time in the public spotlight and is devoid of the energy that would make watching this feel more entertaining than academic.
---
Iron Lady, The (United Kingdom, 2011)
---
Three...better movies of this genre
worse movies of this genre
Three...better movies of Meryl Streep
worse movies of Meryl Streep
Three...better movies of Jim Broadbent
worse movies of Jim Broadbent
Three...better movies of Anthony Head
(There are no more better movies of Anthony Head)
worse movies of Anthony Head
(There are no more worst movies of Anthony Head)