Judy (United Kingdom, 2019)
September 29, 2019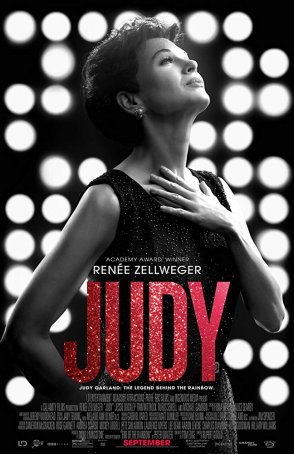 When today's average movie-goer thinks of Judy Garland, the image that comes to mind is that of Dorothy Gale, the girl-next-door heroine of The Wizard of Oz. Few remember the Garland of the 1960s – a pill-popping alcoholic with a self-destructive streak. Her vocal powers diminished by years of self-abuse, Garland was a shadow of her former self by the time she accepted a five-week engagement for a London stage show. Six months later, she was dead of a barbiturate overdose. For this biopic, director Rupert Goold, working from a screenplay by Tom Edge (which, in turn, used Peter Quilter's play "End of the Rainbow" as its source material), focuses on early 1969 and the final hurrah of the singer/actresses (Renee Zellweger) before the curtain came down on her life at the age of 47.
Judy's thesis, which is supported by the facts, argues that the broken woman we see struggling through the late 1960s is the direct result of childhood mistreatment. For illustration, Goold provides flashbacks to the set of The Wizard of Oz. Garland (Darci Shaw), 16 at the time, was put on a forced diet by studio head Louis B. Mayer. She was given amphetamines for breakfast for energy and barbiturates at night so she could sleep. The drug habit she developed during those early showbiz years haunted her throughout the remainder of her days. Garland's life wasn't a happy one; consequently, Judy isn't an upbeat motion picture. It cheats a little to provide the occasional "Hollywood moment" (the most notable of which relates to a rendition of her signature song, "Somewhere Over the Rainbow") but its perspective of the title character is mostly clear-eyed and free of overt sentimentality.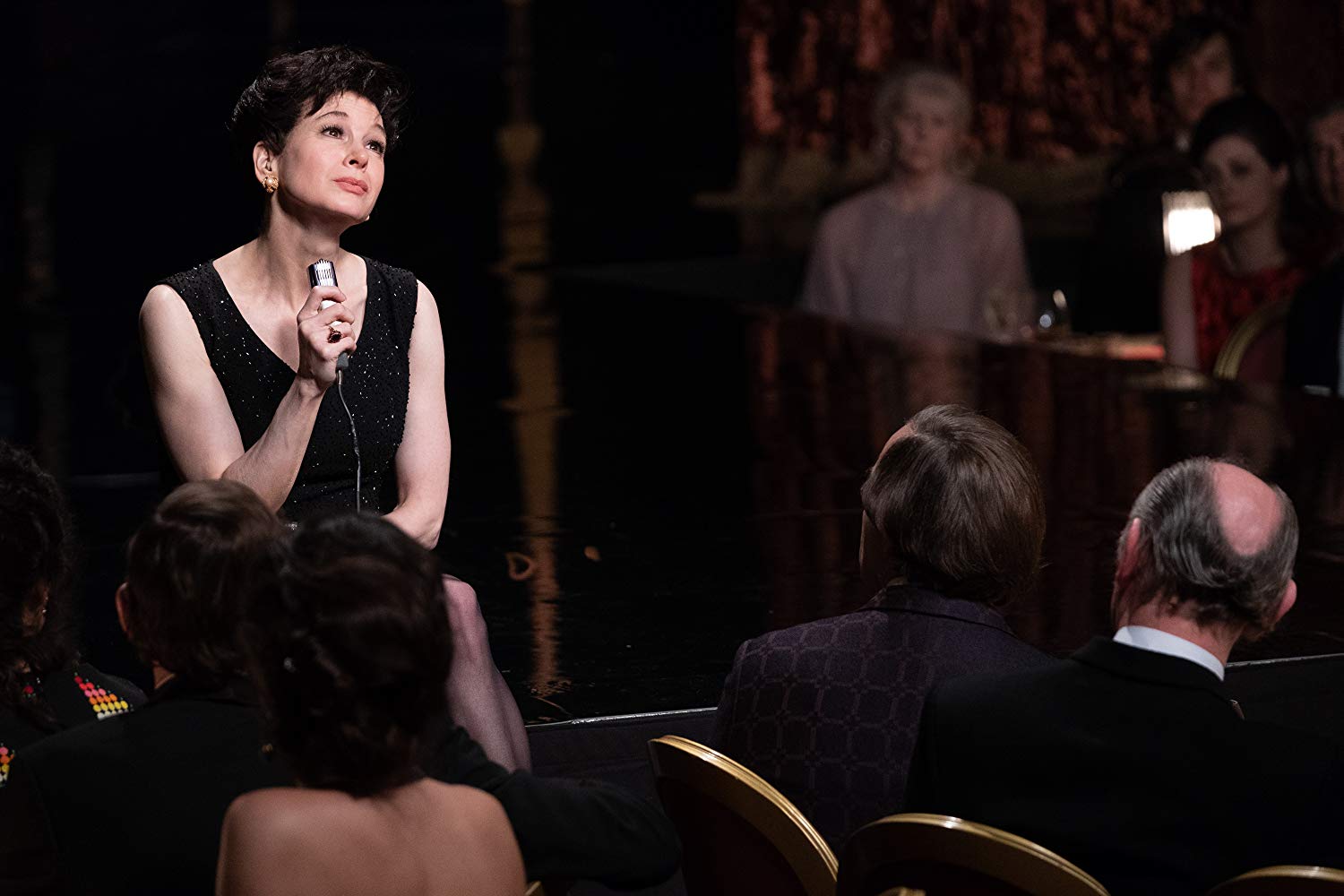 Judy opens in 1968, with Garland performing at New York's Palace Theater along with her two youngest children, Lorna and Joey Luft. She is a devoted mother but an uncertain provider. With her finances in disarray and her debts mounting, she is evicted from the hotel where she has been staying. This forces her to take her kids to the house of her ex-husband, Sid Luft (Rufus Sewell), and accept a lucrative offer to sing in London. While there, she battles her personal demons while becoming a headache for her handler, Rosalyn Wilder (Jessie Buckley), and the owner of the Talk of the Town nightclub, Bernard Delfont (Michael Gambon). She re-connects with Mickey Deans (Finn Wittrock), a smooth-talker she previously met in the United States, who becomes the final Mr. Garland. (Historically, he found her body in their rented London home.)
Judy is the Renee Zellweger show. Although the movie isn't being accorded an aggressive release (and is coming out before the Oscar Season begins in earnest), she is already on many critics' short list for awards contention. It's an all-in performance, with Zellweger doing more than merely mimicking Garland. In addition to radically altering her physical appearance, the actress studied film to be able to impersonate her character's body language. She worked with a voice coach to capture the timber of Garland's vocals. Although there are occasions when we catch a glimpse or two of Zellweger, the person we're seeing on screen is mostly Garland.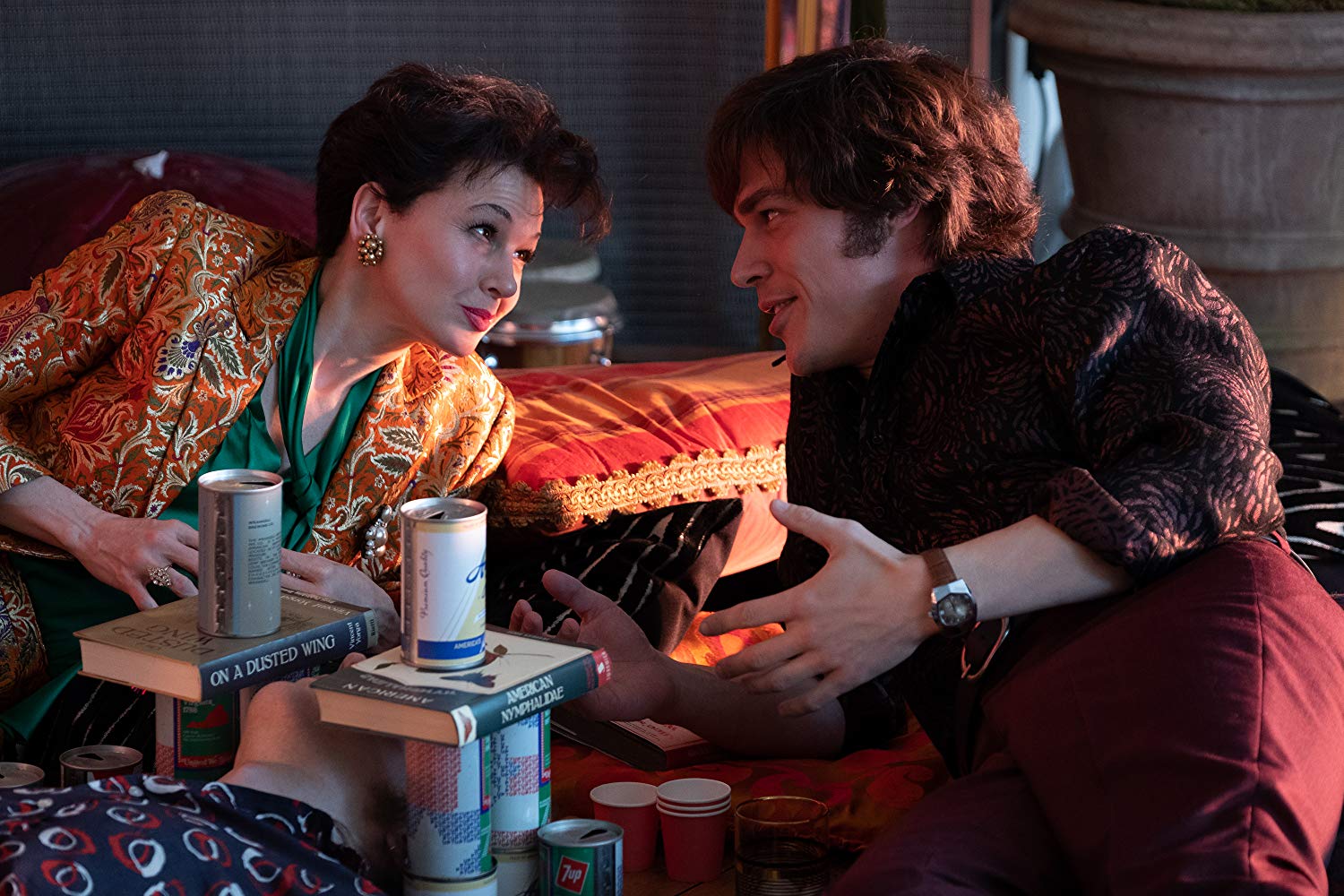 By confining events to a limited span in time, Judy avoids the most common pitfall of screen biographies – too much story for too little time. The movie doesn't feel rushed or compressed. There are, however, sacrifices necessary to this form of narrative. First, huge chunks of Garland's life occur off-screen and are either only briefly referenced or ignored. Secondly, The Wizard of Oz flashbacks are so intriguing that some viewers may wish the movie had lingered longer in that era. (The predatory Louis B. Mayer would have made an excellent villain for a Making of Oz film.)
Although Judy doesn't adhere rigorously to the chronology of the main character's last months, it provides a compelling portrait of the tragic decline of one of America's 20th century icons. The predictability of the film's arc is a reflection of the inevitable rhythms of drug and alcohol addiction and abuse. Zellweger's performance is the glue that holds everything together. Taken in total, Judy is a workmanlike production where any deficiencies in the narrative are easily covered over by the acumen of the actress who can add this movie to Bridget Jones (Oscar nominee), Chicago (Oscar nominee), and Cold Mountain (Oscar winner) on her shelf of personal triumphs.
---
Judy (United Kingdom, 2019)
---

Three...better movies of this genre
worse movies of this genre
Three...better movies of Renee Zellweger
worse movies of Renee Zellweger
Three...better movies of Jessie Buckley
(There are no more better movies of Jessie Buckley)
worse movies of Jessie Buckley
Three...better movies of Finn Wittrock
(There are no more better movies of Finn Wittrock)
worse movies of Finn Wittrock
(There are no more worst movies of Finn Wittrock)