JT LeRoy (UK/Canada/USA, 2019)
April 25, 2019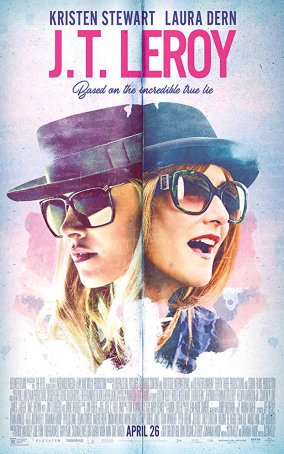 JT LeRoy, Justin Kelly's adaptation of Savannah Knoop's memoir, strives to be more than a run-of-the-mill biopic about two women who perpetrate a con on the literary world. It wants to address issues of gender fluidity and hypocrisy. It wants to provide a window into the complex mind of a bisexual woman who doesn't fully understand why playacting as a man provides a satisfaction that is (in the words of another character) as addicting as a drug. Unfortunately, Kelly's reach exceeds his grasp and the movie's thematic content comes across as muddled and superficial. The gender identity issues are there but they are pushed into the background and, ultimately, JT LeRoy comes across as a run-of-the-mill biopic about two women who perpetrate a con on the literary world.
There is no "J.T. LeRoy," at least not in a concrete, tangible sense. For centuries, women writers have adopted male or androgynous pseudonyms for reasons often related to the real (or perceived) bias of their audiences. Although this was more common during the 1800s and early 1900s, the practice hasn't stopped. Mystery writer Phyllis James chose the pen name of "P.D. James" because she (rightly) assumed that, when she began publishing in the 1960s, that (a) people would assume "P.D." was a man, and (b) Agatha Christie and Dorothy Sayers notwithstanding, women were not "supposed to" write those kinds of books. When J.K. Rowling decided to switch genres and target age groups, she chose a male nom de plume (Robert Galbraith). The reasons why Laura Albert (Laura Dern) chose to write as "J.T. LeRoy" are more complicated than mere public acceptance, however. Albert's desire for privacy and her unwillingness to expose herself to scrutiny forced her to make a number of questionable decisions and create a male alter-ego who was "played" by her boyfriend's sister, Savannah Knoop (Kristen Stewart).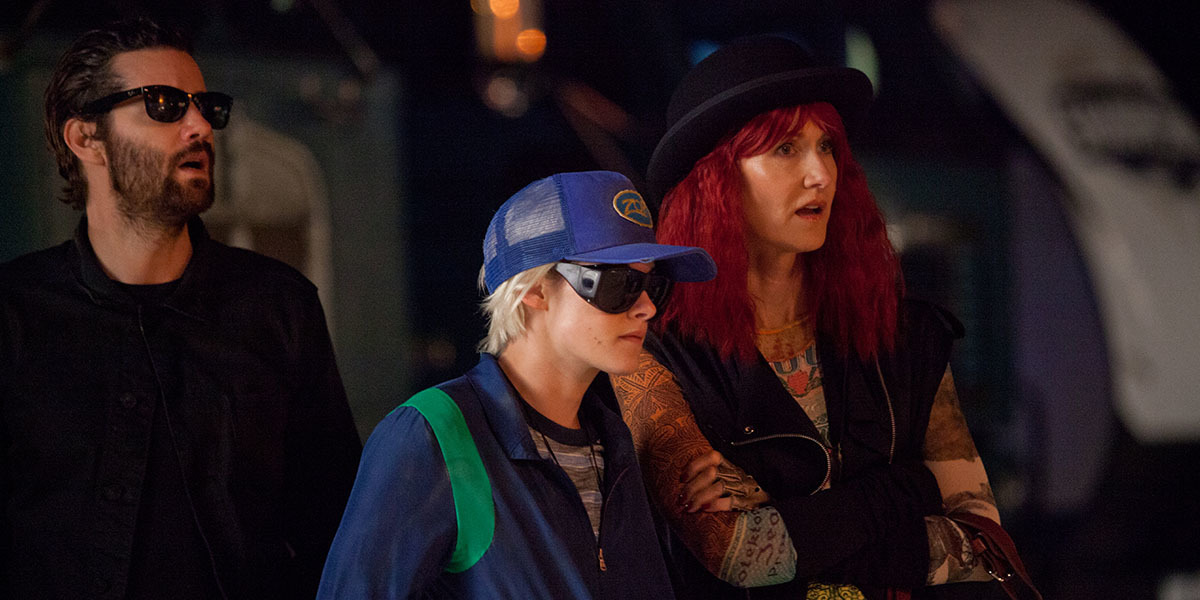 LeRoy's first published novel, Sarah, was well-received in some circles, becoming a New York Times best-seller. At first, Albert ignored the public clamor for LeRoy to come forth, determined that the book should stand on its own. Later, however, motivated in part by a desire for greater recognition and because she wanted to sign a movie deal with a European actor/director (Diane Kruger, playing a role loosely based on Asia Argento, who made a film based on LeRoy's second novel, The Heart is Deceitful above All Things), she decided that she needed to put a face to the name. To that end, she approached the sister of her musician boyfriend, Geoffrey Knoop (Jim Sturgess), to see whether the androgynous Savannah might be interested in donning a wig and sunglasses to appear at photo ops and press conferences. At first, playing LeRoy was a boon for the young woman. Over time, however, the acting became an albatross. Savannah's feelings for the film director caused psychological trauma when it became clear that the emotional connection was not reciprocated.
Had Albert toiled in anonymity, writing for personal reasons, questions about LeRoy's identity would never have arisen. She became a victim of her own success and has used various explanations over the years to justify the hoax. Her jealousy about Savannah's absorbing the public's adulation and her desire to remain connected to her creation (by playing LeRoy's handler, "Speedy"), frame a fascinating character that the movie pushes into a supporting position to focus on the less interesting Savannah.
Although the details of the hoax were better detailed in the 2016 documentary, Author: The JT LeRoy Story (which is currently available for free viewing on Amazon Prime), there is value in seeing them presented in a feature-film format. The two leads, Dern and Stewart, give strong performances and Diane Kruger dominates every scene in which she appears. Nevertheless, JT LeRoy lacks nuance. The deeper issues of gender identity that may (or may not) have influenced Albert's decision to write as a man (whom she has called her "avatar" and "phantom limb") and Savannah's fascination with posing as the author, are murky at best. JT LeRoy is stronger in its exploration of how the cult of celebrity impacts the subject of the movement's fascination. There's a sense that a story as remarkable as that of J.T. LeRoy deserves a more compelling rendition than the one presented in Kelly's interpretation.
---
JT LeRoy (UK/Canada/USA, 2019)
---

Three...better movies of this genre
worse movies of this genre
Three...better movies of Kristen Stewart
worse movies of Kristen Stewart
Three...better movies of Laura Dern
worse movies of Laura Dern
Three...better movies of Jim Sturgess
(There are no more better movies of Jim Sturgess)
worse movies of Jim Sturgess