Crossing Over (United States, 2009)
February 25, 2009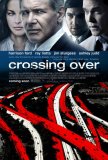 Crossing Over is Wayne Kramer's Crash-inspired look at the world of immigration in Southern California. Like Paul Haggis' Oscar winning film, this one is replete with coincidences and contrivances but, unlike Crash, it also features too many instances in which the message overshadows the characters. The storylines are less compelling and there are times (such as one instance in which the action pauses for a lengthy homily) when the movie seems more concerned about advancing a political perspective than telling a story; The Visitor made many of the same points in a more organic fashion. Enough things in Crossing Over work to keep the film from becoming a bore, but this is a definite step down from Kramer's past efforts, The Cooler and Running Scared.
The film comes complete with a tortured behind-the-scenes story. The screenplay, written by Kramer, is an expansion of a short he made in 1996. The movie was shot in mid-2007, then ended up going through extensive re-editing as a result of objections by Harvey Weinstein, Harrison Ford, and Sean Penn. In fact, differences with Penn became so fractious that his part was eventually excised from the final cut (with minor re-shoots necessary to cover his absence). The resulting theatrical version is therefore more of a compromise than Kramer's preferred cut (as is clear from the running time, which was reduced from 140 minutes to 113 minutes).
The film essentially focuses on four main stories and their tangents, all of which are interconnected in one way or another. Max Brogan (Harrison Ford), an immigration cop, is touched by the plight of a woman he arrests (Alice Braga). She pleads with him to escort her son back to Mexico so he won't be left alone and adrift in Los Angeles. After initially refusing, he relents and complies with her request but, after she is deported, she disappears. Max's partner, Hamid Baraheri (Cliff Curtis), is dealing with immigration issues in his traditional Iranian family. His father is about to receive citizenship, but his black-sheep sister, Zahra (Melody Khazae), is embarrassing the family name. Meanwhile, Australian would-be actress Claire (Alice Eve), is determined to stay in the United States at any price. First, she tries buying forged documents from Zahra's boyfriend. Then she agrees to be the sex slave of an immigration processor, Cole Frankel (Ray Liotta), for two months. Cole's wife, Denise (Ashley Judd), is a lawyer representing 15-year-old Taslima Jahangir (Summer Bishil), who is facing deporting for being an illegal alien and a possible security risk. Taslima wrote a school paper indicating an "understanding" (although not "approval") of the actions of the 9/11 terrorists, and this brought her to the attention of the FBI.
Crossing Over comes across too often as heavy-handed. This is most obvious in the scenes featuring Harrison Ford, whose character is unconvincingly kind-hearted and altruistic. Ray Liotta, on the other hand, plays the kind of sleaze he has become typecast as: a government worker who cheats on his wife and breaks the law so he can degrade a pretty blond whenever he wants. (Although, in is defense, Liotta avoids the frothing-at-the-mouth approach that has characterized some of his more recent "bad guy" roles.) That Cole develops "feelings" for Claire is as big a contrivance in the script as anything else. Given the nature of their relationship, it's not remotely creditable. But the screenplay's most grievous misfire occurs when Hamid confronts a convenience store robber and gives him a three minute lecture about the evils of crime and the glory of taking the citizenship oath. Maybe I've been watching too many Dirty Harry movies recently, but this felt so out-of-place that it was almost laughable.
Even Crash didn't do this sort of twisted ensemble tale deftly, but it featured stronger performances and more involving plotlines. Of all the intertwined episodes that unspool during the course of Crossing Over's 113 minutes, only one resonated with me - that of the Middle Eastern family being torn asunder because of a high school girl's lapse of judgment. In that story, Kramer manages not only to provide a tragic account of the unintended consequences of unfiltered honesty, but to offer commentary about how fundamentally fear-stricken this country has become.
The filmmakers' point-of-view is obviously that the current immigration system is broken, and that's something everyone, regardless of their political leaning, can agree upon. Subtlety, however, is not one of the tools Kramer elects to employ in elucidating this perspective. The film is too clumsily developed to elicit much sympathy for the characters and some of the actions and interactions that occur on screen are too unlikely to accept, even within the limited microcosm being explored by the narrative. Crossing Over may hold some appeal for those who loved Crash, but this is a diluted cousin to a film that was overrated in the first place.
---
Crossing Over (United States, 2009)
---
Three...better movies of this genre
worse movies of this genre
Three...better movies of Harrison Ford
worse movies of Harrison Ford
Three...better movies of Ray Liotta
worse movies of Ray Liotta
Three...better movies of Ashley Judd
worse movies of Ashley Judd