Movies with cinematographer Jim Whitaker Cooler, The
The Cooler, as icy a title as you're likely to find, is about the efforts of one man to find his luck (or, to be more precise, some form of luck other than that of the bad variety). Rarely has a more pathetic individual been captured and portrayed ...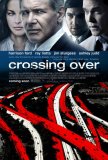 Crossing Over
Crossing Over is Wayne Kramer's Crash-inspired look at the world of immigration in Southern California. Like Paul Haggis' Oscar winning film, this one is replete with coincidences and contrivances but, unlike Crash, it also features too many insta... King of California
King of California is the second movie opening this month to feature Evan Rachel Wood and, while it's better than the other one (Across the Universe), it's not that much better. Wood's performance is at about the same level, albeit without the sing... Running Scared
Running Scared feels like Tony Scott on barbiturates. From tone to approach, it's like a Scott-helmed movie, but the tendency to show off is limited, the camera movements are less frantic, and the editing occasionally allows shots to last for more...