No Sudden Move (United States, 2021)
July 06, 2021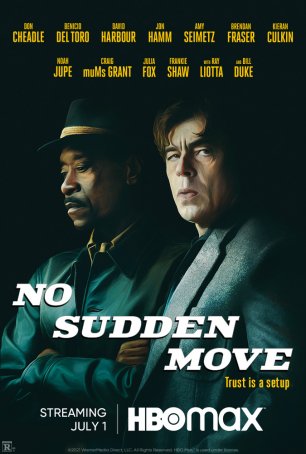 Watching No Sudden Move, the thought came to me that, if I didn't know the director beforehand, I might guess Steven Soderbergh or the Coen Brothers. It's the kind of production that only those filmmakers (or their proteges) would make, using the catalytic converter as a MacGuffin and constructing an ensemble crime movie around the automobile industry's attempts during the 1950s to argue against car exhaust as being a cause of pollution. Working with a precise screenplay credited to Ed Solomon, Soderbergh constructs a masterful tale of escalating crime, filled with anti-heroes, outright villains, and low-key twists at every turn.
Many of the narrative elements in No Sudden Move are familiar: the ex-con trying to scrape together enough money to get out of Dodge, the shadowy underworld forces who cast long shadows, a seemingly simple caper gone wrong, a seemingly incorruptible Federal agent, a double-cross (or two or three or four), and a matter-of-fact businessman sitting at the top of the criminal pyramid. Soderbergh, like the Coens, has the ability to transform such recognizable tropes into something unique. It's partly the way he tells the story (using his long-time pseudonyms of "Peter Andrews" and "Mary Ann Bernard," Soderbergh functions as cinematographer and editor in addition to being the director), partly the meticulous detail he applies to the setting (in this case, 1954 Detroit), and partly the quality of his cast. Although lacking the pure star power of Traffic or Ocean's 11, Soderbergh has assembled an impressive group of actors (many who have previously worked with him): Don Cheadle, Benicio del Toro, David Harbour (a revelation), Jon Hamm, Ray Liotta, Bill Duke, and Matt Damon (uncredited but in a crucial role that's larger than a cameo).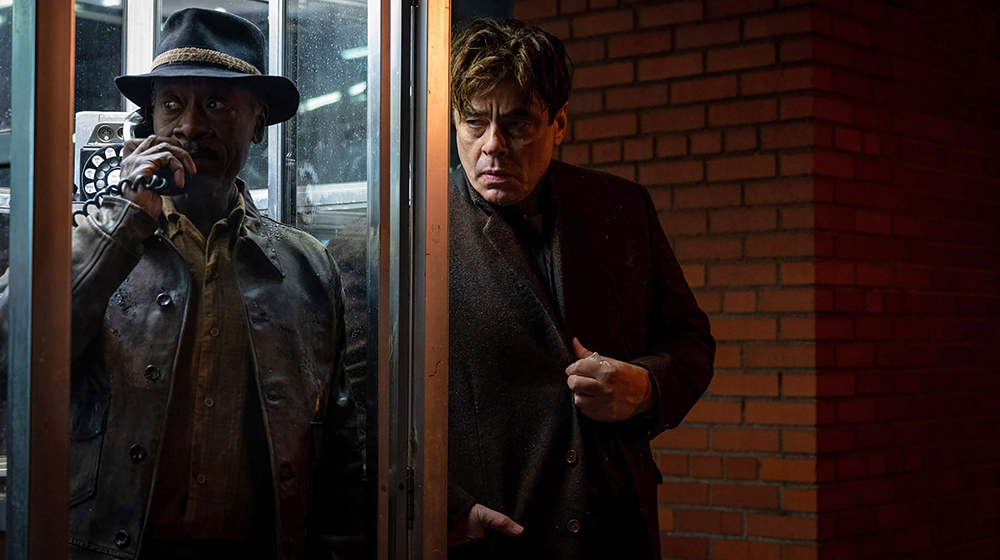 No Sudden Move opens by introducing us to Curt Goynes (Cheadle), fresh out of prison and in need of enough cash to head off to Kansas City. To that end, he's willing to take any job, and his recruiter matches him up with Ronald (del Toro) and Charley (Kieran Culkin) for a simple assignment, described as a "babysitting job." Curt suspects things aren't that straighforward and he's right. While Charley accompanies their target/victim, Matt Wertz (Harbour), back to the office to retrieve a super-secret document from his boss' safe, Curt and Ronald stay behind to hold Matt's family at gunpoint. Of course, nothing goes as planned. Soon there's a body count and Curt and Ronald are on their own, climbing the ladder of middle-men and gangsters that comprise the rungs leading to the money man whose briefcase of $350k represents the end-game. Oh, but there are other complications like the fact that Ronald is having an affair with Vanessa (Julia Fox), the wife of mafioso Frank Capelli (a frothing-at-the-mouth Liotta). Or the Federal agent (Jon Hamm) whose deadpan expression does little to reveal who he's really working for or what his true motivations are. The movie may be devoid of blameless and likeable characters but that doesn't mean it's not chock-full of interesting individuals.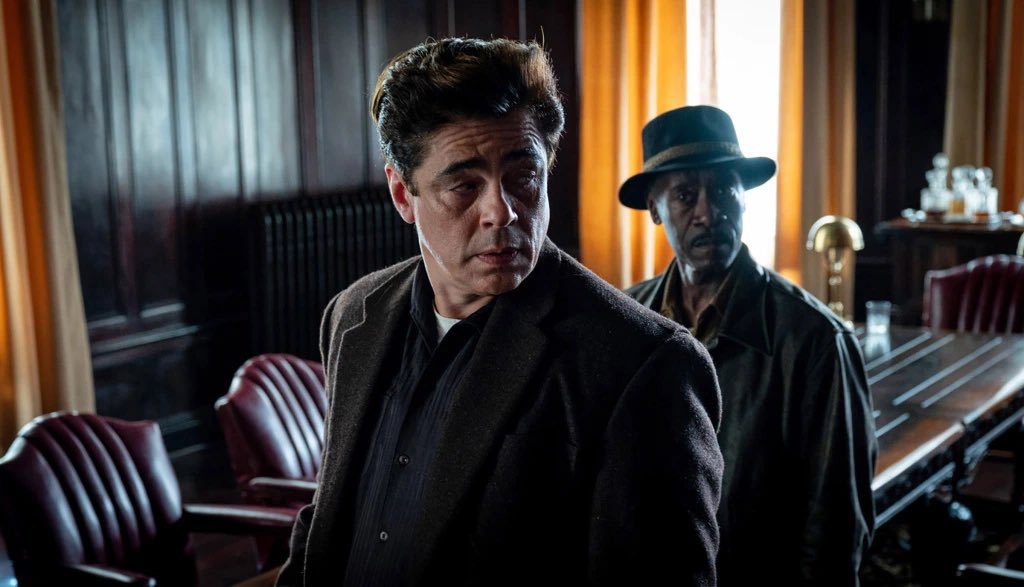 It's refreshing to discover a thriller more interested in piquing the intellect than playing exclusively to the viewer's adrenaline centers. Soderbergh is a master of the slow-burn form of tension-building; he generates suspense by employing small, credible plot twists rather than resorting to fights, shoot-outs, and chases. No Sudden Move isn't quite on the same level as his best effort in the genre, Out of Sight, but it at least deserves mention in the same breath. It's fully immersive and, although released directly to HBOMax, the film has the look of something made for theatrical viewing (among other things, Soderbergh occasionally toys with a fisheye lens, which distorts the image).
Back in 2013, following the release of Side Effects, Soderbergh announced his retirement from filmmaking. That "retirement" turned into a four-year hiatus, during which he redirected his creative talents to the TV series "The Knick." He returned to feature filmmaking in 2017 with Logan Lucky and, since then, he has continued to make movies, preferring to partner with streaming services than go the "traditional" studio route. The results have been as satisfying for viewers as for the director. No Sudden Move represents his best post-"retirement" effort and this is a real treasure for those with an affinity for ensemble crime movies.
---
No Sudden Move (United States, 2021)
Director:
Steven Soderbergh
Cast:
Don Cheadle
,
Benicio Del Toro
,
David Harbour
,
Amy Seimetz
,
Jon Hamm
,
Ray Liotta
,
Kieran Culkin
,
Noah Jupe
,
Brendan Fraser
,
Bill Duke
,
Julia Fox
,
Matt Damon
Screenplay:
Ed Solomon
Cinematography:
Peter Andrews
Music:
David Holmes
U.S. Distributor: Warner Brothers/HBOMax
---
Three...better movies of this genre
worse movies of this genre
Three...better movies of Don Cheadle
worse movies of Don Cheadle
Three...better movies of Benicio Del Toro
worse movies of Benicio Del Toro
Three...better movies of David Harbour
worse movies of David Harbour