Porco Rosso (Japan, 1992)
March 29, 2019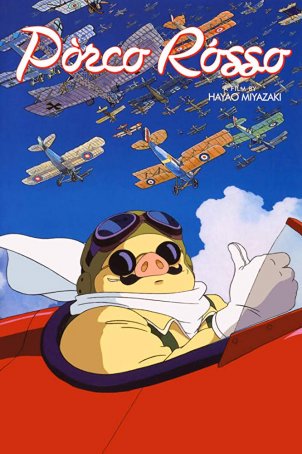 Porco Rosso is an outlier in the early canon of master Japanese animator Hayao Miyazaki – too dark and ambiguous for young children and too uneven for older viewers. Although superior to all but the best American-made animated motion pictures of the era (that "era" being the early 1990s, when the Disney revival was starting), Porco Rosso falls into the category of "lesser Miyazaki" and isn't the equal of his beloved early films or his deeper, more thoughtful later ones. In recent years, the director has acknowledged that the film went a little off the tracks after being influenced by the real-world events of Yugoslavia's civil war (the original screenplay used Croatia, not Italy, as the setting).

Unlike some of Miyazaki's films, Porco Rosso transpires in a real-world analog rather than an "alternate universe." The time period is the 1930s. The title character is a man with a pig's face who went by the name of "Marco Pagot" when he was a World War I flying ace, before a curse transformed him. Now, he makes his living as a bounty hunter, flying his red sea plane over the Adriatic Sea and capturing pirates. For R&R, he stops by the Hotel Adriana, which is run by the beautiful-but-aloof Gina, who is always warm to Rosso because she carries a torch for him. Meanwhile, the pirates, needing a "score," hire a hotshot American ace and would-be Hollywood movie star, Donald Curtis, to lead them. He develops a grudge for Rosso and shoots him down.

With his plane badly damaged, Rosso travels to Turin, where his mechanic Piccolo lives. Piccolo's granddaughter, Fio, takes responsibility for the extensive repairs and, when Rosso is ready to leaves, she accompanies him. They are captured by pirates but Fio's charm and fast-talking save Rosso from death and the plane from destruction. Then Curtis arrives and a challenge is issued: if Rosso can win a dogfight, Curtis will pay off all his debts; if Curtis wins, Fio will marry him.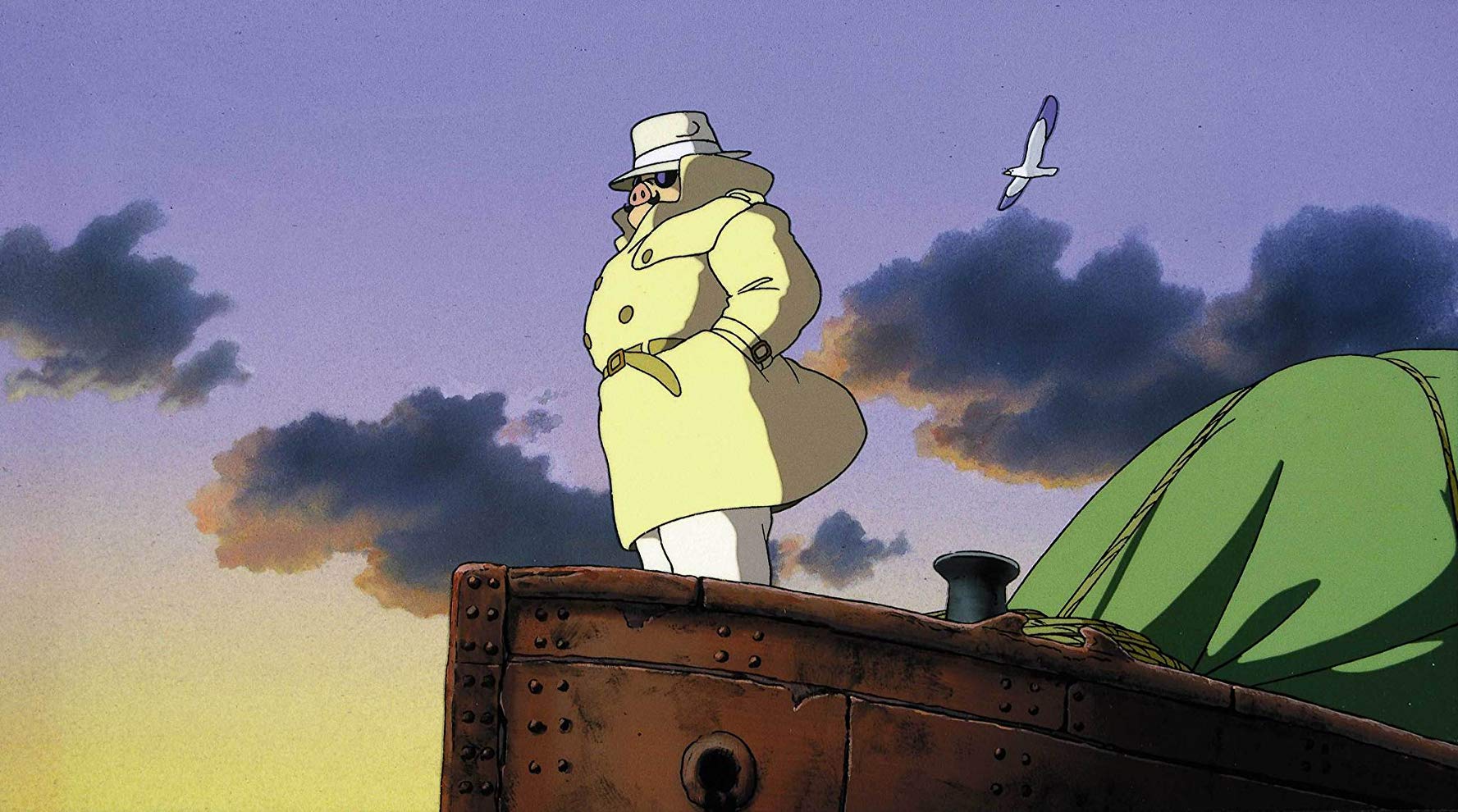 The level of violence is considerably elevated in Porco Rosso over Miyazaki's previous efforts, My Neighbor Totoro and Kiki's Delivery Service. The boxing match between Rosso and Curtis, which concludes their overlong air duel after both guns jam, is especially brutal. However, although there are dark aspects to the storyline (many reflecting the rise of fascism in Europe during the Great Depression), the overall tone remains light, with Rosso displaying a sardonic wit and Fio representing his perfect foil. The risk she takes for Rosso and the belief she shows in his flying abilities bespeak her affection for him. Parts of the story reflect themes and ideas about air travel that Miyazaki would return to more than two decades later for his 2013 film, The Wind Rises.

Although the story may not be top-notch Miyazaki, there's plenty of eye candy. The action scenes, of which there are several, are lively and will keep children engaged. The animation is on par with the previous Studio Ghibli releases. The pirates all have exaggerated, semi-comedic appearances while the women (Gina and Fio) are presented as elegant and Westernized. Rosso's piggish look is evident primarily because of the snout. Other than that, he is drawn a lot like the pirates. Curtis is an amalgamation of two real-life Hollywood personalities: Errol Flynn and Ronald Reagan. (Like Reagan, Curtis imagines one day becoming President.)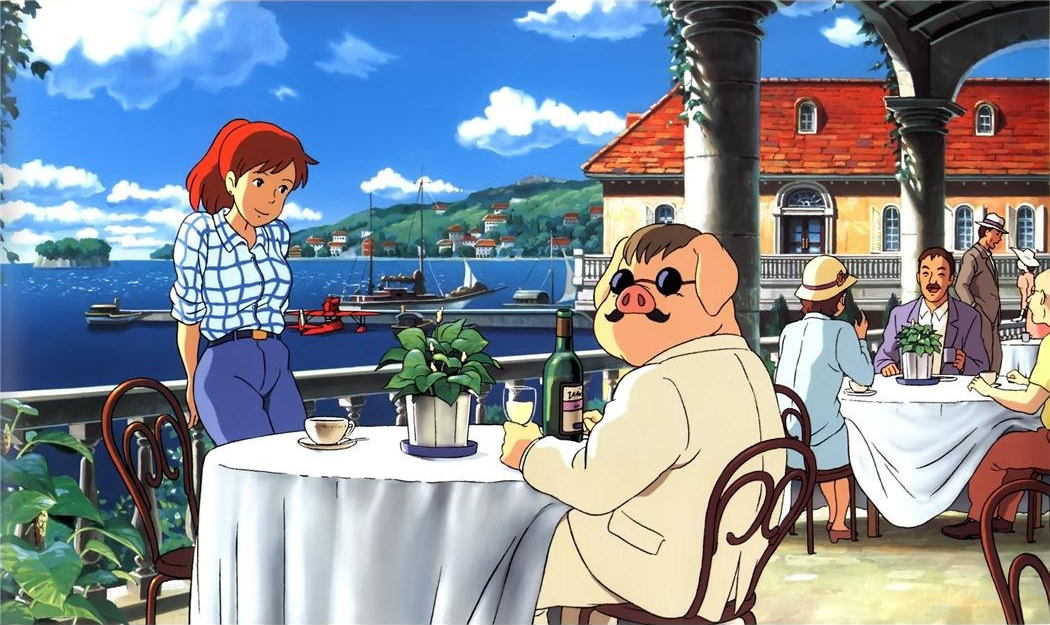 As with all of Miyazaki's films licensed by Disney for U.S. distribution, an English dubbed track was created for Porco Rosso. Of the films in the Miyazaki catalog, Porco Rosso may boast the best dubbing. The voice actors – Michael Keaton as Rosso, Brad Garrett as the pirate boss, Cary Elwes as Curtis, Kimberly Williams-Paisley as Fio, and Disney stable players Susan Egan (as Gina) and David Ogden Stieres (as Piccolo) – are all effective and mismatches between the dialogue and mouth movements are only occasionally noticeable. Although I'd argue that watching the subtitled Japanese version is the best way for purists, the dubbed alternative is fine, especially for younger viewers.

Although Porco Rosso is enjoyable in its own offbeat way, it's more for Miyazaki completists than (at least in English-speaking countries) mainstream audiences. For the filmmaker, it represented a transition between his early oeuvre and the richer films that were to come. Indeed, shortly after completing work on Porco Rosso, Miyazaki would begin Princess Mononoke, the production that would elevate him from one of his home country's hidden treasures to a worldwide sensation.
---
Porco Rosso (Japan, 1992)
Run Time: 1:34
U.S. Release Date: 1992-07-18
MPAA Rating:
"PG"
Genre:
Animated/Adventure
Subtitles: In Japanese with subtitles (or dubbed)
Theatrical Aspect Ratio: 1.85:1
---

Three...better movies of this genre
worse movies of this genre
Three...better movies of Shuichiro Moriyama
(There are no more better movies of Shuichiro Moriyama)
worse movies of Shuichiro Moriyama
(There are no more worst movies of Shuichiro Moriyama)
Three...better movies of Tokiko Kato
(There are no more better movies of Tokiko Kato)
worse movies of Tokiko Kato
(There are no more worst movies of Tokiko Kato)
Three...better movies of Akemi Okamura
(There are no more better movies of Akemi Okamura)
worse movies of Akemi Okamura
(There are no more worst movies of Akemi Okamura)