Puzzle (United States, 2018)
July 27, 2018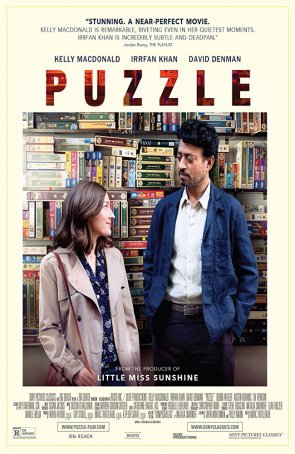 Although unintentional, Puzzle is what its name implies. Despite an Oscar-caliber performance from Kelly Macdonald, the film is hampered by sluggish pacing and a sterile mood that sucks the life out of various emotionally-charged situations. The ending is also ambiguous but not necessarily in a good way. It's almost as if the filmmakers couldn't decide which of various paths made the most sense for the main character, so they opted for a compromise that doesn't satisfy in a fundamental or meaningful way. Puzzle is a remake of Natalia Smirnoff's Argentinian film Rompecabezas, which I haven't seen, so I'm not able to determine whether the flaws evident here are extensions of problems in the original or characteristics of only the English-language version.
I suppose it's possible for anything to be competitive, even assembling jigsaw puzzles. Whether such a thing can be made cinematic is another matter altogether. In this case, it's a bit of a stretch, which is probably one reason why director Marc Turtletaub placed all of the scenes featuring puzzle-solving in the background. Turtletaub, the veteran producer behind such films as Little Miss Sunshine and Gods Behaving Badly, uses jigsaw puzzles as more of a catalyst than a plot device. At no point does he attempt to turn Puzzle into a "jigsaw Rocky."
Agnes (Macdonald), a middle-aged mother and wife, is living in a time warp. Even though the calendar says 2017 and she has a shiny new iPhone to do with as she wishes, she acts as if it's the 1960s. She's a housewife who exists to serve her husband and children. Nothing is more important than having the dinner on the table every night at six. Shopping requires that she get all the snacks wanted by her husband, Louie (David Denham) and adult sons, Gabe (Austin Abrams) and Ziggy (Bubba Weiler). She has no life except as it relates to her family. Early in the film, we see her hosting a party – doing the dishes, putting candles on a cake – and we don't immediately realize that she's doing all the work for her own birthday celebration.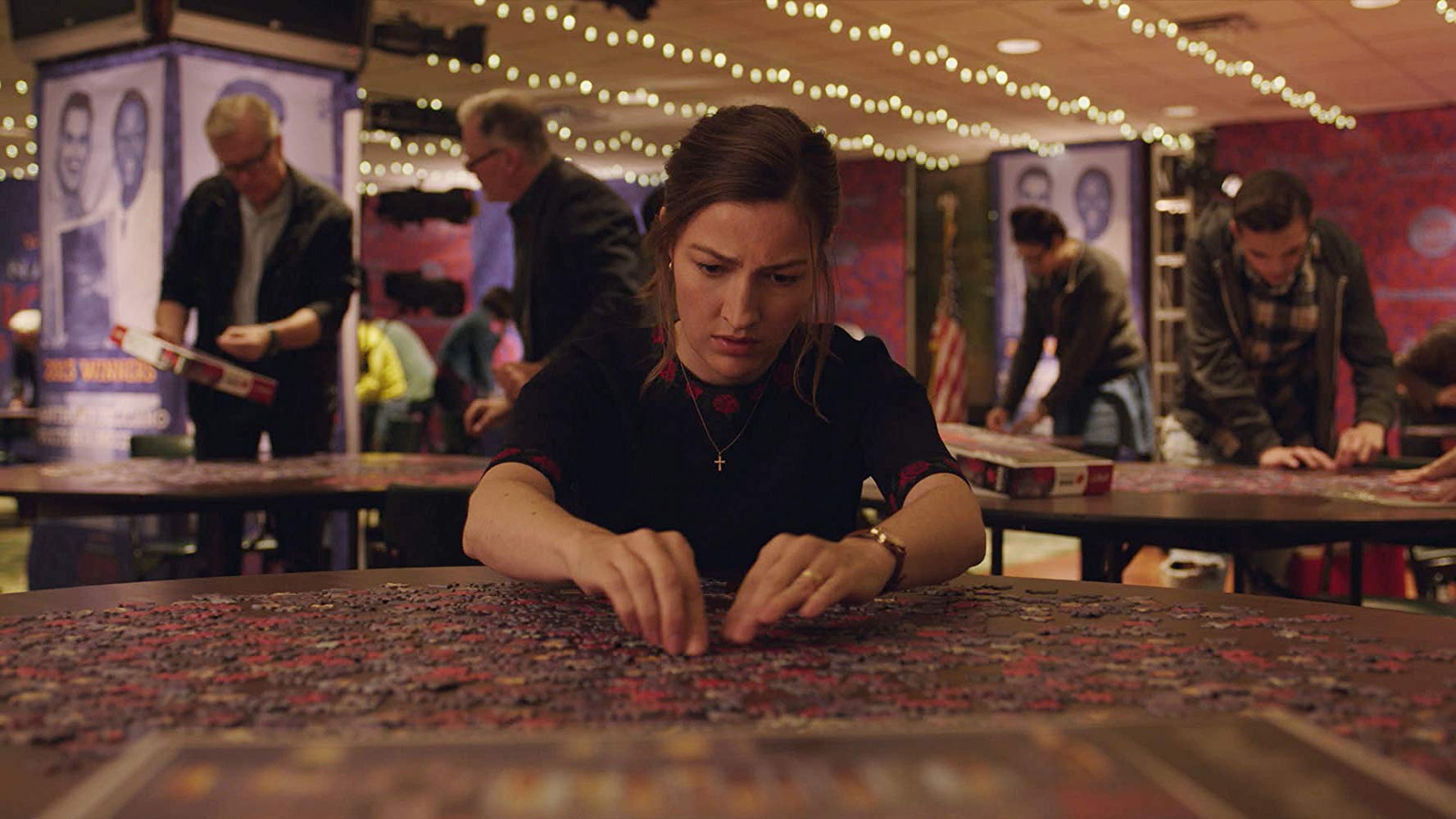 Things change when Agnes opens one of her presents and discovers a 1000-piece jigsaw puzzle inside. It's a map of the world. Travel fascinates her (she dreams of going to Montreal) even though she rarely leaves New Jersey. She puts the puzzle together twice in one afternoon, losing track of time. Wanting more, she catches a train into New York City and finds a jigsaw puzzle shop (ignoring the fact that she could get what she wants without crossing the Hudson, either on-line or at a local store – they sell puzzles in New Jersey). Circumstances connect her with Robert (Irrfan Khan), a competitive puzzle assembler and, after some initial reluctance on Agnes' part, they become partners. An attraction builds and, in the process, Agnes discovers herself and begins to "act out" in ways that are suspiciously like teenage rebellion.
Macdonald, who is normally stuck in supporting roles, gets a rare chance to take the lead in Puzzle and, by sheer force of her talent, she makes the movie worth seeing. Her portrayal of Agnes is deep and multilayered. She does more with the character than what's in the pedestrian screenplay. Irrfan Kahn's Robert is underdeveloped as is his romantic relationship with Agnes – a lot of this feels rushed and artificial. The three actors comprising Agnes' family - David Denham, Austin Abrams, and Bubba Weiler – are all solid. Denham deserves credit for making Louie a decent man, despite being hampered by his backward (the nice term would be "old-fashioned") values. The character could easily have been presented as an ogre (and, in another movie, might have been). For Agnes, the decision isn't between a mysterious, handsome New York lover and a mean, nasty New Jersey husband. Robert is less-than-ideal and Louie is hard-working and never abusive. One of the lessons Agnes learns is that romantic love isn't everything and 25 years of marriage, even if imperfect, can't be thrown away.
The most refreshing thing about Puzzle is that it's an adult movie about characters and their low-key circumstances. No one involved in the production cared whether viewers under the age of 30 would be remotely interested (few will be) and no attempts were made to tailor it to appeal to a broader, less attentive audience. Although the screenplay is at times antiseptic, few roles could be better to showcase the capabilities of the talented lead actress.
---
Puzzle (United States, 2018)
---

Three...better movies of this genre
worse movies of this genre
Three...better movies of Kelly MacDonald
(There are no more better movies of Kelly MacDonald)
worse movies of Kelly MacDonald
(There are no more worst movies of Kelly MacDonald)
Three...better movies of Irrfan Khan
(There are no more better movies of Irrfan Khan)
worse movies of Irrfan Khan
(There are no more worst movies of Irrfan Khan)
Three...better movies of David Denham
(There are no more better movies of David Denham)
worse movies of David Denham
(There are no more worst movies of David Denham)