Shoplifters (Japan, 2018)
December 07, 2018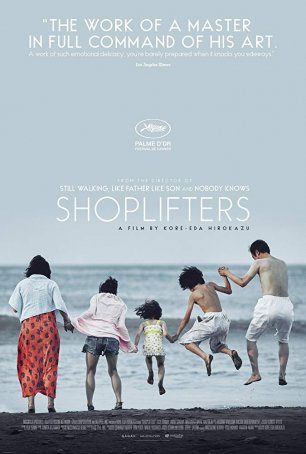 Employing his usual delicate touch to craft a uniquely compelling drama, Japanese filmmaker Hirokazu Kore-eda has provided a splash of freshness to a stale 2018 movie slate. By turns uplifting and poignant, Shoplifters explores one of Kore-eda's favorite subjects: the meaning of family. Despite a genial, lighthearted first half, the movie eventually begins a descent into darker territory that forces viewers to examine the importance of biology and genetics in the rearing of a child. What does it mean to be a mother or father? What constitutes a "family" – is it a blood connection or are there deeper, more important bonds? Like Kore-eda's previous masterpiece, Like Father Like Son, the movie uses a domestic drama to illustrate larger and more compelling concerns about society in general.
It would be oh-so-easy for Kore-eda to have overcooked or undercooked this particular casserole, leaving audiences with a half-baked melodrama. His deft handling of his own screenplay, combined with powerful, "lived in" performances by the actors, results in a story of astounding emotional resonance. Kore-eda gives us uniquely human characters – deeply flawed, to be sure, but with good hearts – and invites us into their world. He questions the black-and-white characterization society places on things like "murder" and "kidnapping," exploring a deeper context for actions that are nominally considered criminal.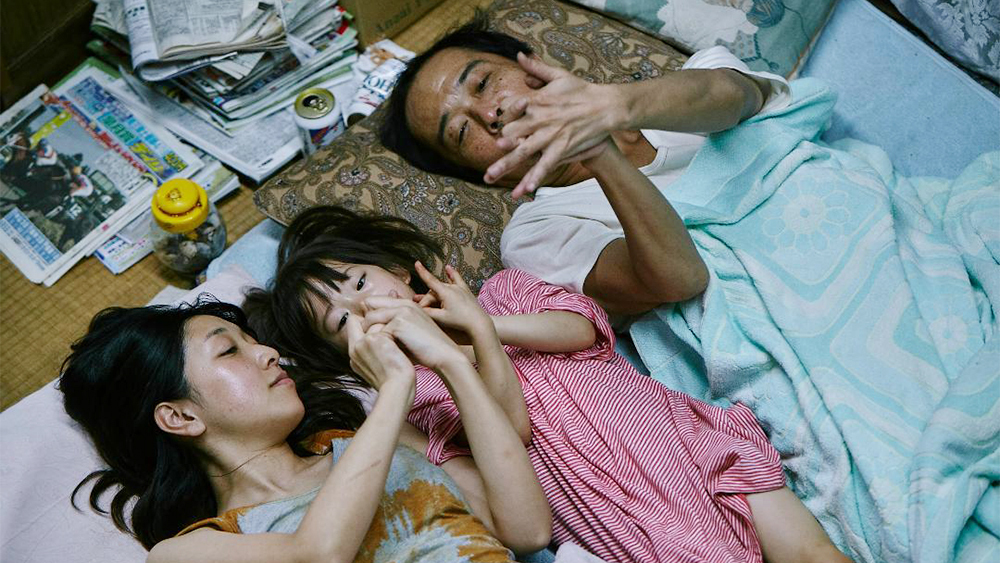 Shoplifters introduces us to the Shibata family. At first glance, they appear to be a relatively normal lower-class Japanese household, anchored by father and mother Osamu (Lily Franky) and Nobuyo (Sakura Ando). There's a school-age boy, Shota (Jyo Kairi), and an older college-age girl, Aki (Mayu Matsuoka). These four live in a cramped one-room hovel along with "grandma" Hatsue (Kirin Kiki). Three of the Shibatas have paying jobs – Osamu as a construction worker, Noboyo in a laundromat, and Aki as a stripper behind a one-way mirror for private clients. Grandma contributes with her pension. Still, it's not enough to make ends meet. As one can deduce from the title, the characters resort to petty larceny to fill their pantry. They have tricks and methods. Shoplifting is the only skill Osamu has to pass on to Shota, but the boy has concerns about the morality of their actions, even though the older man reassures him: "Whatever's in a store doesn't belong to anyone yet."
Enter the little girl Yuri (Miyu Sasaki), a five-year old waif whose body displays the scars of abuse at the hands of her parents. She has been left to fend for herself and Osamu, taking pity on her because of the cold, brings her home. Despite being initially unwelcoming (another mouth to feed), Nobuyo warms up to Yuri when she sees a burn mark on the girl's arm. It doesn't take long before Yuri, who is happy with her new "brother", "sister", "grandma", and "parents", becomes part of this unconventional family…even though she is technically a kidnapping victim. The police are watching for her and we soon realize that there may be other, less savory skeletons buried in the Shibatas' closets.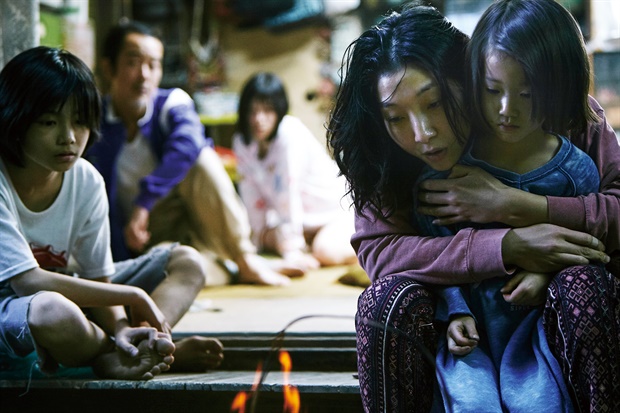 Strong, unforced acting is one of Shoplifter's strengths. The rumpled Lily Franky shuffles around like a man who has lost his way; Osamu can't quite find the path back. Sankura Ando shows tremendous range, exuding an earthy sensuality during the "cold noodles/hot day" scene when Nobuyo seduces Osamu and a willingness to do almost anything to keep her family together. Both young actors, Jyo Kairi and Miyu Sasaki, are believable, showing none of the awkwardness some child actors display as a result of being coached. Finally, there's the veteran Kirin Kiki, who has appeared in several of Kore-eda's previous films and is giving one of her final performances here (she died in September).
Shoplifters makes a statement about the disconnect between personal joy and material possessions. These characters have next-to-nothing. Despite being hard-working, they resort to stealing (a strong taboo in Japanese society) for their survival. Yet, despite their dire circumstances, they exhibit moments of unfettered joy and tenderness unlike what we might expect from characters facing these challenges. And, as he did in Like Father Like Son, Kore-eda makes argues for the importance of "nurture" in the never-ending "nurture/nature" question. With its unexpected final act (replete with revelations) and powerful emotional core, Shoplifters earned the top prize at the 2018 Cannes Film Festival. It affirms Kore-eda's status as today's foremost Japanese director whose careful observations about humanity establish him as a worthy successor to Ozu.
---
Shoplifters (Japan, 2018)
Ranked #1 in Berardinelli's Top 10 of 2018
Run Time: 2:03
U.S. Release Date: 2018-11-23
MPAA Rating:
"R" (Nudity, Sexual Content)
Genre:
Drama
Subtitles: In Japanese with English subtitles
Theatrical Aspect Ratio: 1.85:1
---

Three...better movies of this genre
worse movies of this genre
Three...better movies of Lily Franky
(There are no more better movies of Lily Franky)
worse movies of Lily Franky
(There are no more worst movies of Lily Franky)
Three...better movies of Sakura Ando
(There are no more better movies of Sakura Ando)
worse movies of Sakura Ando
(There are no more worst movies of Sakura Ando)
Three...better movies of Kirin Kiki
(There are no more better movies of Kirin Kiki)
worse movies of Kirin Kiki
(There are no more worst movies of Kirin Kiki)