Still Walking (Japan, 2008)
September 23, 2009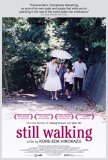 Still Walking, the seventh feature from Japanese director Hirokazu Kore-eda, is a sublime experience. By "sublime," I don't mean "boring." Although the events depicted in the film cover the 24-hour span of an ordinary family gathering, there's a subtlety to the evoked emotions that involves the viewer rather than distancing him. The familiarity of the rhythms offer not a sense of banality or tedium, but one of comfort. Kore-eda establishes circumstances that embody a universality of experience. Everything is understated and naturalistic, and he avoids melodrama and false catharsis. As a result, there's comedy of the sort that evolves from the details of everyday life, and a sense of poignancy at the end, when Kore-eda emphasizes one of his recurring themes: the ephemeral nature of existence. The tone is perfect; this is one of those rare films that, despite being rooted firmly in the world around us, is utterly absorbing and capable of reducing the immediacies of life into abstract thoughts in the back of one's mind.
The story opens with Ryota (Hiroshi Abe) returning home to spend a day with his parents. With him are his wife, Yukari (Yui Natsukawa), and his 10-year old step-son, Atsushi (Shohei Tanaka). It's clear that Ryota is not close to his father, Kyohei (Yoshio Harada), and mother, Toshiko (Kirin Kiki) - this appears to be the first time they have met his new family, and he has been married for several years. Also at the Yokoyama residence is Ryota's sister, Chinami (You); her husband, Nobuo (Kazuya Takahaski); and their two children. Ryota's difficulties with his parents date to a time fifteen years in the past when his older brother, Junpei, died while saving a boy from drowning. Since then, Junpei's ghost has haunted the family, and Ryota has found living up to his dead brother's memory to be an impossibility. His resentment toward his father is ill-concealed, although his feelings for his mother are softer. There are other issues as well. Kyohei, a doctor, has recently given up practicing medicine, and its absence leaves a void in his life. Yukari is a 40-ish widow whose marriage to Ryota has displeased both parents. And Ryota, a restorer of paintings, is currently unemployed - something he understandably wishes to hide from his father.
Any confrontations that occur are minor and represent the kinds of uncomfortable exchanges that can occur when none-too-close parents and adult children are brought together under one roof. The issues of the past are never explicitly revealed, but gradually come to light through snippets of conversation and other clues. There are no flashbacks or moments of artificial exposition. As the story unfolds, we come to understand that there is more to Kyohei than the domineering tyrant who lives in Ryota's memories. Kyohei even manages to bond with Atsushi. Meanwhile, Toshiko reveals an acerbic side that rubs Yukari the wrong way. And Ryota is given a brief, startling perspective of how powerless his father has become as a result of advancing age.
Kore-eda's film may remind some of the classic works of Yasujiro Ozu, whose career was built on capturing individual and family dramas. Kore-eda's elderly characters are more sharply drawn and less introspective than Ozu's, but the connection is nevertheless hard to miss. These days, Asian cinema has strayed from these sorts of films to become concentrated on anime, horror, action, and other kinetic endeavors. As a result, Still Walking almost feels like a French production translated to Yokohama with much of the angst and existential talkiness drained out.
The film's ending is at once profound and simple. In a voiceover, Ryota explains that, three years after the events of the movie, his father has died. Things they idly discussed doing "some day" where never done. There's a wistfulness to this confession, and it rings true. This occurs immediately following a scene in which the members of the older generation express a desire to see their children more often, while the younger couple wishes the opposite. ("We can skip New Year's - once a year is enough.") How many people watching Still Walking will not relate to the emotions and ideas expressed in the final five minutes? Whether in Japan or France or the United States, the relationships between parents and their adult children are not so very different. It takes a filmmaker of Kore-eda's skill to illustrate this in such an unforced way.
---
Still Walking (Japan, 2008)
Run Time: 1:54
U.S. Release Date: 2009-08-28
MPAA Rating:
"NR" (Mature Themes)
Genre:
DRAMA
Subtitles: English subtitled Japanese
Theatrical Aspect Ratio: 2:35:1
---
Three...better movies of this genre
worse movies of this genre
Three...better movies of Hiroshi Abe
(There are no more better movies of Hiroshi Abe)
worse movies of Hiroshi Abe
(There are no more worst movies of Hiroshi Abe)
Three...better movies of Yui Natsukawa
(There are no more better movies of Yui Natsukawa)
worse movies of Yui Natsukawa
(There are no more worst movies of Yui Natsukawa)
Three...better movies of You
(There are no more better movies of You)
worse movies of You
(There are no more worst movies of You)