Soul Men (United States, 2008)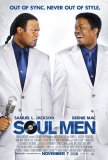 No one could accuse Soul Men of originality - it cribs liberally from countless buddy films and road movies - but it offers enough energy and humor to overcome its shortcomings. The hit-to-miss quotient of the film's frequently profane and raunchy jokes is surprisingly high and the movie benefits from some well-executed R&B numbers. There's nothing quite like watching Samuel L. Jackson and Bernie Mac performing at a hoedown and getting into it with the audience. While it might be a stretch to compare Soul Men with The Blues Brothers (and there are certainly fewer car crashes), there's a little bit of the flavor of John Landis' classic to be found during the course of this film's 103-minute running length.
In the '60s and '70s, few R&B groups were more successful than Marcus Hooks and the Real Deal. A soul trio comprised of frontman Marcus (John Legend) and his two backup singers, Louis Hinds (Samuel L. Jackson) and Floyd Henderson (Bernie Mac), this group regularly occupied a position in the weekly Top 40. Eventually, Marcus embarked on a successful solo career. Louis and Floyd tried to move forward as "The Real Deal," but personal differences and poor record sales ended their partnership and sent them hurtling into anonymity. Now, more than 20 years after their break-up, they find themselves with a chance to once again spend some time in the spotlight. Marcus has died and they have been asked to perform in a memorial concert at the Apollo. The two embark upon a cross-country road trip, but there are simmering resentments between them that are exacerbated when they add a young woman, Cleo (Sharon Leal), to their car. Cleo is the daughter of a woman once loved by both Louis and Floyd, and may be the daughter of one of them.
When it comes to Soul Men's comedy, good taste doesn't come into it. This is as brash and crude as anything brought to the screen by Judd Apatow or Kevin Smith. There are penis jokes, breast jokes, and all manner of sex jokes. There's a scene that recalls something a little tamer from the Steve Martin/John Candy road trip/buddy flick, Planes, Trains and Automobiles. The film's biggest laughs and groans have something to do with Jennifer Coolidge and dentures that's the climax of an absurd sex sequence. Soul Men's comedy is front-loaded; the movie's first half generates more guffaws than the second half. But there's more music down the stretch, so things even out. The production's obvious weakness is the plot. Lots of things, especially the way in which Cleo is inserted into the mix, don't make a lot of sense, but that's par for the course in movies of this nature, when the viewer is expected to think less and laugh more.
It's difficult to view the film without reflecting on the deaths of Bernie Mac and Issac Hayes, who has a supporting role. (They died a day apart in August 2008.) It can be an odd, sometimes uncomfortable experience to watch a movie featuring a recently deceased actor. Mac's performance, in particular, will undergo more scrutiny than it might otherwise. There are no chinks in the armor and his work here, like that of Heath Ledger in The Dark Knight, allows viewers to reflect on the talent that has been lost. Mac and Samuel L. Jackson show surprising aptitude for song and dance. They're credible as '60s and '70s R&B singers, '80s disco dancers, and '00s oldsters on the comeback trail. Jackson in particular shows unexpected versatility here, although he gets the obligatory scene or two where he's allowed to shout and snarl in typical Samuel L. Jackson fashion. But he's more noteworthy here for his footwork and vocal stylings than for his steely gaze and don't-screw-with-me monologues.
There are aspects of the movie that don't work. The most obvious of these is the white guy groupie sent by the concert promoter to escort Louis and Floyd to New York. There's also a would-be rap gangsta who is out for revenge after our heroes show him up in front of his girlfriend, Cleo. Finally, a jailbreak scene seems like a better fit for Harold and Kumar Escape from Guantanamo than this movie. However, although the plotting is uneven, director Malcolm D. Lee understands the concept of comedic timing and how to employ a combination of humor and music to obscure story weaknesses. Ultimately, Soul Men might be regarded as a disposable motion picture - and I can't argue too strongly against that classification - but at least it's enjoyable, which is more than can be said about many productions lumped into that category.
---
Soul Men (United States, 2008)
---
Three...better movies of this genre
worse movies of this genre
Three...better movies of Samuel L. Jackson
worse movies of Samuel L. Jackson
Three...better movies of Bernie Mac
worse movies of Bernie Mac
Three...better movies of Sharon Leal
(There are no more better movies of Sharon Leal)
worse movies of Sharon Leal
(There are no more worst movies of Sharon Leal)