Movies starring Bernie Mac Bad Santa
Bad Santa's Willie (Billy Bob Thornton) is the kind of guy who makes Scrooge look like a generous, mild mannered eccentric. With a character as thoroughly unlikable as this, you know immediately that Bad Santa is not going to be just another moder... Guess Who
Despite the allusion in the title, Guess Who is not a remake of the classic Guess Who's Coming to Dinner. In fact, other than borrowing the underlying premise (girl brings home boyfriend of a different race to meet her family), there are few simil...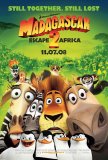 Madagascar: Escape 2 Africa
One reason to lament the existence of Madagascar: Escape 2 Africa (which will hereafter be referred to merely as Madagascar 2) is too bemoan the considerable amount of talent that was tied up developing this uninspired sequel when it could have bee... Ocean's Eleven
The good news is that the 2001 version of Ocean's Eleven represents one of the rarest of Hollywood rarities: a re-make that is actually better than the original. That's not to say that this motion picture is an unqualified success - one tends to e... Ocean's Thirteen
I may be in the minority, but I don't consider Ocean's Twelve to be the dog that some critics have labeled it. Sure, it's a little self-indulgent, but it's a genial caper drama that allows us to spend some time in the company of the survivors of t... Ocean's Twelve
Pleasantness and affability reign supreme in Steven Soderbergh's sequel to the remake of Ocean's Eleven. This time around, even the bad guys don't seem so bad. Rumor has it that the atmosphere on the set of Ocean's Twelve was so easy-going that i...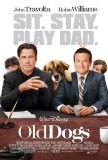 Old Dogs
Here's a primer for how to endure Old Dogs if an unfortunate series of circumstances should place you where seeing it is unavoidable. Arrive late and leave early. In between, visit the concession stand as frequently as possible and stand in the lo... Pride
Pride is one of those generic inspirational sports movies that has been cobbled together from spare parts left to rust on Hollywood's shelf of clichés and stereotypes. Take a little '70s racism, add the guidance of a strong coach, throw in minor ...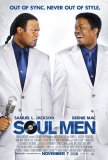 Soul Men
No one could accuse Soul Men of originality - it cribs liberally from countless buddy films and road movies - but it offers enough energy and humor to overcome its shortcomings. The hit-to-miss quotient of the film's frequently profane and raunchy...