Movies starring Alyson Hannigan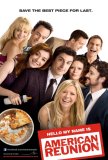 American Reunion
American Pie remains a touchstone of '90s comedies in particular and raunchy teen sex comedies in general. Viewed today, it has retained an element of its initial breezy freshness, although a progression of envelope-pushing comedies have made it ea... American Pie
With American Pie, it's a case of the reality of the situation being dwarfed by the hype. Word of mouth has this pegged this as the most raunchy movie of the summer - a film that embraces taboos and pushes the limits of the MPAA's R rating (indeed... American Pie 2
In the case of American Pie, more is less. As in less funny, less sexy, and much, much less enjoyable. This sequel, like so many that have preceded it this year, exists exclusively because its forerunner made a lot of money - and the lack of insp... American Wedding
The summer of bad sequels finally has an entry that can boast being noticeably better than its immediate predecessor: American Wedding. The third entry into the American Pie series, this movie is a vast improvement over the tired and uninspired Am...