American Reunion (United States, 2012)
April 06, 2012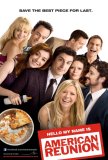 American Pie remains a touchstone of '90s comedies in particular and raunchy teen sex comedies in general. Viewed today, it has retained an element of its initial breezy freshness, although a progression of envelope-pushing comedies have made it easy to forget how daring it was in its day. Its popularity led to two inferior theatrical sequels (American Pie 2 in 2001 and American Wedding in 2003) and four direct-to-video spin-offs. American Reunion seeks to reunite the original cast and give them a new story set 13 years beyond American Pie. For the most part, however, this fourth installment is recycling familiar material, only without the chuckles and guffaws. Helmed by the Harold and Kumar guys, Jon Hurwitz and Hayden Schlossberg, American Reunion tries to use nudity, sex, and fecal matter to generate laughter, but the jokes are tired and predictable. This is a joyless experience made all the sadder because most viewers still remember the naughty delights delivered by American Pie.
The movie intentionally feeds some of the melancholy. By their nature, reunions are bittersweet affairs. It can be fun to catch up and show off lifestyle changes, but the more time has passed, the more evident it becomes how quickly life slips away. The characters in American Reunion are conscious of this, and so are we. There are a couple of genuinely touching scenes in which Jim (Jason Biggs) and his father (Eugene Levy) discuss Jim's mother's death. It is, however, a bad sign when a raunchy comedy's best moments are dramatic ones.
Pretty much everyone is back in East Great Falls for the 13-year reunion of the Class of 1999, either for a cameo or a larger role. Front and center are Jim and Michelle (Alyson Hannigan), who arrive with a two-year old in tow. Oz (Chris Klein) has become a popular TV sports personality; his girlfriend is a hot-but-superficial model, Mia (Katrina Bowden). Oz's ex, Heather (Mena Suvari), has a surgeon boyfriend (Jay Harrington), but still carries a torch for her high school sweetheart. Kevin (Thomas Ian Nichols) is happily married to someone who is not his old flame, Vicky (Tara Reid). While a hook-up between the two is unlikely, they remain friendly. Finch (Eddie Kaye Thomas) tells stories of adventures in far-flung places and finds romance with ugly duckling-turned-swan Selena (Diana Ramirez). And, of course, there's Stifler (Seann William Scott), whose body is 31 but whose emotional maturity has never surpassed 12. On those rare occasions when the movie is funny, it's probably because the Stifmeister is involved.
There is no plot to speak of. American Reunion is about what happens when teenage friends reconnect in their 30s. And if there's little humor to be found here, there's some truth: Jim and Michelle experiencing marital woes with a kid around the house, Oz dissatisfied with his high-profile lifestyle, and Finch afraid of having embraced conventionality. Most of the (female) nudity is provided by Ali Cobrin as the hot girl Jim babysat when she was six. Now she's 18 and is eager to lose her virginity.
American Reunion is about bringing couples together. Jim and Michelle rediscover the reasons they married, Oz and Heather decide to give things another try, Finch and Selena choose to take an adventure together, Jim's Dad and Stifler's Mom (Jennifer Coolidge) find that even old fogies can have hot sex in a movie theater, and even Stifler hooks up with someone in an act of Karmic retribution. With so many moving parts, it's no wonder American Reunion doesn't have time to tell a bigger story or provide more than the obligatory sex jokes.
Hurwitz and Schlossberg treat the American Pie characters in much the same way they have handled Harold & Kumar - by ramping up the shock/gross-out elements and de-emphasizing character interaction. The problem with this approach is obvious: American Pie worked not just because it took chances and had moments of hilarity but because we cared about the protagonists. Jim and his companions felt more like friends than carbon copy teen comedy cut-outs. In American Reunion, they are too often props for failed humor. The directors bring along two actors from the Harold & Kumar series - Jon Cho (who has had a supporting role throughout the American Pie series) and Neil Patrick Harris (in a cameo). One wonders if Kal Penn was approached.
The biggest draw of American Reunion is the chance to revisit familiar characters after a passage of nine years. Unfortunately, the movie doesn't offer much beyond that. If a viewer's primary purpose is to satisfy a curiosity about how Jim, Michelle, Oz, Kevin, Finch, and Stifler have evolved entering their fourth decade of life, the answer is here. If it's to recapture an experience similar to the one delivered along with these characters in 1999, the time machine is broken. Some things should be left in the past, and the American Pie ensemble is among them.
---
American Reunion (United States, 2012)
Director:
Jon Hurwitz, Hayden Schlossberg
Cast:
Jason Biggs
,
Ali Cobrin
,
Jay Harrington
,
Katrina Bowden
,
Diana Ramirez
,
Jon Cho
,
Jennifer Coolidge
,
Eugene Levy
,
Tara Reid
,
Mena Suvari
,
Eddie Kaye Thomas
,
Seann William Scott
,
Thomas Ian Nichols
,
Chris Klein
,
Alyson Hannigan
,
Chuck Hittinger
Screenplay:
Jon Hurwitz & Hayden Schlossberg
Cinematography:
Daryn Okada
Music:
Lyle Workman
U.S. Distributor: Universal Pictures
---
Three...better movies of this genre
worse movies of this genre
Three...better movies of Jason Biggs
worse movies of Jason Biggs
Three...better movies of Ali Cobrin
(There are no more better movies of Ali Cobrin)
worse movies of Ali Cobrin
(There are no more worst movies of Ali Cobrin)
Three...better movies of Jay Harrington
(There are no more better movies of Jay Harrington)
worse movies of Jay Harrington
(There are no more worst movies of Jay Harrington)