Movies starring Andy Richter Dr. T and the Women
Few will deny that Robert Altman is among the greatest working American directors. His best films - M*A*S*H, Nashville, The Player, and Short Cuts - occupy unassailable perches of artistic and creative achievement. With a filmmaker of Altman's ta... Madagascar
Eventually, it had to happen: a computer-animated dud. It's surprising it has taken this long, and we have been spoiled by the high quality of the product, with such winning titles as Toy Story, Shrek, Finding Nemo, The Incredibles, and others. B...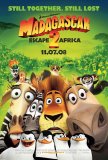 Madagascar: Escape 2 Africa
One reason to lament the existence of Madagascar: Escape 2 Africa (which will hereafter be referred to merely as Madagascar 2) is too bemoan the considerable amount of talent that was tied up developing this uninspired sequel when it could have bee... Semi-Pro
When it comes to comedy, Will Ferrell is a Jeckyl & Hyde. When he's "on," he can be hilarious, but when he's off, he's like a drunk at a bar yelling loud, unfunny jokes at his equally inebriated buddies. And, while those guys might laugh at him, ...