Movies starring Burgess Meredith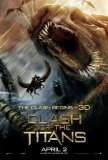 Clash of the Titans
On the surface, Clash of the Titans would seem to be mixed using a sure-fire recipe for success, so where did things go wrong? How did a film that should have captured the imagination of the young Star Wars generation end up failing? Some of it h... Grumpier Old Men
As 1993 drew to a close, movie-goers in search of light entertainment were treated to the delightful (if formulaic) Grumpy Old Men, a reunion of the often-paired odd couple of Jack Lemmon and Walter Matthau. Now, two years later, John Gustafs... Grumpy Old Men
Sometimes the films I enjoy the most aren't the ones that get four stars. For example, while Farewell My Concubine is an example of superior, powerful film making, it isn't the sort of movie you embrace for the pure magic of the entertainment it... Rocky
There are essentially three kinds of boxing movies: those that offer a grim, tell-it-as-it-is perspective of life in the ring, those that focus (often in an exaggerated fashion) on the business aspects of things, and those that seek to uplift thro...