Movies starring Caroline Bliss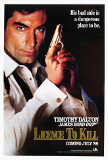 License to Kill
By 1989 and the release of Licence to Kill, James Bond had a lot of competition in the action genre. With so many higher-profile contenders (like Batman) in the arena, 007's popularity hit an all-time low. Audiences seemed less inclined to see th...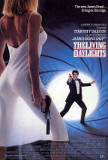 Living Daylights, The
I'll be among the first to admit that Timothy Dalton is a fine actor. But giving a solid performance has little to do with being a good James Bond, and, as accomplished as Dalton is, he's a failure as 007 in The Living Daylights (to give him ...