Movies starring Desmond Llewelyn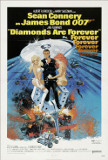 Diamonds Are Forever
Released in 1971, Diamonds Are Forever was Sean Connery's final "official" turn as James Bond (although he eventually starred in Never Say Never Again, 1983's Thunderball remake). After skipping On Her Majesty's Secret Service, Connery was lure...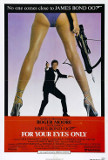 For Your Eyes Only
With For Your Eyes Only, Roger Moore's fifth appearance as Bond and the twelfth entry in the long-running series, 007 enters the 1980s with a return to the "glory days" of the '60s. Realizing it would be tough to top the technical glitz of Moon...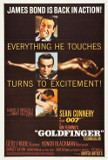 Goldfinger
With 1964's Goldfinger, the third James Bond story to reach the screen, the "Bond formula" had reached maturity. Screenwriter Richard Maibaum, a participant in the scripting of the previous two movies, Dr. No and From Russia with Love, had id...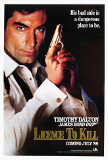 License to Kill
By 1989 and the release of Licence to Kill, James Bond had a lot of competition in the action genre. With so many higher-profile contenders (like Batman) in the arena, 007's popularity hit an all-time low. Audiences seemed less inclined to see th...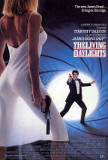 Living Daylights, The
I'll be among the first to admit that Timothy Dalton is a fine actor. But giving a solid performance has little to do with being a good James Bond, and, as accomplished as Dalton is, he's a failure as 007 in The Living Daylights (to give him ...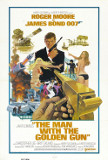 Man with the Golden Gun, The
Few will argue that The Man with the Golden Gun is the silliest of all the James Bond motion pictures (Casino Royale excepted). From the return appearance of Sheriff J.W. Pepper (Clifton Davis) to the ridiculous martial arts fight where two s...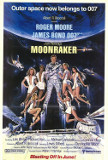 Moonraker
Moonraker is a sort of James Bond meets Star Wars. Released in 1979, the year that saw the arrival of Star Trek on the big screen, Moonraker was the latest film to latch onto the science fiction revival started by George Lucas' 1977 picture. ...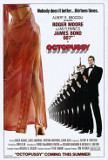 Octopussy
It's probably just a coincidence, but the two Bond films that Maud Adams appeared in -- The Man with the Golden Gun and Octopussy -- are easily the silliest entries in the long-running series (not counting the intentional spoof Casino Royale). In...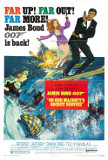 On Her Majesty's Secret Service
With the exception of one production aspect, On Her Majesty's Secret Service is by far the best entry of the long-running James Bond series. The film contains some of the most exhilarating action sequences ever to reach the screen, a touchin...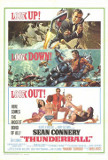 Thunderball
By the time Thunderball, the fourth in the "official" James Bond film canon, was released, the "Bond Formula" had already been perfected. It goes something like this: take the suave 007 (always impeccably dressed and ready with a witty one-l...