For Your Eyes Only (United Kingdom, 1981)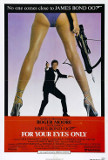 With For Your Eyes Only, Roger Moore's fifth appearance as Bond and the twelfth entry in the long-running series, 007 enters the 1980s with a return to the "glory days" of the '60s. Realizing it would be tough to top the technical glitz of Moonraker, the film makers wisely chose not to try, opting instead for a retro-Bond adventure that takes the intrepid superspy back into familiar territory: KGB involvement in a plan that centers on classified British secrets.
But that's not the only aspect of For Your Eyes Only that looks more to Bond's past than his future. Blofeld, the constant nemesis during the Connery years, makes a brief return appearance, and the film opens with 007 visiting the grave of his dead wife, Tracy. Regarding familiar faces, M isn't in this movie (Bernard Lee having died just prior to the start of filming), but Q (Desmond Llewelyn) and Moneypenny (Lois Maxwell) are. Also, KGB general Gogel (Walter Gotell), who first came on board during The Spy Who Loved Me, has a small part. (Gogel was in every film from Spy through The Living Daylights.)
Bond's mission this time, "for [his] eyes only", is to locate and, if possible, recover Great Britain's ATAC equipment -- a ship-based weapons system that allows the user to take control of the country's nuclear submarines, ordering them to attack any target. ATAC was on board a freighter that sank in the Ionian Sea, and Bond has at least one major rival, a sly villain named Kristatos (Julian Glover), who's after it as well. Joining 007 on his quest is Melina (French actress Carole Bouquet), the daughter of a scientist killed by Kristatos, who has vowed revenge against her father's murderers. Also along for the ride is the good-natured smuggler Columbo (Topol), who Kristatos set up as a fall guy.
Locations in For Your Eyes Only vary across Europe. On a per-minute basis, there are more stunts and chases in this film than in any previous 007 adventure, and some are quite spectacular. There's a car chase, a shoot-and-dodge race down icy slopes and through a bobsled run, a tense mountain-scaling sequence, and nearly as much underwater action as in Thunderball. For Your Eyes Only has its share of breathtaking moments. As for the music -- suffice it to say that John Barry is missed.
Alas, Julian Glover's Kristatos won't be remembered as one of the great 007 bad guys. While the actor's ability is beyond question, it's usually not talent that makes for a memorable Bond villain, and Glover just isn't over-the-top or nasty enough. (One wonders if the film makers might have done better keeping Blofeld around for more than the pre-credits sequence.) Locque (Michael Gothard), Kristatos' henchman, is as dull as his master -- he looks evil, but in the wake of Jaws, comes across as rather pathetic.

Like Diana Rigg in On Her Majesty's Secret Service, Carole Bouquet is one of the few Bond girls who can actually act (although she doesn't get much chance to show it). Lynn-Holly Johnson plays a young skater who's infatuated with 007, but this particular subplot, played for comedy, never works, and is occasionally painful to endure. Fortunately, it doesn't eat up much screen time.

In the final analysis, For Your Eyes Only is a solid adventure, although it could have been better. There's enough action to hold those with even a short attention span, and Roger Moore's deft charm hasn't yet begun to wear thin (that starts with the next film, Octopussy). By the end of the '80s, Bond would be viewed as something of a relic, but at least the decade opened with an enjoyable outing.
---
For Your Eyes Only (United Kingdom, 1981)
---
Three...better movies of this genre
worse movies of this genre
Three...better movies of Roger Moore
(There are no more better movies of Roger Moore)
worse movies of Roger Moore
Three...better movies of Carole Bouquet
(There are no more better movies of Carole Bouquet)
worse movies of Carole Bouquet
(There are no more worst movies of Carole Bouquet)
Three...better movies of Julian Glover
worse movies of Julian Glover
(There are no more worst movies of Julian Glover)