Tom Jones (United Kingdom, 1963)
November 14, 2018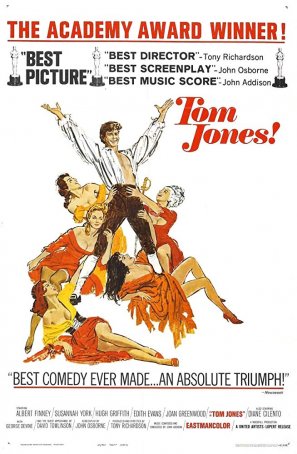 When one considers the films that won the Best Picture Oscar in the decade from 1956 through 1965, it's evident that the Academy favored two kinds of productions: spectacles and musicals. During that span, there were two outliers: 1960's The Apartment and 1963's Tom Jones. The latter, a ribald British comedy/adventure, not only seems about as far from an Oscar winner as one can imagine but it looks completely unlike one. Filmed in a 1:33 aspect ratio at a time when awards contenders were opting for widescreen and with an appearance lacking the Technicolor "pop," Tom Jones succeeded in large part because of its wit, its performances, and its energy.  
Based on the novel by Henry Fielding, Tom Jones condenses the story told in its source material in order to fit it into a two-hour span. The resulting movie is a celebration of bad taste, abrasive wit, and memorable moments. With a comedic style that mixes and matches the offbeat aspects of Monty Python with the crowd-pleasing bawdiness of Benny Hill, Tom Jones makes no apologies for what it is. Its blending of lowbrow slapstick with highbrow satire is good enough to get laughs more than a half-century later. The film's 18th century period setting makes it accessible and allows it to seem less dated to modern audiences.
Tom Jones has a sense of playfulness and experimentation that one rarely finds in an upscale motion picture. The movie opens with an homage to the silent era, contains improvised/unscripted scenes (including one in which a drunk Hugh Griffith mishandles his horse, which falls on him), allows actors to break the "fourth wall" by addressing the camera, and gives some of the best tongue-in-cheek lines to an unseen narrator (Micheal Mac Liammoir). This unpredictability infuses Tom Jones with a cheekiness that many films of the era lacked. It also features two of the most memorable scenes in British cinema. In filming the hunt, director Tony Richardson and cinematographer Walter Lassally used helicopter shots, near-to-the-ground images, and handheld cameras to create a dynamic sequence unlike anything previously seen in a period piece. Then there's the lengthy sequence with Tom (Albert Finney) and Mrs. Waters (Joyce Redman) stoking their libidos while gnawing on a meal that includes shellfish, animal haunches, and fruit. There's something deliciously primal about the way they engage in this orgiastic form of foreplay.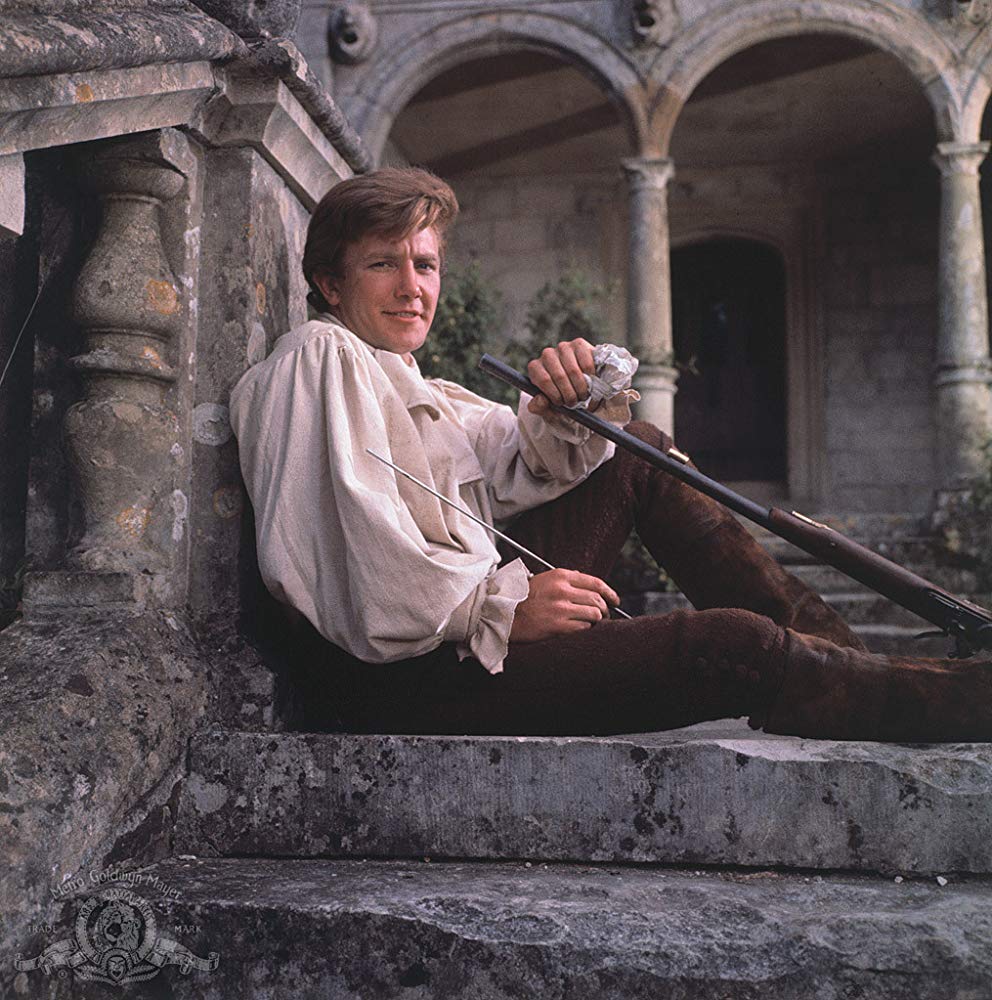 The movie loosely follows the book in relating the misadventures of the title character as he is turned out of his adopted father's house and forced to make his way in the world. The central figure in Tom's life is his beloved Sophie Western (Susannah York) but, since she's high-born, it would be her ruin to marry a bastard. Her drunken father (Hugh Griffith) and uptight aunt (Edith Evans) are dead-set against any liaison between the two and actively work against a union. They want Sophie to marry the odious Blifil (David Warner) but she despises him. Tom doesn't help his own cause by being unable to keep his trousers up. In the end, after he is sent away, Sophie runs off. Forces reunite all the characters in London where secrets are revealed, the villains get their comeuppances, and love conquers all.
Tom Jones was a box office success, becoming the fourth highest-grossing film of the year. The movie meshed well with changing social mores as the buttoned-down '50s gave way to the swinging '60s. Its popularity also illustrated that the Hays Code, which had constrained motion picture content for decades, had finally lost its grip. Although Tom Jones features no nudity, there's no lack of deep cleavage and the level of sexual content is off-the-charts for a movie of this era (Tom has sex with nearly every female in the movie except, of course, the woman he loves). Along with Dr. No and the Beatles films, Tom Jones was at the forefront of a 1960s renaissance for the British film industry.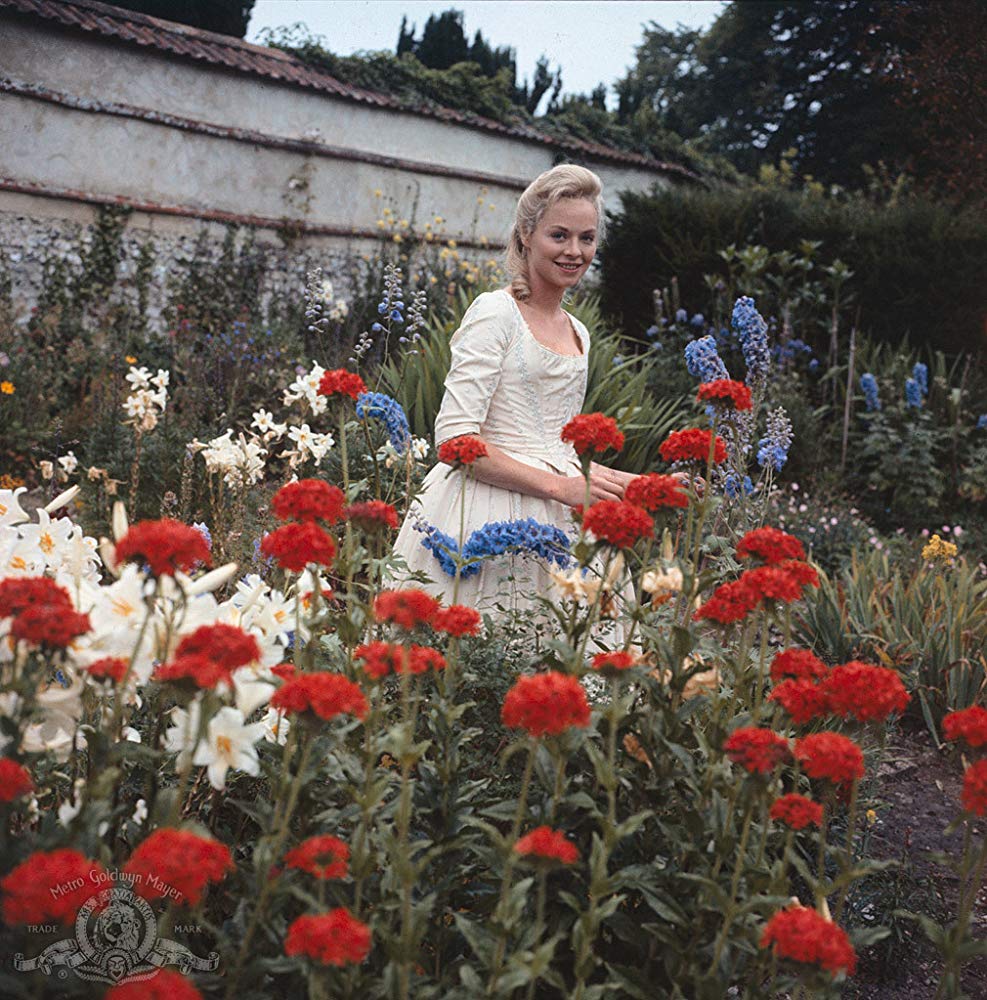 Although the film didn't win any acting Oscars, it received a bevy of nominations. Albert Finney, who was at the beginning of a long and prosperous career, received his first of five Academy Award nominations (he hasn't won) for Tom Jones, a role he has expressed dissatisfaction with due to its lack of complexity. Hugh Griffith, who won a Best Supporting Actor Oscar several years earlier for Ben-Hur, received another nod here. This was at a time when his chronic alcoholism was beginning to impact his work. He reportedly was inebriated many times during filming – his manic performance was due in part to this. There were three Best Supporting Actress nominations – Diane Cilento, Edith Evans, and Joyce Redman. Common wisdom has it that "vote splitting" resulted in none of them winning. Tom Jones also featured debut film performances by British acting stalwarts Julian Glover and David Warner.
Over the course of a 40-year career, director Tony Richardson made about 24 films. He received his only Oscar for Tom Jones, which is by far the best remembered of the titles in his filmography. (His final film, 1994's Blue Sky, was released posthumously and earned Jessica Lange an Oscar.) Although not widely known at the time, Richardson was displeased with the theatrical cut. Given an opportunity to rework it for a 25th anniversary re-release, he bucked the trend of adding "lost" scenes and instead got to work with scissors. The "preferred" Director's Cut is seven minutes shorter. Comparing the two versions, there's little noticeable difference in content, although there is a slight improvement to pacing.
Tom Jones' Oscar win may be a head-scratcher, especially in hindsight, but the film (unlike many of its contemporary comedies) has retained the ability to make viewers laugh at the screwball antics of its characters. It is not dated nor does it feel antiquated when watched today. The movie falls considerably short of my yardstick for a masterpiece but, unlike several of the bloated, self-important films winning awards during this time in cinema history, it remains a breezy, enjoyable romp.
---
Tom Jones (United Kingdom, 1963)
Director:
Tony Richardson
Cast:
Albert Finney
,
Joan Greenwood
,
Julian Glover
,
Edith Evans
,
David Warner
,
Joyce Redman
,
Hugh Griffith
,
George Devine
,
Susannah York
,
Micheal Mac Liammoir
Home Release Date: 2018-11-13
Screenplay:
John Osborne, based on the novel by Henry Fielding
Cinematography:
Walter Lassally
Music:
John Addison
U.S. Distributor: United Artists
---

Three...better movies of this genre
worse movies of this genre
Three...better movies of Albert Finney
worse movies of Albert Finney
(There are no more worst movies of Albert Finney)
Three...better movies of Joan Greenwood
(There are no more better movies of Joan Greenwood)
worse movies of Joan Greenwood
(There are no more worst movies of Joan Greenwood)
Three...better movies of Julian Glover
worse movies of Julian Glover
(There are no more worst movies of Julian Glover)