Dr. No (United Kingdom, 1962)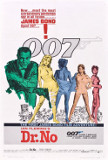 Barring a television adaptation of Casino Royale in the 1950s (not to be confused with the 1967 movie of the same name), 1962's Dr. No was the first opportunity fans of Ian Fleming's James Bond had to watch the intrepid superspy in action. However, producers Harry Saltzman and Albert Broccoli wanted their movie to appeal to a wider audience than just Fleming's readers. To that end, they altered the 007 of the novels to better fit the screen. Bond became more suave and witty, and less cold- blooded. Nevertheless, the hero of Dr. No is still grittier than he would become by Goldfinger (released only two years later), and bears little resemblance to the version of Bond essayed by Roger Moore beginning in 1973.
Although many have rightly commented that Dr. No (the movie) is one of the closest cinematic interpretations of any Bond novel in tone and plot, Sean Connery was not among Fleming's choices to play 007 (the author stated his preference to be David Niven). That didn't stop the public from immediately embracing Connery, and, after just one movie in what was to become cinema's longest- running series, he was regarded as the definitive Bond. Today, even after four others have taken the role, stalwart Connery fans view George Lazenby, Roger Moore, Timothy Dalton, and Pierce Brosnan as impostors.
Story-wise, Dr. No isn't all that different from most of the other Bond plotlines, although it is a little more "bare bones". When a British agent assigned to Jamaica disappears, M (Bernard Lee) sends 007 to the Caribbean to look into the situation. Upon arrival, Bond is immediately the target of a would- be assassin, and, as his investigation leads him closer to the truth, attempts on his life become more frequent. After joining forces with CIA operative Felix Leiter (Jack Lord), Bond enlists the aid of boat owner Quarrel (John Kitzmiller) to take him to Crab Key Island, which is ruled by the mysterious Dr. No (Joseph Wiseman). Once there, in addition to meeting a scantily-dressed young woman named Honey Ryder (Ursula Andress), 007 learns why no one ever returns from Crab Key.
With the exception of the big explosion during the film's finale, Dr. No is a low-key adventure. There are no gadgets, forcing Bond to rely on his ingenuity (in one scene, when he needs to breathe while submerged, he uses hollowed-out reeds as air tubes). The single car chase is reasonably straightforward. And, for the only time in the series, 007 is unmistakably brutalized, appearing bloody, beaten, and disheveled as a result. Regardless, he still defeats the villain and gets the girl.
Many elements of the "Bond formula" are present in their infancy. Maurice Binder does the opening titles, although they lack the flair of his later contributions. The "James Bond theme", co-created by Monty Norman and John Barry (although exactly who is responsible for the bulk of the piece remains a topic of contention to this day), peppers an otherwise unmemorable score. M and Moneypenny make their screen debuts (Q first appeared in the next film, From Russia with Love), and the first -- and perhaps best-remembered -- Bond girl, Ursula Andress, sets a standard that hasn't wavered in more than thirty years. All-in-all, Dr. No is a successful, if not superlative, motion picture. While it may appear tame by the standards of the later productions, it's an entertaining look back in movie history at a project that developed into a worldwide phenomenon.
---
Dr. No (United Kingdom, 1962)
---
Three...better movies of this genre
worse movies of this genre
Three...better movies of Sean Connery
worse movies of Sean Connery
Three...better movies of Joseph Wiseman
(There are no more better movies of Joseph Wiseman)
worse movies of Joseph Wiseman
(There are no more worst movies of Joseph Wiseman)
Three...better movies of Jack Lord
(There are no more better movies of Jack Lord)
worse movies of Jack Lord
(There are no more worst movies of Jack Lord)