Tar (United States/Germany, 2022)
October 28, 2022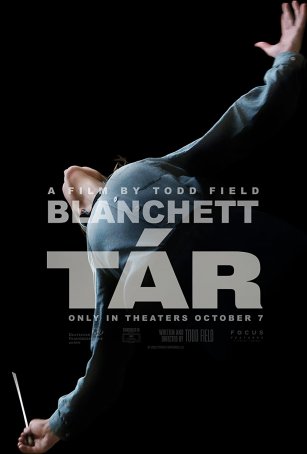 At a time when most movies spoon-feed background and narrative developments to viewers via exposition dumps and flashbacks, Todd Field (making his third overall feature and his first in 16 years) opts for a more  ambiguous approach. By trusting the audience to settle into the life of famous conductor Lydia Tar (Cate Blanchett) and bond with her organically, he allows details to emerge naturally and sometimes not at all. We piece together Lydia's past in such away that nuance and shading keep us unsure of many specifics, even after the end credits have rolled. Tar relies on two qualities that were once preeminent among serious movie-goers but have since all-but-disappeared: patience and concentration. The movie rewards those who allow themselves to be immersed and aren't guided by expectations that some great melodrama is going to unfold.
This is, first and foremost, a character study. The narrative is subordinate to the exploration of Lydia's personality. Field doesn't reveal everything because he doesn't have to and, since we are given an ending of sorts to Lydia's arc, we don't feel cheated by not knowing the absolute truth about the film's central mystery.
Viewers can be forgiven for believing that Field has based Tar on a real person. Although the filmmaker likely used a collection of historical figures for inspiration, Lydia Tar is the product of his imagination. The way he has chosen to frame the story (opening with an interview at The New Yorker Festival, for example) coupled with Cate Blanchett's grounded performance lend Tar its unimpeachable sense of verisimilitude. And, when it comes to human nature and things like exploitation, revenge, jealousy, and narcissism, Field doesn't miss a beat.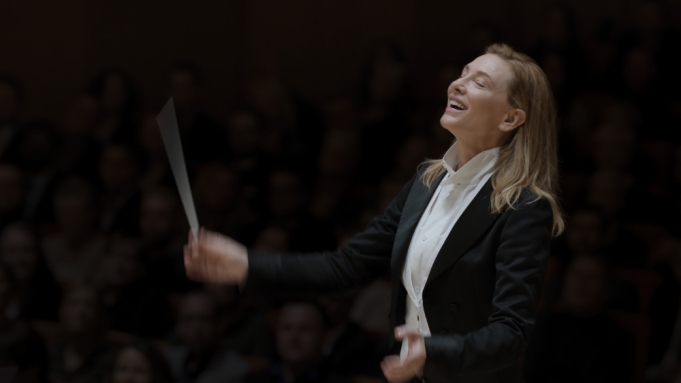 Lydia is a star in the firmament of the world's orchestral community. The celebrated composer-conductor, whose "home base" is the Berlin Philharmonic, is hyper-focused and intellectual. Her career accomplishments are impressive – before relocating to Germany, she worked in Boston and New York. She has won an EGOT (Emmy Grammy Oscar Tony) and once studied under the late, great maestro Leonard Bernstein. But, as she prepares to lead the orchestra in a live recording of Mahler's 5th Symphony, her personal life begins to unravel. Most of the problems are of her making. A former protégé (and possibly lover), Krista Taylor (Sylvia Flote), has become "unstable" and obsessed, sending Lydia odd gifts when the conductor attempts to cut her out of her life. Lydia does little to hide her attraction to the new cellist, Olga Metkina (Sophie Kauer), an act of disrespect to her wife, concert master Sharon Goodnow (Nina Hoss). And she bypasses her loyal assistant, Francesca (Noemie Merlant), when there's an opening for an assistant conductor's position. Combined, these things form the basis for a trial-by-social media backlash that catches Lydia by surprise. The accusations fly and, while some seem unlikely, we (as an audience) begin to suspect the validity of the old cliché: where there's smoke, there's fire.
Some critics have perhaps gone overboard by calling Blanchett's performance in Tar to be the best of her career. To be sure, this is a tremendous example of acting – a clinic about how to fully inhabit an individual and bring her to life without resorting to histrionics – but is it Blanchett's best? Considering her body of work, which includes two Oscars and four non-winning nominations, that's a tall order. In addition to fleshing out Lydia and showing the cracks in the cool, porcelain public façade, Blanchett does her own conducting and piano playing, allowing Field and cinematographer Florian Hoffmeister a degree of freedom when filming her (in other words, "stunt hands" aren't needed). This is important because of Field's love of long, unbroken takes. The movie often goes minutes without a cut.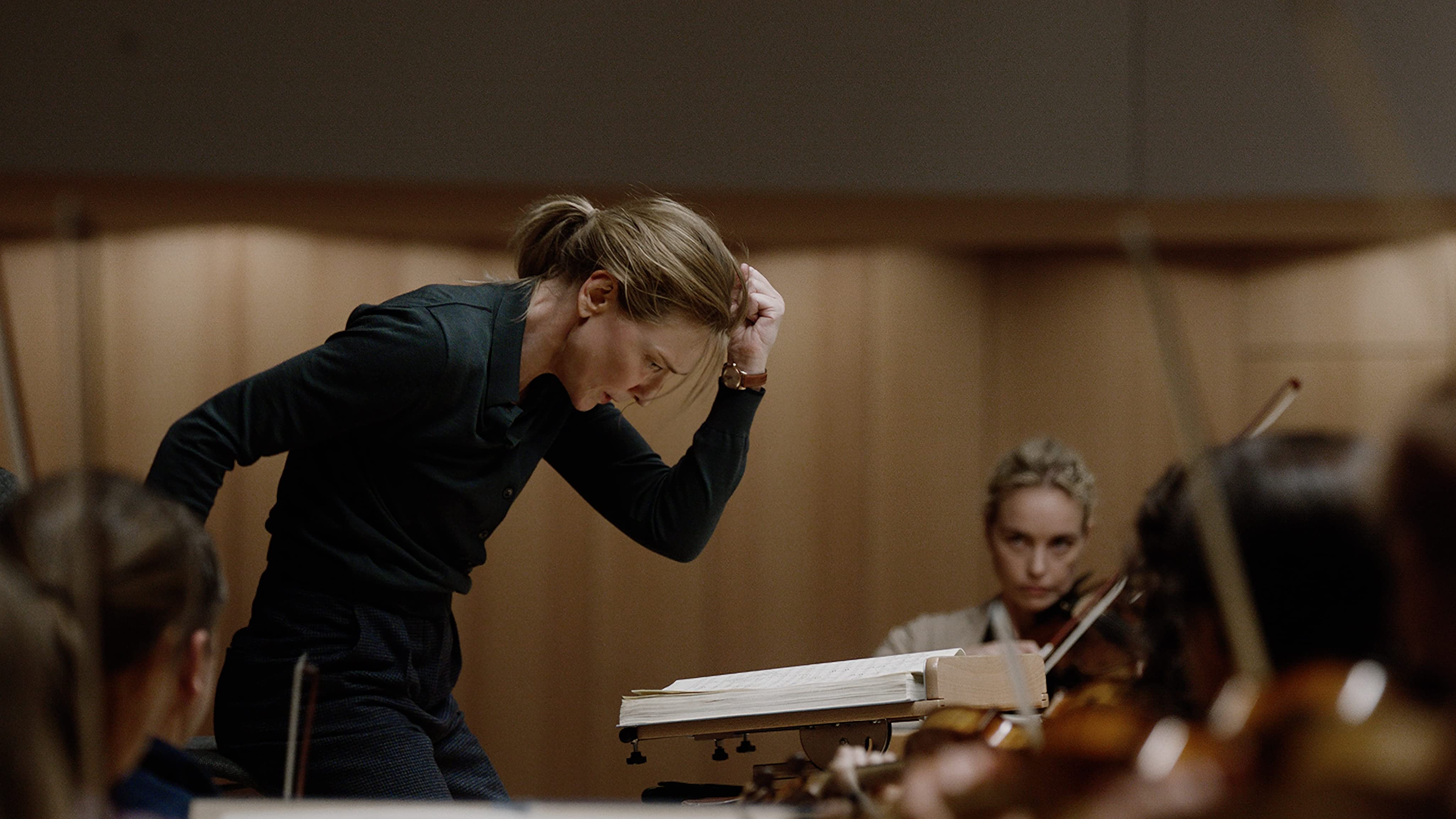 The supporting cast is comprised of character actors, the quality of whose work is more important than the prominence of their names. That doesn't mean Tar is populated by unknowns. French actress Noemie Merlant has dozens of films on her resume (perhaps most notably Portrait of a Woman on Fire). German-born Nina Hoss also has a long and accomplished filmography, although she may be better-known to North American viewers than Merlant. Cellist Sophie Kauer, making her acting debut, impresses as much with her diction and emoting as with her musical skills. British actors Julian Glover (whose feature debut was in 1963's Tom Jones) and Mark Strong (playing against type as a timid, non-violent man) round out the cast.
It's refreshing to sit through a movie that exudes such quiet confidence in its story and lead actress that there's no need to rush or amp things up to retain a viewer's attention. Tar unfolds on its own terms and is willing to accept that Lydia's story may not enthrall those weaned on blockbuster productions. It may have been made in 2022 but it hearkens back to the era when Field made his two previous features (Little Children in 2006 and In the Bedroom in 2001). Blanchett's inhabitation of Lydia is complete and the movie's presentation of her life is exacting in every detail; the result is nothing short of mesmerizing. The more-than-2 ½ hour running time flies by. Tar isn't based on a true story but it possesses an emotional and intellectual honesty that makes it seem more real than countless made-for-mass-consumption biopics.
---
Tar (United States/Germany, 2022)
Run Time: 2:39
U.S. Home Release Date: 2022-12-20
MPAA Rating:
"R" (Profanity, Nudity)
Genre:
Drama
Subtitles: none
Theatrical Aspect Ratio: 2.35:1
---

Three...better movies of this genre
worse movies of this genre
Three...better movies of Cate Blanchett
worse movies of Cate Blanchett
Three...better movies of Noemie Merlant
(There are no more better movies of Noemie Merlant)
worse movies of Noemie Merlant
(There are no more worst movies of Noemie Merlant)
Three...better movies of Nina Hoss
(There are no more better movies of Nina Hoss)
worse movies of Nina Hoss
(There are no more worst movies of Nina Hoss)