Movies starring Allan Corduner De-Lovely
As a bio-pic, De-Lovely is pretty standard, run-of-the-mill stuff (albeit with an interesting framing device). However, as a "best hits" collection of Cole Porter's music, it is unparalleled. With approximately two-dozen of his tunes performed by...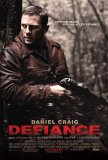 Defiance
For some reason, the Nazis are popular during the holiday season of 2008. They occupy central positions in Valkyrie and Good, flitter around the periphery of The Reader, and are rarely seen but very much present in Defiance. Edward Zwick's adapta... Grey Zone, The
Auschwitz, 1944. One of the darkest times in one of the darkest places in recent human history. The images are stark and unforgettable: furnaces belching black smoke, lifeless corpses piled atop one another like firewood, and gray ash - the inci...