Live and Let Die (United Kingdom, 1973)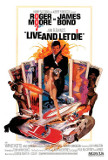 Following six James Bond movies with Sean Connery (and one with the dead-on-arrival George Lazenby), it was difficult -- to say the least -- for fans to accept the transition to wisecracking Roger Moore when he debuted in 1973. It didn't help that his introductory film was one of the worst Bonds of all time (ranking alongside Moore's Octopussy and Timothy Dalton's The Living Daylights). Worse still, the only thing about Live and Let Die to weather the test of time is its title song (written by Paul & Linda McCartney, and performed by Wings).
After dealing with SPECTRE and megalomaniacs for his first seven films, Bond is pitted against a different kind of villain in Live and Let Die -- the conscienceless Dr. Kananga (Yaphet Kotto), the ruler of a small Caribbean island and would-be monopolistic heroin supplier. When three British agents are murdered, Bond is sent to investigate. With an assist from old pal Felix Leiter (David Hedison, the only man to play the role more than once), 007 begins his scrutiny of Kananga. The resulting search leads him from Harlem to the Louisiana bayous, and has him meeting a beautiful Tarot priestess named Solitaire (Jane Seymour), a sinister voodoo doctor (Geoffrey Holder -- the man with the golden laugh), and a modern-day Captain Hook (Julius W. Harris).
Without KGB agents and the threat of worldwide destruction, this 007 adventure seems lame and misplaced. Live and Let Die sees Roger Moore groping for the right tone for his Bond -- half the time, he appears to be attempting to imitate Connery (although this could be the fault of the screenplay). At least Moore has a modicum of screen presence, which is more than can be said of two other Bonds: Lazenby and Dalton.
Of all the Bond adventures, this is the most dated. One look at the film and it's obvious it was filmed in the '70s. Because much of the action takes place on U.S. city streets, the haircuts and dress styles of the time are distressingly apparent. George Martin's score only adds to the "leisure suit flavor", proving that the definitive Bond composer is John Barry. (This was the first 007 feature that Barry didn't have a direct hand in scoring.)
As is often the case with Bond movies, this one runs too long. There is a speedboat chase that, aside from being executed in a pedestrian fashion, goes on forever. It's not exciting, and the introduction of comic asides with Sheriff J. W. Pepper (Clifton James) are wildly out-of-place. Pepper (who returned in The Man with the Golden Gun), a tough-talking, bigoted buffoon, is fitfully amusing, but the character would be more at home in Benny Hill than with James Bond.
Live and Let Die has the requisite action scenes and several enticing women for Bond to woo (including a CIA agent played by Gloria Hendry and Jane Seymour in her first screen appearance), but, in addition to missing Connery's presence, the movie lacks the usual tension and energy. Watching Live and Let Die isn't a complete waste of time, but there's no overriding reason why anyone should go out of their way to see it unless they're a die-hard Bond fan or are curious about Roger Moore's first turn in the role.
---
Live and Let Die (United Kingdom, 1973)
---
Three...better movies of this genre
worse movies of this genre
Three...better movies of Roger Moore
worse movies of Roger Moore
Three...better movies of Bernard Lee
worse movies of Bernard Lee
Three...better movies of Gloria Hendry
(There are no more better movies of Gloria Hendry)
worse movies of Gloria Hendry
(There are no more worst movies of Gloria Hendry)