View to a Kill, A (United Kingdom, 1985)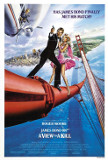 A View to a Kill represents the farewell bow of two long-time Bond film actors: Lois Maxwell, who portrayed Miss Moneypenny in all fourteen official movies from Dr. No to this one, and Roger Moore. While Moore's stamp on Bond was never as memorable as Sean Connery's, seven pictures and thirteen years gave him the time and opportunity to re-shape the British agent in his own image -- something he did with the likes of The Spy Who Loved Me, Moonraker, and For Your Eyes Only -- the best entries of his tenure. But all eras end, and A View to a Kill lowered the curtain on this one, opening the door for Timothy Dalton to take the role.
A View to a Kill is often numbered among the worst of the series, but, upon closer inspection, this film is a vast improvement over Octopussy. Even though Moore sleepwalks his way through the part, making it apparent that he should have departed two films ago, and Tanya Roberts can't act to save her life (although she certainly can scream), we're back to a more conventional, straightforward Bond than the convoluted mess of the previous movie. The stunts are more spectacular than ever, Christopher Walken is a chilling psychopath (a role he has become intimately familiar with over the years), and Grace Jones is viciously effective as his sidekick.
Walken plays Max Zorin, a brilliant-but-unstable industrialist who intends to corner the market on computer chips by destroying Silicon Valley with an earthquake. Bond is sent out to stop him, hopping from Europe, where he's partnered with Tibbet (Patrick MacNee), to the United States, where he joins forces with geologist Stacey Sutton (Roberts, the only ex-"Charlie's Angel" to play a Bond girl). Locations include arctic Russia, Paris, and San Francisco.
The film opens with a lively, fast-paced chase across a snowscape, with Bond using skis, a snowmobile, and an improvised snowboard to escape his attackers. John Barry has a little fun with the music here, inserting some forty seconds of the Beach Boys' "California Girls" as 007 zips down a mountain and across a small pond. This is one of the series' better pre-credits sequences, and provides a solid intro to Duran Duran's chart-topping title song.
Trying to do a few things that haven't previously been attempted with Bond, A View to a Kill features a pursuit through the Eiffel Tower that ends in a death-defying leap, an out-of-control horse race, a road chase with 007 in a fire engine, and a struggle at the top of the Golden Gate bridge that has Bond fending off a blimp. There are conventional action sequences as well, including a car chase through Paris and several energetic fist fights. These thrills and stunts are the real reason to see this film.
A View to a Kill concludes Roger Moore's reign as 007 on a significantly higher level than it began (with Live and Let Die), leaving all that the actor brought to the role -- both good (his sly charm) and bad (his fatuousness) -- to posterity. Unlike Connery, Moore never said "never again", but, despite his fans' wishes, it's highly improbable that he'll ever come back for another engagement. A View to a Kill is the last time this Bond will be in our sights.
---
View to a Kill, A (United Kingdom, 1985)
---
Three...better movies of this genre
worse movies of this genre
Three...better movies of Roger Moore
worse movies of Roger Moore
Three...better movies of Lois Maxwell
worse movies of Lois Maxwell
Three...better movies of Desmond Llewelyn
worse movies of Desmond Llewelyn