Movies with music written by Bill Conti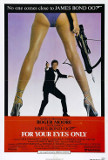 For Your Eyes Only
With For Your Eyes Only, Roger Moore's fifth appearance as Bond and the twelfth entry in the long-running series, 007 enters the 1980s with a return to the "glory days" of the '60s. Realizing it would be tough to top the technical glitz of Moon... Rocky
There are essentially three kinds of boxing movies: those that offer a grim, tell-it-as-it-is perspective of life in the ring, those that focus (often in an exaggerated fashion) on the business aspects of things, and those that seek to uplift thro... Rocky Balboa
Looking back at the Sylvester Stallone pugilist franchise from the end of the line, one thing becomes clear: there were really only two Rocky movies. Everything else was filler, founded on formula and driven by testosterone and adrenaline. The tw...